What happened to Amanza Smith's ex-husband, Ralph Brown?
Smith's ex- husband vanished in 2019 without a trace, but where is the NFL player now?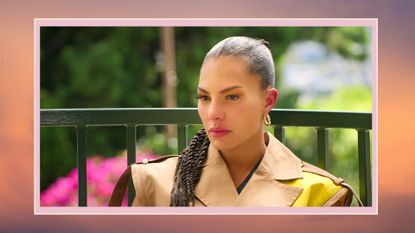 (Image credit: Courtesy of Netflix © 2023)
There's no shortage of drama on Selling Sunset, but Amanza Smith's story is truly unthinkable.
Though Jason Oppenheim's new relationship and lots of fresh drama are all selling points in season six, we can't help but think back to the O Group's first foray into reality TV and wonder what became of Smith's marriage.
In 2019, less than a week after dropping his children off from school, NFL alumnus Ralph Brown, Smith's ex, disappeared without a trace. Smith alleged that she received a letter from Brown on September 1, 2019 that stated: "My situation isn't good right now. I can't financially take care of the children. It's not safe for them to be with me. You need to keep them until my situation changes."
Has the situation changed? Has Ralph Brown returned to his family? Here's what we know about the mysterious and heartbreaking situation.
Amanza Smith, ex husband Ralph Brown: what you need to know
Though Smith claimed to have made countless attempts to determine Brown's whereabouts, they were to no avail.
She tried to reach his family members on numerous occasions, and she had subsequently been blocked. In season 4 of Selling Sunset, Amanza hired a private investigator to locate Brown, which is when she discovered that he had signed papers relinquishing all custody of the children. She has since gained full custody as of 2021.
According to 2019 court papers obtained by US Weekly, Brown stated: "In 2010, my NFL career ended and my mental and physical pain from playing football for 21 years of my life was already causing me great pain. While I was married to Ms. Smith I had multiple physical and mental breakdowns in tears of pain and anguish in front of Ms. Smith stating that I did not know what was wrong with me because I felt my physical extremities, body and cognitive abilities were seeming to atrophy extensively."
What happened to Ralph Brown?
Brown began his career playing college football at the University of Nebraska and ended up being the 140th overall pick in the 2000 NFL draft before being selected by the New York Giants. He played for them from 2000 to 2004, playing all 16 games in 2002, which was his best year with the team. He then moved on to play for the Cleveland Browns, Arizona Cardinals and Minnesota Vikings, at which point things started to go downhill.
Ralph retired from the NFL in 2010 and, per Smith, paid child support for a year and a half before suspending his payments. In the court documents, he further stated that he had no money, was forced to leave his apartment, slept in his car and had to borrow money to support his kids.
"My finances were disappearing so fast, food was scarce, my physical body was worn out and I couldn't catch up to the days. But I continued because I was trying to be a father and even though my disability funds were disappearing which was my only income," he wrote.
Amanza Smith and Ralph Brown's relationship
Ralph and Amanza welcomed their first child, daughter Noah in 2009 and got married in July 2010. The following year, they welcomed another child, son Braker, in 2011. However, that is where the happy ending ended for the couple as they got divorced after two years of marriage.
Amanza explained to Entertainment Tonight in 2020: "When we got divorced, I was adamant that we have 50/50 [custody] because I'm not that kind of person that would ever want my kids to never see their father as much as they see me."
It was after the divorce that Amanza said Ralph began to disappear for long periods of time but would always return. But in August 2019, he didn't. Amanza told E! News: "As of today, August 26, 2020, it is exactly one year since my children have seen their father. He dropped them off at school last August 26, 2019, and we have not heard from him since."
Though Smith had filed a missing police report, he was not considered as such because there were no signs of foul play. His message to her on September 1, 2019—where he insisted the children were not safe with him—also led authorities to the decision not to designate Brown as a missing person.
Ralph Brown's claims
Ralph claimed to the court: "Being a parent has been the hardest thing because of the ages of the kids since 2012 when I filed for divorce. I cannot walk or stand for too long or my knees and or lower back will start to hurt very bad.
He continued: "The extensive pain in my injuries has been so overwhelming I have not wanted to get out of bed at times and do anything for several years. I've struggled with depression for many years after my retirement due to this continuous pain."
The result of his departure caused Amanza put her children in therapy. In a recent interview with People, she noted: "Braker is angry, and Noah is sad."
Does Amanza have a new boyfriend?
Amanza seems to currently be single. She was dating Dutch soccer star Ryan Babel for nearly three years, keeping their relationship on the DL, but the two went their separate ways in late 2022.
A rep confirmed to The Sun US: "She is currently single. Nonetheless, Amanza has had a great year and is leaving 2022 with some massive positivity for her and her two kiddos.
"She has worked closely with Glad this year on a campaign and has also been working with Eden + Ellie on a beautiful campaign, Spirit of Place, she designed. In addition, she's on the board of Fashwire and they have some exciting things coming up. She also has some really exciting secret projects in the works that we can't wait to share."
Earlier that year, Amanza spoke about her relationship with US Weekly: "I'm still in the same relationship I've been in for about two and a half years now, and we've remained very low-key. Everyone on the cast knows him and has met him. He's spent time with Jason [Oppenheim] and the boys and everybody."
There were also rumors of Zac Efron and Amanza Smith dating but she assured us that it was not true. (They had just posed for a photo at an event.)
Liv is a freelance journalist currently studying English at university. She loves covering everything from entertainment and politics to lifestyle and travel. As well as writing for My Imperfect Life, Liv has bylines in The Times, HuffPost, Den of Geek, Bustle The Metro and The Bookseller.