Is Amanza Smith's ex-husband still missing? What we know about Ralph Brown and where he is now
Amanza Smith's ex- husband and former NFL player vanished in 2019 leaving Smith to look after her kids alone. But where is he now?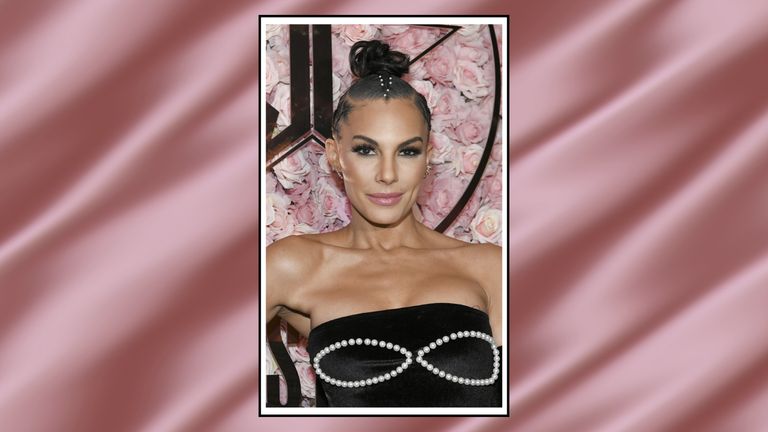 (Image credit: Photo by Rodin Eckenroth/Getty Images)
Selling Sunset fans will know about the drama that surrounded cast member Amanza's ex-husband Ralph Brown, who disappeared back in 2019. But while the show addressed the situation, it was all a little confusing and still is for some of us.
Take a break from Christine and Emma's drama and cast your mind back to season two of Selling Sunset, when we were introduced to Amanza Smith. The successful interior designer had a rough ride at the brokerage in the beginning as she had no real experience in real estate but was a good friend of Jason and Brett Oppenheim and was convinced by best friend and fellow realtor, Mary Fitzgerald — who also happens to be Selling Sunset's highest earner — to try her hand at selling homes.
During her first two seasons on the show, Amanza had trouble securing buyers and dealing with the pressure from her boss, Jason. However, fast forward to season 5 and she's firmly flourishing at the Oppenheim Group.
With her career struggles behind her, viewers were invited into Amanza's personal life on Selling Sunset season 3, when she empathised with co-worker Chrishell Stause over her divorce. At the time, Amanza was also having family issues, attending custody hearings for her two children, Noah and Braker, with her ex-husband, former NFL player Ralph Brown.
The two had a successful co-parenting relationship until one day he dropped the kids off at school and never came back.
Here's everything we know about his disappearance...
---
Is Ralph Brown still missing or has he been found?
Ralph Brown has not yet been found. As Amanza stated on the show, it seems he doesn't want to be found and has started a new life away from his family, despite the two having joint custody of their children.
In season 4 of Selling Sunset, Amanza explained that she had hired a private investigator to try and find Brown, which is when she discovered that he had signed papers relinquishing all custody of the children. He stated that he could no longer be a parent as his body was "broken down" due to football.
What happened to Ralph Brown?
Amanza's ex Ralph Brown was once a very successful football player in the NFL. He began his career playing college football at the University of Nebraska and ended up being the 140th overall pick in the 2000 NFL draft before being selected by the New York Giants. He played for them from 2000 to 2004, playing all 16 games in 2002, which was his best year while at the Giants. He then moved onto to play for the Cleveland Browns, Arizona Cardinals, and Minnesota Vikings, at which point things started to go downhill for him. Ralph retired from the NFL in 2010.
Amanza and Ralph's relationship
Ralph and Amanza welcomed their first child, daughter Noah in 2009 and got married in July 2010. The following year they welcomed another child, son Braker in 2011. However, that is where the happy ending ended for the couple as they got divorced after two years of marriage.
Amanza explained to Entertainment Tonight (opens in new tab) in 2020: "When we got divorced, I was adamant that we have 50/50 [custody] because I'm not that kind of person that would ever want my kids to never see their father as much as they see me."
It was after the divorce that Amanza said Ralph began to disappear for long periods of time but would always return. But in August 2019, he didn't. Amanza told E! News (opens in new tab): "As of today, August 26, 2020, it is exactly one year since my children have seen their father. He dropped them off at school last August 26, 2019, and we have not heard from him since."
She also added: "About two months after my children's father went missing, I filed a missing persons report with the Glendale police office, I was redirected to an investigator in their office, but after reviewing my case they came back to me stating that he was not a missing person because there was no sign of foul play—and he had also sent me an email telling me that it was 'not safe for the children to be with him right now,' and I would need to keep them until his situation changed. The email came on September 1 of 2019."
Amanza even contacted his friends and family at the time to try and find out where Ralph is, but nothing. Calls, emails and texts to his brother and father have gone unanswered, but some of his former NFL teammates have reached out to her asking about him.
Ralph was a talking point in Selling Sunset season 4 as Amanza revealed that she had hired a private investigator to try and find her ex. Through that she discovered that Ralph had signed papers relinquishing all custody of the children, which stated that he could no longer be a parent as his body was 'broken down' due to football.
Ralph claimed to the court: "Being a parent has been the hardest thing because of the ages of the kids since 2012 when I filed for divorce. I cannot walk or stand for too long or my knees and or lower back will start to hurt very bad," he wrote in the declaration. "Ms. Smith has constantly texted me on the week she has the kids and the days when I have the kids and it has caused me great stress which has caused multiple mental breakdowns because of her inability to leave me alone even when I have the kids for my week. The extensive pain in my injuries has been so overwhelming I have not wanted to get out of bed at times and do anything for several years. I've struggled with depression for many years after my retirement due to this continuous pain."
The result of this saw Amanza put her children in therapy to allow them talk to someone about having a missing dad as she said in a recent interview with People (opens in new tab): "Braker is angry, and Noah is sad," about their dad's disappearance. Amanza has since gained full custody.
Does Amanza have a new boyfriend?
Are Zac Efron and Amanza Smith dating? Fans were convinced after the two posed in a group picture together at a UFC event in Las Vegas (a reach, we know). However, Amanza has since set the record straight, telling E! News (opens in new tab): "I'm not dating Zac Efron. I saw him for two seconds, we did a photo and the next thing you know, we were together. I never made a statement."
That's that on that then. Although she did also admit that "there are worse people that I could have been paired with," and yes, indeed there is!
Brand
Price
Refine ☵
Sort By
Liv is a freelance journalist currently studying English at university. She loves covering everything from entertainment and politics to lifestyle and travel. As well as writing for My Imperfect Life, Liv has bylines in The Times, HuffPost, Den of Geek, Bustle The Metro and The Bookseller.