Are Roxanne and Antonio still together from 'The Ultimatum'?
The dating experiment definitely tested them but where do things stand between Roxanne and Antonio now?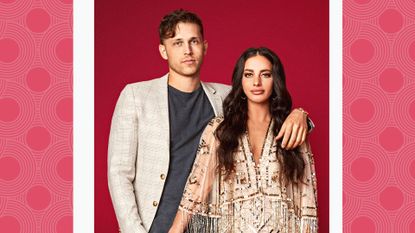 (Image credit: Jackson Petty / Netflix)
We're interested in the relationship statuses of all The Ultimatum season 2 couples, but Roxanne and Antonio in particular are one duo that have dominated our group chats as of late.
The finale of The Ultimatum season 2 was released on Netflix on Wednesday, August 30, and in a shocking twist, more couples than viewers expected said yes when their partners got on bended knee.
The reality dating show sees couples participate in a unique social experiment that aims to help them decide if they want to marry their long-term partner or break up forever. If that wasn't chaotic enough, The Ultimatum also tasks them with dating someone else for three weeks in a trial marriage before getting back and living with their original partner to see the difference.
So though Kat and Alex prove to be worthy romantic foils, does Roxanne and Antonio's relationship make it outside of the show? Here's where things stand between them now.
Why did Roxanne and Antonio go on 'The Ultimatum'?
Thirty-year-old freight broker Antonio Mattei issued the ultimatum to his thirty-one-year-old girlfriend Roxanne Kaiser, the founder and CEO of her own company Pasted Nip, a "braless alternative" pastie.
The couple had been on and off for four years and while Antonio wanted to get married, Roxanne didn't because she was heavily focused on her career. Roxanne wanted somebody who matched her income and ambition, which Antonio didn't just yet.
Not only that but Roxanne was unsure if she ever wanted to get married. On the flip side, Antonio also wanted Roxanne to be more affectionate with him. As viewers saw on the show, Roxanne even struggled to say "I love you". So, in an attempt to resolve their issues, Antonio issued the ultimatum because he believed "that kind of pressure needs to be applied" to Roxanne.
What happened between Roxanne and Antonio during 'The Ultimatum'?
While getting to know other partners during the initial talking stage of the experiment, Roxanne made it pretty clear to everyone that she was bothered by Antonio's lack of career ambition and she was also not interested in ever getting married. However, she ended up hitting it off with Alex Chapman, whom she bonded with over being an entrepreneur and not being ready for marriage.
So, when it came to the choice ceremony, Alex and Roxanne ended up picking each other to live with for the three weeks. Alex said he liked Roxanne's independent energy and Roxanne liked how similar he was to her. Antonio picked Alex's ex Kat Shelton because he said he could feel how affectionate Kat was and she recognised the hard work he puts in.
Initially, Roxanne and Alex got along great but Kat and Antonio's trial marriage seemed to be stuck in the friend zone as Antonio couldn't stop thinking about Roxanne. However, at the individual guys' and girls' nights, things kicked off for both couples after Alex told Antonio that Roxanne didn't "respect" him. This led to Antonio arguing with both Antonio and Alex's ex Kat, who also added that she got a text from Antonio's mom that said that Roxanne didn't like her original partner. Antonio ended up confronting Roxanne, who denied saying anything of the sort. When Roxanne confronted Alex about his words, Alex stood by them and said Antonio deserved to know that he believed Roxanne didn't respect him despite her never saying those exact words.
The argument left both of the trial marriages to end awkwardly. Roxanne ended up apologizing to Alex for her words in the heat of the moment but Alex refused to apologize for what he said. Meanwhile, Kat woke up to find Antonio had already left the apartment.
When Roxanne and Antonio reunited, they cleared the air and Antonio admitted he knew early on in the experiment that Roxanne was the one for him.
On the final day of the experiment, also known as proposal day, it was a bit and touch and go on whether or not Antonio and Roxanne would get married. Roxanne admitted she had no idea what she would say until she was in the moment and would accept whatever came out of her mouth. Luckily, she said yes despite telling Antonio how scared she was about getting married.
Are Roxanne and Antonio still together today?
Before the reunion, viewers speculated that the couple were still together as, despite Roxanne last tagging Antonio in a post in September 2022, Antonio still followed Roxanne and her business account. They also thought the couple was still together because of ads from Kinetic Content, which helped cast season two of the show, with filming having taken place in late summer and early fall of 2022.
The reunion episode confirmed that the couple are still together but that Roxanne had not been wearing her engagement ring as she found it weird and possessive, especially as Antonio didn't wear one. She admitted that she kept the ring in a box.
When discussing their plans to get married, Roxanne also revealed she has no immediate plans. Even when Vanessa told them that Nick was an ordained minister and could marry them then and there, Roxanne said no because marriage was not the top of her priority.
The Ultimatum season 2 is available to stream on Netflix as of Wednesday, August 30.
Liv is a freelance journalist currently studying English at university. She loves covering everything from entertainment and politics to lifestyle and travel. As well as writing for My Imperfect Life, Liv has bylines in The Times, HuffPost, Den of Geek, Bustle The Metro and The Bookseller.