Meet the 'The Ultimatum' season 2 couples, both before and after that choice ceremony
The duos who arrive together might not leave together. Here's what's going on with 'The Ultimatum' season 2 couples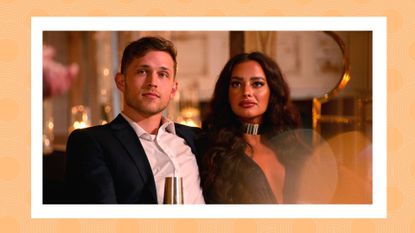 (Image credit: Netflix)
The Ultimatum season 2 couples are being put through the relationship ringer: the Netflix reality dating show breaks up established couples and pairs them with new temporary partners to get them to really think about their relationships and decide whether it's time to get married or move on.
Season two of The Ultimatum—which is hosted by Nick and Vanessa Lachey and premiered on Wednesday, August 23—is well underway, which means that the five couples are no longer together. (Well, four, after what happened with Lisa and Brian.) In episode two, we see four new couples embark on three-week trial marriages after breaking up with the partner they originally arrived with and getting to know someone new.
Before they officially embark on their new relationships, however, all the individuals in the experiment have to attend The Choice ceremony and explain why they've chosen to couple up with that person. But before we get ahead of the drama, let's get to know the newly formed couples of The Ultimatum season 2.
Who are 'The Ultimatum' season 2 couples?
1. Trey and Riah
New couple: Trey and Ryann
Twenty-nine-year-old Trey issued the ultimatum to his partner Riah. The couple had met on a dating app and were initially long-distance before Riah moved into Trey's place. Since then, while they have been in love, Riah feels that Trey doesn't put in much effort anymore to date nights and likewise Trey finds it hard to deal with Riah's expectations. So he issued the ultimatum because he wants a relationship like his parents, who have been married for 30 years. But Riah, she's never "seen a happy healthy marriage," so she struggles to see marriage, or a life with Trey, in her future.
Likewise, 24-year-old Ryann issued the ultimatum to her partner and high school sweetheart James. After nearly seven years together, the couple has stood the test of time, but their relationship has been riddled with communication and trust issues, which were heavily impacted by James finishing his education in another state. At this point, Ryann believes that James "should know for sure" that she's his forever and if he doesn't, then she wants to move on. James' reasons for not getting married are that he wants to ensure the couple is stable before getting married and there are also some things he feels Ryann needs to know about him, which he is yet to share.
When Ryann and Trey couple up during the ceremony, Trey notes he feels that Ryann will be a really good wife and Ryann says she "immediately noticed how similar me and Trey were," while she and James are opposites in a lot of ways because "James tries to oppose" a lot of the things she says, whereas Trey always agrees. She also adds that she and Trey can talk about anything and she feels that in a marriage good communication is really important, much to Trey's glee.
During their first night together, Trey continues expressing how happy he is to be coupled up with Ryann by saying she's gorgeous and beautiful. It's safe to say their first night is off to a good start.
2. Ryan and James
New couple: Riah and James
After Trey and Ryann couple up, Riah expresses that hearing them talk about each other has made her feel like she has a brick on her chest from the fear of losing Trey. She notes that she does have a lot of walls up and while she can act nonchalant, she feels that deep down she actually isn't.
She then turns her attention to James and thanks him for being open with her because it made her want to open up and not feel judged. She adds it's also made her realize that she wants to get married and have kids. As you can guess, she ends up coupling up with James, who also chooses her.
James echoes the same sentiments as Riah and says that he and Ryann have always had the issue of opening up but with Riah it came easier and he felt that she just listened.
However despite this, on their first night together, things get too much for James and his nerves become too much for him. He ends up telling Riah he is going out for a run and ends up phoning a friend about how much self-reflection he's going through and how scared he is to lose Ryann after hearing Trey talk about how awesome she is. Whether that confirms that James will propose to Ryann at the end of the experience is yet to be seen, especially as Trey and Ryann seem to be getting on so well.
3. Kat and Alex
New couple: Kat and Antonio
Travel nurse Kat decided to issue the ultimatum to her partner Alex whom she's been with for two years. Alex initially relentlessly pursued her on a dating app before they met up in real life and made things official. When Kat decided she wanted to be a travel nurse, Alex joined her and the two made it work, traveling around the country.
The area the couple hasn't made it work in is communication. Kat avoids conflict and defers to Alex rather than make her own decisions. This is a struggle for Alex who wants to be challenged by a partner whom he can deem his equal. Well, one area he hasn't had to worry about is marriage because Kat has put her foot down and said he needs to get over his "logical and practical," mindset which is stopping him from proposing.
During the choice ceremony, Kat reveals that Antonio made her feel "very comfortable" and enjoyed having hard conversations and talking about things she wouldn't normally talk about.
On the flip side, Antonio also chooses her because he feels that "to be a good wife, there has to be open communication," which he feels is present with Kat. He adds that he doesn't have to feel guarded when he's with her. At this point, Antonio's girlfriend Roxanne pipes up, saying that is a hard pill for her to swallow because she feels that she's only ever experienced "a very introverted Antionio." The other guys say he's very extroverted, so Roxanne begins to question whether she brings out that side of him and he explains that he has nightmares about losing Roxanne.
Kat and Antonio's first night together is very domesticated, with Antonio doing the dishes and setting up the air mattress in the living room, as both he and Kat find it weird to be living with anyone other than their partners.
4. Roxanne and Antonio
New couple: Roxanne and Alex
Thirty-year-old Antonio issues the ultimatum to his girlfriend Roxanne because from the moment he laid eyes on her he deemed her wifey material. However, with the pair breaking up and reconciling several times over the last four years, Roxanne is still just as hesitant as the first day to get married to anyone.
Roxanne is incredibly career-focused and marriage doesn't really factor into the picture she imagines for herself or her partner. What she wants more than anything is her partner to match her income and ambition, which Antonio has yet to meet. So, Antonio decided to issue the ultimatum because he believes "that kind of pressure needs to be applied" to Roxanne.
During Alex's speech, he says that Roxanne is the "polar opposite of his ex. Kat is soft and very sweet, super nice. You are like a driver: forward, direct, very witty, very smart." He likes Roxanne's independent energy and feels that if something did go wrong he wouldn't have to worry because he knows that she could handle it in "the best way possible." So, he chooses Roxanne because he feels that she will challenge him.
The way he speaks about Roxanne also makes Kat vocalize that she didn't know that personality things were missing in their relationship.
Roxanne also chooses Alex saying that she really likes his "never give up attitude," his "innate ambition" and how he is self-motivated, all of which are important things to her. So, she chooses him because she's excited to live with someone who is so similar to her.
During their first night together, Roxanne reiterated that Antonio is her best friend and the reason why they keep breaking up is because she keeps giving him a chance but when they get back together he is still not doing the things she needs and what she wants. The similarity between Roxanne and Alex may be a problem for their original partners.
The first eight episodes of The Ultimatum season 2 are now available for streaming on Netflix.
Liv is a freelance journalist currently studying English at university. She loves covering everything from entertainment and politics to lifestyle and travel. As well as writing for My Imperfect Life, Liv has bylines in The Times, HuffPost, Den of Geek, Bustle The Metro and The Bookseller.