Are Tarek and Heather still together on 'Selling Sunset'? A relationship timeline
Season five is here but are Tarek and Heather still together? We take a look at the real-estate couple's relationship so far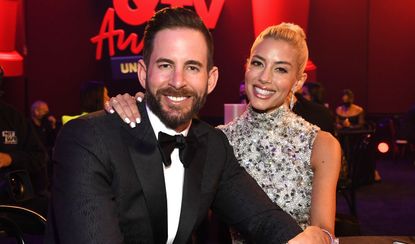 (Image credit: Kevin Mazur/2021 MTV Movie and TV Awards/Getty)
Season five of Selling Sunset debuts on Netflix on Friday, April 22, and fans are chomping at the bit to get caught up with their favorite California real-estate brokers.
What's going on with last season's newbie Emma Hernan and why is Ben Affleck involved? What about season five newcomer Chelsea Lazkani? Is there drama between exes Chrishell Stause and Jason Oppenheim? And are Tarek and Heather still together?
The latter couple met in July 2019 and kicked off a fast-paced romance, moving in together only weeks into the relationship. But where do Heather Rae Young and Tarek El Moussa stand now?
Here's what we know about the pair and what's going on in Selling Sunset season 5.
Are Tarek and Heather still together?
Yes! Selling Sunset season 5 actually features the highly-anticipated wedding of Heather Rae Young (aged 34), and Tarek El Moussa, 40.
The couple is loved by fans of both Selling Sunset and Tarek's show Flip or Flop, so we thought it would be a good idea to look back at this reality-show couple's relationship so far.
Who is Tarek El Moussa?
Tarek El Moussa is best known for being one half of the duo that hosts the hit HGTV series Flip or Flop. Fun fact: Tarek also has a real estate license, which he got in 2002 at the age of 21, and was super successful in the industry until the 2008 economic crisis when the business he shared with ex-wife Christina Haack began to struggle.
It's at that point the then-couple got into flipping houses for cash and during their first flip, Tarek submitted an audition tape to HGTV that landed them the 10-season-long hit show.
Who is Heather Rae Young?
Heather Rae Young modeled for Playboy before entering into real estate and was featured as the magazine's Miss February in 2010. When she reflected on her experience as a Playmate, she said: "If I hadn't posed for Playboy, I wouldn't have met the people who led me to where I am now. Playboy got me used to being in front of crowds and being good on camera."
Young also used to be a Pilates instructor and has a history on TV, with a guest appearance as Tina in "The Baby" episode of the comedy TV series Til Death, as well as Tarek's show Flipping 101 with Tarek El Moussa. She received her real estate license in 2014.
How did Tarek and Heather meet?
The couple met on July 4, 2019, when they were cruising on separate boats off the coast of Newport Beach, California. It was when both their boats were docked near each other that Heather realized that she had a mutual friend on Tarek's boat and went over to speak to them, and sparks flew between Heather and Tarek. Tarek's sister revealed a text message from Tarek at Heather's bridal show where she revealed Tarek was heartbroken when she left the boat to go back on hers and that he thought he met the one.
After that meeting, they went on a date and were caught by TMZ (opens in new tab) on July 28, 2018, in Redondo Beach, California, before revealing their relationship to their fans on Instagram (opens in new tab) on August 8, 2019.
On the "Not Skinny Not Fat" podcast, Tarek and Heather revealed they actually first connected when he slid into Heather's Instagram DMs a few months before she started filming season one of Selling Sunset, but because she was in a relationship at the time.
In November and December 2019, the couple enjoyed their first Thanksgiving and Christmas together, with Thanksgiving Day being spent in Amsterdam and Paris and Christmas Day with Tarek's children.
How long have Tarek and Heather been together?
In July 2022, the couple will have been together for three years. They moved in together mere weeks after starting their relationship. Talk about moving quick!
Are Tarek and Heather married?
The couple got married on October 23, 2021, near Santa Barbara, California. Heather wore a Galia Lahav gown and the couple filmed their wedding for an HGTV special, Tarek & Heather: The Big I Do. Heather also did the sweetest thing as she not only made vows to Tarek, but to his children during the wedding.
The couple got engaged after just over a year together, with Tarek popping the question to Heather on the beach. Tarek said it was the love Heather had for his children that confirmed his love for her and so it became no question when he proposed with an eight-carat diamond.
Has Heather met Tarek's kids?
This was a major question for Heather's co-workers at the Oppenheim Group as Amanza Smith asked Heather whether she'd met Tarek's kids yet.
On the same day they announced their relationship on Instagram, Tarek and Heather did an interview with Entertainment Tonight (opens in new tab) where Tarek revealed he had introduced Heather to his family the night before: "I introduced her to my kids last night for the first time. My mom, my dad, my mom's husband, my sister. So, we're doing it! Very excited."
Heather revealed to Us Weekly (opens in new tab) in April 2021 that she and Tarek coparent really well with the kids' mother Christina Haack: "We communicate daily about the kids, and they're the most important thing in the world to all of us. So, as long as the kids are happy, we're all happy."
Christina and Heather also have a good relationship, as Tarek revealed they had met during an appearance on GMA3 where he only gave five minutes' notice that they would be meeting each other. He said to Christina Haack: "I was like, 'Oh, I'm coming over to see the kids. By the way, my girlfriend is coming. See you in five!'"
"I looked at Heather, and I was like, 'Are you ready?' And she was like, 'Ready for what?' I was like, 'Well, we're going to go see the kids, and my ex-wife is there,'" Tarek continued. Luckily he revealed they get along great, otherwise, it would have been an awkward situation.
Haack revealed to Us Weekly that they shared recipes with each other during lockdown: "She'll, like, send me whatever her favorite go-to granola bar is, and I'll text her back, like, whatever mine is."
Are Tarek and Heather planning on having kids?
Yes, the couple revealed they had started the process of IVF after getting married.
Before meeting Tarek, Heather revealed that she didn't think she wanted to have children but spending time with him and his kids changed her mind.
Heather found out that she had a low egg count in her 20s so she decided to freeze her eggs and create embryos through IVF. Heather has been documenting her whole IVF process on her Instagram as she knows how isolating infertility can feel and wanted to be open about her experience. She revealed the couple hopes to transfer by summer 2022.
Who is Heather's ex?
Heather Rae Young's dating history appeared in season two of Selling Sunset as she broke up with hockey player Nick Ebert, who had been scouted to play in Sweden, which meant that Heather had to fly back and forth to maintain the relationship.
They had been in a long-distance relationship since season one and were together for three years. When she met Tarek on July 4, 2019, she was still dating Nick but they broke up shortly after, allowing Heather to get with Tarek.
On Inside Vue (opens in new tab), Nick Ebert revealed that he met Heather through his sister Jamie while he was at training camp for the Los Angeles Kings. He confirmed that the couple had broken up due to the long distance and their age difference, as Nick is six years younger than Heather.
Who is Tarek's ex?
Tarek's dating history is pretty limited to his ex-wife Christina Haack. The two reality stars met while working at a real estate office before getting married in May 2009. The couple later called time on their marriage in 2016.
The duo worked together on their hit show HGTV series Flip or Flop and share a daughter Taylor, who was born in 2010, and a son Brayden, who was born in 2015.
The couple's relationship really broke down around May 2016 when the Orange County Sheriff's Department was called to their home because of a "possibly suicidal male with a gun." Authorities did reveal that Tarek had no intention of hurting himself, but the couple called it quits by the end of the year and issued a statement to Us Weekly in December 2016, saying: "Like many couples, we have had challenges in our marriage. We had an unfortunate misunderstanding about six months ago and the police were called to our house in an abundance of caution. There was no violence and no charges were filed. We chose to get counselling to sort out our relationship. Together, we have decided to separate while we reevaluate the future of our marriage."
Despite their divorce being finalized in 2018, the couple continued to work together on Flip or Flop but recently announced in March 2022 that the show would end for good with the season 10 finale.
Do Tarek and Heather have matching tattoos?
On April 11, 2022, Heather posted a picture on Instagram of her and Tarek's arms. They inked "10.23.2021," their wedding date, to their forearms, as well as Heather adding Tarek's initials to her wrist and Tarek adding her initials to his.
Seems like love is still very much in the air for these two!
See Heather, Tarek and the rest of their Selling Sunset cohorts on season five, streaming now on Netflix.
Liv is a freelance journalist currently studying English at university. She loves covering everything from entertainment and politics to lifestyle and travel. As well as writing for My Imperfect Life, Liv has bylines in The Times, HuffPost, Den of Geek, Bustle The Metro and The Bookseller.