Lovense Nora vs Vibease Esthesia: which of these sex toys should you go for?
Lovense Nora vs Vibease Esthesia: which of these rabbit-style vibrators makes us want to say "yes, yes, yes"?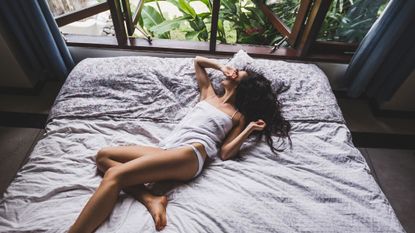 (Image credit: Getty Images)
The Lovense Nora vs Vibease Esthesia—which of these rabbit-style vibrators is best for you? Choosing the best app-controlled vibrators for you is a personal experience that depends on your own individual taste. Even if you know what gets you off—a large shaft, a spinning head, clitoral vibrations alone—like Goldilocks, you might even have to, ahem, sit on several sex toys to find the perfect one for you.

Nevertheless, we're pretty sure many people will enjoy rabbit-style types of vibrators, which has a longer arm that goes inside the vagina and a shorter arm that stimulates the clitoris. Even better is if these toys are app-controlled, so you can cycle through different settings using your phone or give someone else the power to control your vibrator remotely (one of the great long-distance relationship tips—thank us later).
There are a handful of app-controlled rabbit vibrators on the market, with the Lovense Nora vs Vibease Esthesia being two of the most favored. We had the very intense pleasure of putting the two to the test to see which gets us hottest under the collar (and under the covers).
Lovense Nora vs Vibease Esthesia: who wins on form?
Since they're rabbit-style vibrators, Nora and Esthesia have a longer arm for internal use and a shorter one that sits on the clitoris. Both of these vibrate on the Esthesia, supplying sensational sensations to your g-spot and your clit. The vibrations are controlled through a button towards the base of the vibe, or using the Vibease Chat app.
Esthesia has a curved shape that has been designed to bend with the body, though we found it to be a little rigid. This stiffness might not be for everyone, but we enjoyed the pressure it put on our g-spot.
Nora's design is straighter, but the shaft is waved and the smaller arm is curved to rest on your clit. The smaller arm vibrates to stimulate the clitoris, and the bulbous tip of the longer arm rotates to rub your g-spot as it spins. These can be controlled using a button on the vibrator or with the Lovense Remote app.
Esthesia and Nora are similar sizes. The former has an insertable length of 4 inches and the latter just comes out ahead with an insertable length of 4.72 inches. At their widest points, they measure 1.4 inches and 1.46 inches respectively.
In terms of material, the Vibease Esthesia is made entirely of body-safe silicone, while the Lovense Nora has a silicone shaft and clitoral arm, but the handle is medical-grade ABS plastic. Both feel silky smooth.
Function of the Lovense Nora vs Vibease Esthesia
The Esthesia has five main vibration settings: one steady speed and four patterns. These emanate from both arms, massaging the G-spot and the clitoris. The arms work in unison so unfortunately, you can't have them running at different speeds or powers.
From our experience, the vibrations were definitely pleasurable but not quite powerful enough to give us the overwhelming, full-body, wow-that-was-so-incredible-I-can't-move-now kind of orgasm we're looking for.
That's exactly the kind of orgasm you'll get with Nora, however. Its smaller arm has seven vibration settings that are so satisfyingly powerful and rumbly that they alone can get you off. What takes things to another level, though, is its rotating head, which has three-speed settings and can rotate in either direction. We were happy to find that you can operate these two features separately.
How do the Lovense Nora vs Vibease Esthesias compare in terms of noise?
Despite having a vibrating arm and vibrating shaft, Esthesia is surprisingly quiet—once inside you, you can barely hear it buzz. If your main concern is noise, this is probably the better choice, as Nora is a little louder and can be heard in another room, especially in the stronger settings. There's only so many times you can drop into conversation with your neighbors that you've really got into late-night blending without drawing suspicion.
Maintenance of the Lovense Nora vs Vibease Esthesias
Both the Nora and Esthesias vibrators are waterproof so they can be easily cleaned using soap and water or a sex toy cleaner without fear of breaking them.
With regards to charging, they both handily come with a USB charger that's easy to use, and you can plug into any USB port.
Apps for the Lovense Nora vs Vibease Esthesias
Nora can be connected to the Lovense Remote app using Bluetooth technology. This allows you to control your vibrator using your phone or to give another person access to control your vibrator with theirs—no matter where they are in the world. You can also chat and video call while you do it. We were impressed with the strength of the connection, which didn't drop out once during use.
The app provides two ways of operating Nora: a traditional slider panel and a tap and slide control board, which we prefer as it's easier to use and more intuitive. These can be used to alter the vibrations and power of the rotating head individually.
The app is also full of patterns that have been created by Lovense and by other anonymous users. You can use these, create one yourself or even have your partner create one for you. There's also the option to sync your vibrator with music, a fun idea in principle but we didn't feel that buzzing along in time to Come Together by The Beatles got us any closer to actually coming.
An advantage of Nora and the Lovense Remote app is that they can be used to pair your toy with Lovense's male masturbator Max 2. The two toys interact – when you move your toy, they feel that in theirs and vice versa—so it adds an extra element of intimacy to a long-distance sexual interaction.
Esthesia is paired with the Vibease Chat app. It works in a similar way to Lovense Remote, allowing you to chat and video call while your partner controls your toy's vibrations (or you can use it for solo play). Its Quick Play section allows you to alter the settings by simply running your finger around the screen. Unfortunately, when we tried out the app, the video call function didn't work at all. When we tried to use Whatsapp video instead, the vibrator would disconnect after a minute or so because we weren't using the app's video function. We haven't heard of many other people having this problem, however.
You can sync Esthesia up to music as well, but what's unique about the Vibease Chat app is that it allows you to connect your vibe with erotic audiobooks too, vibrating along with the speech patterns.
Lovense Nora vs Vibease Esthesia: which one should you buy?
Although the Esthesia is an all-round great vibrator, offering a pleasurable rabbit-style design, curved shape and stimulating vibrations through both arms, the Lovense Nora is the winner. Its waved shaft with bulbous tip and curved, flexible shorter arm put the toy in the perfect position to direct pleasure where you need it.
Add to that extremely powerful vibrations emitted through the smaller arm, a rotating head that massages your g-spot as it goes and a well-functioning app that allows you to give over control to your long-distance lover and you've got everything you need for an eye-rolling orgasm. It may well be noisier than the Esthesia (and make you noisier too), but it's definitely worth the embarrassing moments with your neighbors in the hallway!
Victoria is a freelance journalist with eight years of experience, writing everything from reviews and news pieces to meaty features for various online and print titles — including easyJet Traveller and b.inspired. Her work covers travel, lifestyle, health, and fitness. In her spare time, Victoria performs improv comedy and she's currently training to be a PT.