Beauty influencer Cake Face RJ on post-lockdown make-up trends and how Instagram helped her career
The make-up illustrator is a panelist for Instagram's new 21 under 21 list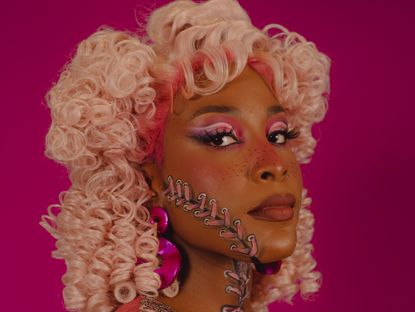 (Image credit: Instagram )
Earlier this month, Instagram announced the launch of its first-ever 21 under 21 list, celebrating young creatives who utilize the platform's many features to produce popular content. To do so, they entrusted five influencers, each from a different sector to pick the finalist for their respective categories, including make-up artist Cake By RJ who headed up the make-up branch.
Having worked in the industry for the past three years, RJ has amassed a strong 444k followers on Instagram and collaborated with various brands, including Barry M Cosmetics, where she is currently Brand Ambassador. A self-confessed 'eyeshadow illusion connoisseur', RJ is the queen of artistic make-up looks, using Instagram Reels to showcase her talents and teach others how to create eccentric art-inspired looks.
"Being able to work with Instagram when my career began on Instagram is crazy. It's like a full-circle moment," RJ tells My Imperfect Life. "I know people who have worked in the make-up industry for ten years and to see how far I have come in just three years thanks to Instagram is crazy. It's been a really interesting journey but a great one. I've had a really positive experience overall."
RJ's role in the new project was to pick four budding content creators from the world of make-up for the 21 under 21 list. Speaking to My Imperfect Life, she broke down the process of selecting her favorites, the make-up items she can't live without, and the post-lockdown trends we'll all be rocking this summer...
Nailing down the finalists
RJ selected four young make-up talents to feature on the 21 under 21 list, including Janelle Wayland (@JJENNAMAKEUP), Ruby Mitchell (@RUBYMEDIAMAKEUP), Feebs (@MAKEUPBYFEEBS), and Chloe Pack (@CHLOPACK). Telling My Imperfect Life about her selection process, she said: "It was quite difficult, but I was looking for creatives that were really expressing themselves with makeup and artwork and whose content I really loved. There were so many profiles I came across where people were using make-up at its full capacity and creating illusions. It was really cool but I just ended up relating more to the four I ended up picking. I hadn't come across any of them before this gave me an opportunity to see artists that I probably never would have seen before and it will do the same for everyone else.
"They're such a lovely group of girls, we've actually made a group chat to stay in touch and we're now talking all the time. The industry is not an easy one to be in so it's nice that we can all support each other and if there are ever any problems I'm always there. I'm really inspired by how motivated they all are."
The make-up content creators she's inspired by
We've all go out favorites on Instagram. The influencers and content creators who we follow religiously and feel inspired by and RJ is no different. "I love following Desi Perkins, her video content is incredible. I always look at how she edits her videos and try and do something similar myself," she says. "I also love following Patricia Bright, her content is amazing. I love the way she works her business, she's so inspiring for people trying to grow their own business and are doing influencer work or creative work."
The shift in make-up trends post lockdown
Even the most glamorous of us were forced to strip back during lockdown, as hair and beauty salons were shut and we ditched the make-up for days indoors. So how has the pandemic affected forthcoming make-up trends? "I think make-up trends have definitely changed over the last year," says RJ. "There are new viewpoints when it comes to plastering on loads of make-up because people went so long without really wearing much. But then again there are people like me, who still got up and did their make-up during lockdown just to sit in the living room.
"One of the biggest trends to come out of lockdown was the whole putting foundation on with your hand. It looked quite crazy at first but then it actually turns out looking really good. People are still really interested in expressing themselves through make-up and everyone who missed wearing it and going out are now coming back to that so it's great. Doing super out-going/crazy make-up is definitely going to come back now that we're returning to 'normal.'"
The make-up essentials she always carries
Everyone has at least three make-up items they carry with them at all times, including RJ. "When it comes to day to day, I always have some eyelash glue on me in case my eyelashes start coming off, a good lipstick and some powder," she reveals. "I always have that in my bag."
The secrets behind a successful Instagram Reels
Instagram Reels are fast becoming everyone's favorite feature and RJ has been using them a lot to elevate her platform and discover new beauty inspiration. "Through Reels, I've found a lot more make-up pages and new creators," she says. "There are so many but I like to follow people that are similar to me content-wise, so there are opportunities to collaborate at some point. I've actually met a few influencers through Reels that I have been in touch with and will hopefully work with soon."
Sagal is a journalist, specialising in lifestyle, pop culture, fashion and beauty. She has written for a number of publications including Vogue, Glamour, Stylist, Evening Standard, Bustle, You Magazine, Dazed and Wonderland to name a few.