Bella Hadid and boyfriend Marc Kalman are getting serious—and we're here for this pairing
Looks like the model's mystery man isn't a mystery anymore.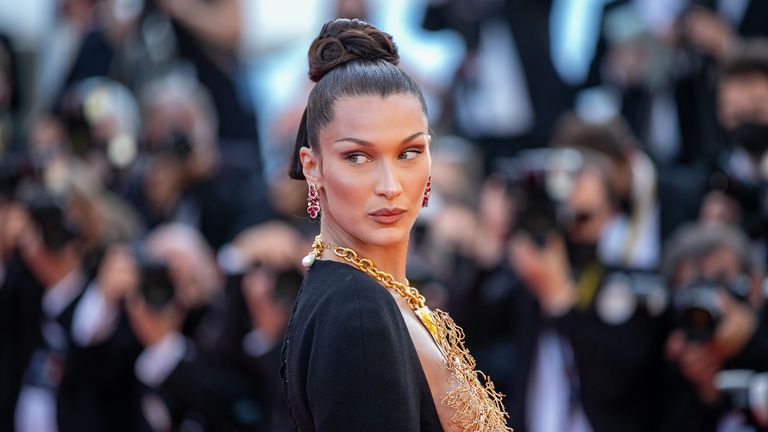 (Image credit: Getty Images)
The secret's out, but the question on everyone's lips is Bella Hadid's boyfriend Marc Kalman? 
Bella is reportedly dating Marc and we are seriously here for this beautiful pairing. The couple has been spotted out and about in Europe, enjoying many a lip lock and cozy embrace. The romance is seemingly heating up quite quickly, and fans are curious to know more about this new couple. Let's dive in, shall we?
Bella Hadid and boyfriend Marc Kalman in Europe
What better location to indulge in l'amour than France? While abroad, Bella took the time between walking the runway for several big designers like Off-White and Jacquemus and serving some seriously notable Red Carpet moments—including show-stopping Schiaparelli and Jean Paul Gaultier gowns—to enjoy some low-key moments too with her loved ones. She also gave her Instagram followers a sneak peek at her new beau in a joyful photo dump. 
"Time of my life ⏳🫀🍾 Healthy, Working and Loved ❤️‍🔥🌹," the model wrote. The last photo in the group was on a boat in the evening...in the arms of a mystery fella. Both seem incredibly lovey-dovey, smiling as they hug and go in for a smooch. Our interests have been piqued!  
But, Bella cleverly decided to use a somewhat blurry snapshot, making it a smidge difficult to confirm who exactly she's attached to. Naturally, we collectively lost it and had to find everything out about him. Eagle-eyed fans, naturally, were quick to point out that the snapshot appears to be of 33-year-old creative director Marc Kalman. Can't fool the super sleuths among us, Bella. 
Those discreet attempts to remain somewhat secretive failed later in the trip. Paparazzi caught Bella and Marc on a boat (again!) enjoying a steamy smooch. Bella is captured wearing a neon-hued top while Marc was shirtless and sporting sunglasses. Now, it seems that there's no denying that they're an item. 
Although she's been photographed at the Cannes Film Festival solo, she's certainly glowing. Might this happiness be from a new relationship? Experts seem to think so; sources confirmed to E! News that the 24-year-old model is the happiest she's been since being attached to Marc, but apparently, the two are keen on keeping things quiet. 
How did Bella and Marc meet?
Allegedly, Bella and Marc had a working relationship before a romantic one. The art director and fashion designer—who's worked with Travis Scott and A Bathing Ape—had been in contact for years as she tackled various projects.
However, following Bella's official split from The Weeknd, an on-again, off-again relationship that latest for about three years, the model was ready to find someone new, and thus their love blossomed. The source further adds that Marc is a hit with Bella's family, and he's spent time with Bella's mom, Yolanda, and supermodel older sis, Gigi. 
It seems like the model is embracing plenty of new beginnings. After Bella's social media break earlier this year, she claims to have found her "strength and light" once more, perhaps allowing different experiences—like a relationship with Marc—to unfold. 
We're all anxious to see what fate has in store for these two next. Judging from those giddy snaps, it's safe to say that they're very much enjoying each other's company, wouldn't you say? 
Danielle is a news writer for woman&home and My Imperfect Life. When she's not working, you can find her experimenting with new recipes or sitting on the couch with a good book and a cup of coffee.