The Weeknd and Bella Hadid's relationship timeline explained
The Weeknd and Bella Hadid have been on and off for years and now it looks like Bella has moved on for good...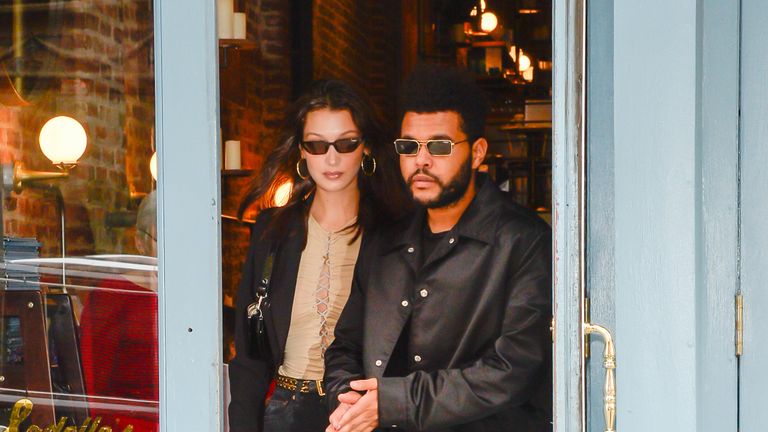 (Image credit: Photo by Raymond Hall/GC Images)
The Weeknd and Bella Hadid were once one of pop culture's most interesting couples, and not just because we kept losing track of their on-again-off-again dynamic.
Just like The Weeknd's top hits—which have often been inspired by Bella —their relationship has been a seductive, dramatic and at times melancholy affair since the pair first got together in 2015. There have been happy reunions, break-ups, and even relationships with pop stars in the middle. But are they back together in 2021 or what is happening? We've investigated...
Are The Weeknd and Bella Hadid back together in 2021?
By the looks of things, the two are currently off—they haven't been public about any reconciliation since splitting up due to "conflicting schedules" back in August 2019. Plus, news of Bella Hadid's new boyfriend recently broke, which means Bella might have moved on for good.
While we're happy to see Bella loving life, what does this mean for her and the Weeknd? Here's a recap of their romance and why neither of them are strangers to getting back with an ex...
---
---
The Weeknd and Bella Hadid's relationship explained
The Weeknd (real name Abel Tesfaye) first met model Bella Hadid in 2015 when the pair caught eyes for one another at Coachella. "They were hanging out in Coachella and were flirting lots," a source told E! (opens in new tab) at the time. "They have many things in common and really enjoyed each other's company. She loves his music as well. They are hanging out for sure now." The source also mentioned that while the two had met before, the music festival was "where they really clicked".
A few years later, The Weeknd revealed in a 2015 interview with Rolling Stone (opens in new tab) that he and Bella originally connected when he reached out to the model asking her to feature on the artwork of his album, Beauty Behind the Madness. "My motive was literally to work with her," he admitted. But when she declined, he said: "I was like, 'All right, cool—we can meet up face-to-face.'"
Throughout 2015, the couple were still going strong with plenty of public outings together including New York Fashion Week in September, where they were photographed at the Alexander Wang show together. On other occasions, they were spotted out and about with Bella's family, including her sister Gigi and her mum Yolanda Hadid, who shared a picture of herself with the two on Bella's 19th birthday.
Abel seemed to have gotten the seal of approval from Bella's nearest and dearest. In the aforementioned Rolling Stone interview, he explained that his then girlfriend's strong work ethic and tight-knit family is what attracted him to her. Referring to their relationship, he said: "It just kind of fell into my lap."
He continued: "If this had happened two years ago—well, she couldn't." (Yep, Bella would have only been 16.) "But if I'd met someone two years ago, I probably would've fucked it up. But I'm more—how do I say it?—clear-thinking now."
December 2015: the first break-up
Later that year, Bella starred in The Weeknd's music video for 'In The Night' but in December 2015, E! (opens in new tab) revealed that the couple were taking a break due to their hectic work schedules. "Their schedules got very busy, and it really cut into their relationship," the outlet reported. "They are still in each other's lives though, just not in the same exclusive capacity."
February 2016: they reunite
However, if true, the break didn't last long as the couple made their red carpet debut together at the Grammy's in February 2016, appearing stronger than ever. Bella even shared an Instagram post, gushing with pride over her boyfriend. "This is YOUR day baby! I'm so proud of you ❤️ I feel so lucky to be by your side 👑," she captioned a picture of them together. The Weeknd took home two Grammy's that night.
Speaking to Glamour (opens in new tab) a few months later, Bella opened up about the night, telling the magazine: "It was a big night for him. He has worked so hard, and he did so well that night. As a girlfriend, I wanted to be there to support him. Seeing him so happy when he won a Grammy made me so happy."
When asked whether she is with Abel or his stage persona The Weeknd, she responded: "I'm dating Abel. I don't see him as The Weeknd. I'm proud of The Weeknd and the music he makes, but I really love Abel."
The couple continued their string of public engagements throughout 2016, attending everything from Daily Front Row's Fashion Los Angeles Awards to Lakers games together looking more loved up than ever. They had another major red carpet moment together that year at the annual Met Gala, both wearing Givenchy. In October, they shared a romantic getaway to Tokyo, sharing pictures of their trip on Instagram. The Weeknd also helped Bella celebrate her 20th birthday, with the pair posing together at her party.
November 2016: the second break-up
However a month later in November 2016, it was reported that the couple had split up, once again due to conflicting work schedules. "Their schedules have been too hard to coordinate and he is focusing on finishing and promoting his album," a source told People. (opens in new tab) "They still have a great deal of love for one another and will remain friends."
That same month, The Weeknd's album Starboy was released and the two had an awkward reunion at the Victoria's Secret Fashion Show on 5 December, with The Weeknd performing whilst Bella walked the runway on stage. However, when asked about the situation prior to the night, Bella denied any tension between the two, telling E!: "This is his second year performing, and I think he's going to kill it. There is no awkwardness. He is my best friend, and I am excited because I am walking during his performance."
She even shared a picture of the two on stage on social media following the performance, writing in the caption: "Thank you @theweeknd for being the best and most incredible performer on the planet. You KILLED it, as always😍❤️."
January 2017: The Weeknd and Selena Gomez get together
Following Bella and The Weeknd's amicable split, fans were hoping the couple would soon reunite. However, their dreams were shattered when Abel spotted kissing Selena Gomez (opens in new tab) in Santa Monica in January 2017. Bella then immediately unfollowed Selena on Instagram and days later posted a picture of herself flipping off the camera (opens in new tab), which fans assumed was her response to her ex's new relationship.
A source later told People (opens in new tab) that while "Bella and Abel's split wasn't dramatic," the model was "hurt and pissed that he's moved on so quickly with Selena".
In an interview with Teen Vogue (opens in new tab) in February, Bella said of The Weeknd: "I'll always respect him, and I'll always love him. Sometimes you want to be sad about it or handle it differently, but at the end of the day, you never want to burn a bridge that you've fought so hard to build."
In March 2017, both The Weeknd and Selena had unfollowed Bella on Instagram. Bella then unfollows The Weeknd by early April.
October 2017: The Weeknd and Selena Gomez break up
Fast forward to October and People (opens in new tab)break the news that The Weeknd and Selena have split after ten months of dating. "She and Abel have been going back and forth for a few months about their relationship," a source told them. "It's been hard with him being on tour and her shooting in New York. That wasn't easy on them."
At the time, Selena was also linked to ex-boyfriend Justin Bieber, who she eventually rekindled with before the two broke up again and he married wife, Hailey Bieber. Is your head spinning too?
Meanwhile, two weeks after his break up with Selena, The Weeknd was seen leaving Bella's New York City apartment. At the time, an insider told Us Weekly (opens in new tab): "Bella really missed him. She's happy with where things are and he is too. They are still totally in love."
April 2018: The Weeknd and Bella officially reunite for the third time
In April 2018, it was reported that the couple were officially back together with E! running a story about their "steamy" PDA at Coachella. "Bella never really lost feeling for Abel and had hope they would eventually get back together," they wrote, after speaking to a source. However, Bella denied the insider's account, responding to a Instagram post with: "It wasn't me." But a month later, photos emerged of the two kissing at Cannes Film Festival, confirming their reconciliation.
Happy together once again, the couple were back to sharing loved-up photos throughout the summer of 2018. The two also celebrated Bella's 22nd birthday together, with the model taking to Instagram to thank her "baby" and sharing adorable pictures of them from her party.
Later that month, they attended Heidi Klum's annual Halloween party together, dressed in matching costumes as Lydia and Beetlejuice.
In November, the couple were once again at the Victoria's Secret Fashion Show together, only this time The Weeknd was sat front row cheering on his girlfriend alongside her mother, Yolanda Hadid.
The couple were going from strength to strength, with reports of the two moving in together emerging shortly after. US Weekly (opens in new tab) also hinted that a "proposal was on the horizon" as the pair were "madly in love," according to a source.
August 2019: they break up again
After celebrating The Weeknd's 29th birthday together in February 2019, the couple went quiet on social media for a few months. It was then reported in August that the pair had split again. A source told E!: (opens in new tab) "They are in different places right now, physically and mentally. Bella is prepping for her fashion week commitments and Abel is working on his music and his upcoming acting debut."
However, rumors were rife once again when The Weeknd made an appearance at Bella's 23rd birthday two months later in October. A source told E! (opens in new tab)once again: "Abel met up with Bella last night for her third birthday celebration at L'Avenue. He was with her the entire night and they left together to go back to the apartment they both shared. You could tell that they were definitely in love and they both looked very happy being around each other."
However, The Weeknd's rep confirmed to People (opens in new tab) shortly after that "they just attended as friends".
Nine months after the couple's split, in June 2020, Us Weekly (opens in new tab) reported that Bella and The Weekend "have been in touch recently" and that "there's always a possibility that they will get back together down the line".
July 2021: Bella goes Insta official with Marc Kalman
Bella surprised everyone when she posted a picture on her Instagram kissing a mystery man, who turned out to be Marc Kalman. The two seem pretty cozy so this might mean the end of the Bella and The Weeknd saga—only time will tell...
The My Imperfect Life team is all about helping you navigate your world. We bring you the latest on fashion, beauty, travel and wellness so you can live life on your terms.