Why 'Below Deck Sailing Yacht' season 4 is the best, messiest reality TV since Scandoval
The love triangle between Daisy, Colin and Gary in 'Below Deck Sailing Yacht' season 4 is serving Pump-levels of drama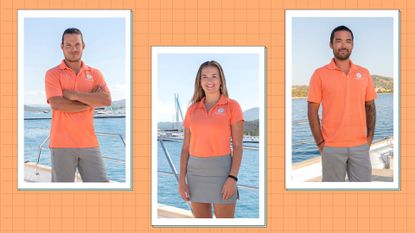 (Image credit: Fred Jagueneau/Bravo)
Thank the reality-show gods, Below Deck Sailing Yacht season 4 is filling the Scandoval-shaped hole in our TV-loving hearts.
We gotta admit, we didn't think any reality TV show could possibly live up to the Vanderpump Rules drama last season, what with all of the duplicity from Tom Sandoval and Raquel Leviss and the very rightful rage of his betrayed ex Ariana Madix and their larger friend group.
But this season's crew on the sailing-focused Below Deck spinoff is giving the SUR staffers a run for their messy money, thanks to a shocking love triangle between the boat's three department heads. Here's everything we know about that Below Deck Sailing Yacht season 4 drama.
All about 'Below Deck Sailing Yacht' season 4's love triangle
Like Below Deck Adventure, Below Deck Sailing Yacht is a spinoff of Bravo's Below Deck franchise and for the past three seasons (it had a different crew in its first season), its cast has been grounded by three central figures: chief stew Daisy Kelliher, chief engineer Colin MacRae and first mate Gary King.
The three have gotten along swimmingly, with Colin and Gary embarking on one of TV's best long-haired bromances, and Daisy and Gary regularly partaking in fun will-they-or-won't-they flirtations during their time aboard the Parsifal III.
That all changed in season 4 of the Bravo hit: Daisy and Colin—the latter of whom, though single this season, had been in relationships during his tenure on the franchise, which has kept the engineer largely out of the show's romantic dramas—shared an unexpected smooch in episode 8 that truly made waves in the cast.
That's because, as the romantic relationship between the longtime friends and crewmates progressed, Gary—who has been keeping himself busy onboard with another stew, Mads Herrera—found himself upset at the change in dynamic between the trio and was jealous that Daisy seemingly was getting intimate with someone other than him.
That all came to a head during the back-to-back episodes on Monday, June 12, when Gary heatedly confronted Daisy over her burgeoning relationship with Colin during their day off, even claiming that she was only hooking up with the engineer to get back at him for his situationship with Mads.
"I know deep down you like me," Gary told Daisy. "So I think we need to be together. But clearly, that's not gonna happen now."
"I don't want to be with you because you want to be with everybody else. You f***king could have had me a million times over and you didn't want me. Now you can't have me and now you f***king want me?" Daisy yelled at him, but the drama cranked up significantly when Gary dropped a major bomb: "Having sex with you was f***king amazing."
Yes, despite downplaying their connection over the seasons, it seems that Daisy and Gary did in fact hook up once the charter season ended, once in Menorca after season 3 and once during a trip to Disneyland that the pair took together.
"After that, he still did his typical Gary thing [and] went from female to female," Daisy explained during a confessional. "He never tried to make it anything more. And I just wanted this thing to be between me and Gary—private. Such a mess."
With the news now public, Daisy was forced to tell Colin about her previous rendevous with his BFF and cabinmate Gary, which unsurprisingly did not sit well with the engineer. "I just feel f***king stupid," Colin said, adding in a confessional: "The chemistry that they have, the way they look at each other, I thought it was all friend[ly], but it all makes sense now. It's just blowing my mind."
At the end of episode 11, which aired on June 12, Colin is unsure about where things stand with both his love interest and his former friend: "My heart's telling me, 'Live in the moment and enjoy what you and Daisy have,' but my brain's telling me, 'Stay out of it. It's got trouble written all over it.'"
It's much lower stakes than Scandoval, but the Colin-Daisy-Gary love triangle on Below Deck Sailing Yacht is also one of those incredible storylines paying off after seasons. Nothing better than when the previously on hits you with the "three seasons ago."June 13, 2023
See more
Those of you Jonesing for drama absent #scandoval might I suggest Below Deck Sailing Yacht - and allow me to introduce you to your next problematic manchild to obsess over - Gary. pic.twitter.com/cWNpVrdXfWJune 13, 2023
See more
The Daisy/Colin/Gary love triangle on below deck sailing yacht is the perfect scandoval pallet cleanserJune 13, 2023
See more
Imagine going from Scandoval straight into a love triangle three years in the making….yeah, check on your Below Deck Sailing Yacht friendsJune 16, 2023
See more
Why did Daisy unfollow Colin from 'Below Deck Sailing Yacht'?
Oh, you didn't think that was all the drama, did you? There's plenty of mess onscreen but it looks like there's been even more happening off, with eagle-eyed fans realizing that Daisy and Colin have unfollowed each other on social media, despite frequently posting pictures of themselves with the rest of the Below Deck Sailing Yacht cast, including Gary.
When a fan asked Daisy about the current status of her relationship with Colin during a June appearance on Watch What Happens Live, the stewardess was cagey: "I am going to leave it to the reunion, the reunion is coming up," though she added, "I have a lot of love for Colin, things are complicated and I don't need complications on my social media."
During the same WWHL episode, she also said that Colin had the "most to answer for" during the upcoming reunion, which suggests that things clearly happened in their relationship that we don't yet know about.
Thankfully, Below Deck Sailing Yacht fans will get to enjoy back-to-back episodes every Monday starting at 8pm ET on Bravo until the season's end. (Episodes will also stream the next day on Peacock.)
Christina Izzo is the Deputy Editor of My Imperfect Life.
More generally, she is a writer-editor covering food and drink, travel, lifestyle and culture in New York City. She was previously the Features Editor at Rachael Ray In Season and Reveal, as well as the Food & Drink Editor and chief restaurant critic at Time Out New York.
When she's not doing all that, she can probably be found eating cheese somewhere.