La Roche-Posay Pure Vitamin C10 Serum review: can sensitive skin really tolerate a 10% vitamin C serum?
Our La Roche-Posay Pure Vitamin C10 Serum review reveals whether sensitive skin can really tolerate a 10% vitamin C serum.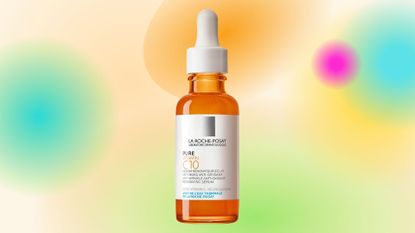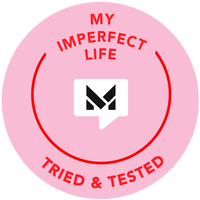 (Image credit: Future/La Roche-Posay)
My Imperfect Life Verdict
La Roche-Posay Pure Vitamin C10 Serum claims to have solved the problem of applying a high 10% concentration of brightening vitamin C to sensitive skin. We put it to the test...
Reasons to buy
+

Suitable for sensitive skin

+

The addition of salicylic acid makes it good for acne-prone skin

+

A potent enough concentration to spark change in skin's brightness

+

Visible improvements in hyperpigmentation

+

Increases the protection provided by your daily SPF

+

Light and air protective packaging
Reasons to avoid
-

May not work on old or stubborn dark spots and hyperpigmentation—a prescription solution might be needed for these
We decided to put the La Roche-Posay Pure Vitamin C10 serum to the test, as with so many topical vitamin C products on the market, it's hard to know where to start as they all claim to be the next best thing since sliced bread.
There are many reasons people want to add the best vitamin C serum to their skincare arsenal. Vitamin C is a powerhouse skincare staple in more ways than one. It's a potent antioxidant and protects the skin against UV rays and other environmental aggressors. It can stop the overproduction of pigment and fade dark spots, creating a more even tone. It can rev up collagen production for fewer lines and firmer skin, as well as boosting the overall radiance of your skin—a pretty impressive roll call of the benefits of vitamin C.
But for those with sensitive skin, certain forms of vitamin C have one major drawback—they can also be incredibly irritating. The form of vitamin C most likely to annoy reactive skin is L-ascorbic acid. Being the most stable form of vitamin C also makes it the most potent and thus the most sensitizing. This largely comes down to the way L-ascorbic acid is formulated in skincare. It's very low pH can weaken the skin's barrier function, increasing the likelihood of dryness and peeling. This is one reason skin experts usually recommend those with dry and sensitive skin use a water-soluble form of vitamin C known as magnesium ascorbyl phosphate which, although less stable, is also less irritating.
While my skin isn't sensitive as such, the tingle that comes with vitamin C serums at a concentration of 10% or more can leave me red-faced. So I confess I was initially quite nervous about trying La Roche-Posay Pure Vitamin C10 Serum, which proudly boasts 10% L-ascorbic acid and yet, according to the brand, can even be tolerated by sensitive skin. Such were my concerns that I approached dermatologist Dr. Emma Wedgeworth. She explained: "La Roche-Posay Pure Vitamin C10 Serum is formulated at a pH of 5.5, so the ascorbic acid is non-irritating and doesn't disrupt the skin barrier." It also contains moisturizing hyaluronic acid, which is a nice pairing with vitamin C to prevent dryness, and salicylic acid as a bonus ingredient to prevent congestion in pores.
La Roche-Posay Pure Vitamin C10 Serum review: the need to know
Targets: Hyperpigmentation, dullness, fine lines and can be used by anyone in their 20s upwards.
USP: It's formulated at a skin-friendly pH of 5.5 to ensure the vitamin C is non-irritating even on sensitive skin. It also contains salicylic acid, which has mild exfoliating properties to enhance skin's brightness.
The science behind La Roche-Posay Pure Vitamin C10 Serum
La Roche-Posay has built its reputation on skincare that plays nicely with sensitive skin. And the marketing around the Pure Vitamin C10 Serum seems to imply that this skin type is front of mind when creating a vitamin C serum at a 10% concentration. The L-ascorbic acid is formulated at a pH of 5.5, which is also the skin's natural pH, the idea being that it will not be as irritating. At 10% it's also effective enough to spark change, improving skin's elasticity and protecting against aging free radicals triggered by exposure to UV rays and pollution.
Delivered in serum, the vitamin C is kept stable and its tiny molecules are able to penetrate through the outer skin layer more efficiently. Unusually, this vitamin C serum also contains salicylic acid, again at levels suitable for tolerance by sensitive skin, to help exfoliate dead cells on the skin's surface and double down on vitamin C's brightening powers. The icing on the cake is the inclusion of neurosensine, a peptide which occurs naturally in the skin and can block pain sensation and therefore reduce those sensitive symptoms.
The packaging
While we would normally urge caution when it comes to judging a product by its cover, in the case of vitamin C it's actually crucial. If you've ever used a vitamin C serum and the smell or color has changed over time, oxidation (deterioration as a result of being exposed to air, light or water) is likely the culprit. But that won't be an issue with La Roche-Posay Pure Vitamin C10 Serum, which is packaged in a UV-filtered bright orange bottle to protect it from the sun and keep it as potent as possible. The serum is also delivered via a pipette so you get a precisely measured dose each time.
Pricing
The recommended RRP for La Roche-Posay Pure Vitamin C10 Serum is $39.99 (£38), meaning you're getting science and a results-driven formula at a purse-friendly price. One bottle should last you two months.
---
---
How to apply the La Roche-Posay Pure Vitamin C10 Serum
It's important to know how to use vitamin C so that you can really make the most out of it. There's been a long-running debate over whether you should use vitamin C in the morning or at night, however it's generally best to actually use as part of both skincare routines. As with any active ingredient, it's important to start slowly when incorporating it into your regime. So for the first two weeks try adding the Pure Vitamin C10 Serum to your regime three times a week (like Sunday, Tuesday, and Thursday) and work up to daily use.
As for complementary ingredients, vitamin C works best in combination with other antioxidants such as vitamin E and ferulic acid or with a moisturizer rich in vitamin B and hyaluronic acid. While vitamin C can help to brighten hyperpigmentation, you still need to wear an SPF during the day. So always wait a few minutes in the morning for the serum to absorb into the skin then apply an SPF30+ over the top to ensure you prevent future dark spots from appearing.
Who should buy it?
Anyone in their 20s upwards, looking for a fuss-free, dermatologist-vetted vitamin C serum. The addition of salicylic acid also makes this serum ideal for those with acne as it helps to purge pores of impurities. La Roche-Posay Pure Vitamin C10 allows you to reap the skin-brightening benefits of vitamin C and protects against damaging free radicals that accelerate aging—all without the worry of unexpected flare-ups. The fact that this serum is so reasonably priced means that you're likely to use it consistently, something that is key for seeing results with vitamin C. Your sensitive skin will thank you—as will fine lines and sun damage.
The verdict: should you buy the La Roche-Posay Pure Vitamin C10 Serum?
The texture goes on smoothly and instantly absorbs into the skin without leaving a greasy residue in its wake. Also important, it doesn't pill under sunscreen and I experienced no burning sensation on application. My main reason for using vitamin C is that as I've got older, post-acne scars seem to take even longer to disappear. After two months of use, I started to see an improvement in my skin tone as those dark spots began fading. But the best part? Thanks to a tangerine undertone you also get immediate gratification, as this serum gives you enough of a bronzed glow to get away with wearing no foundation.
Fiona Embleton is a multi-award-winning beauty editor who has tested over 10,000 products in her 10 years + of writing and shooting beauty stories. For the past four years, she was the Senior Beauty Editor at Marie Claire, having previously worked in the role of Beauty Editor at both Stylist and Cosmopolitan. She has recently gone freelance and alongside My Imperfect Life, she has written for titles including ELLE UK, ELLE Canada, Buro 247, Harper's Bazaar Arabia, Vogue Scandinavia, and ES Magazine. Beauty journalism allowed her to marry up her first-class degree in English Literature and Language (she's a stickler for grammar and a self-confessed ingredients geek) with a passion for make-up and skincare, photography, and catwalk trends. She loves jumping on the latest internet-breaking beauty news, dissecting the best red carpet looks, and having the crème de la crème of dermatologists, make-up artists, and hairstylists on speed dial so she can tap them for the best advice. She's a discerning beauty shopper and knows it can be confusing trying to navigate what's hype and what really works. So if she really likes something, you can trust that she has reached that opinion by vetting it against everything else she's ever tried. Her career highs? Interviewing Cate Blanchett and winning a Jasmine Award for the deeply personal feature Cancer Stole My Mother's Scent.