The best bubble bath products for the ultimate R&R sesh
This round-up of the best bubble bath products will ensure you have the most relaxing time in the tub possible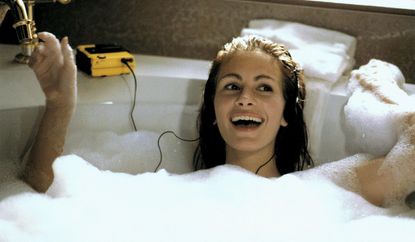 (Image credit: CINETEXT/TOUCHSTONE/MOVIESTORE COLLECTION)
We all have days that are exhausting and drain us of our energy—be it a hectic day at the office or a Saturday spent running errands. But at the end of those days, a nice, hot soak in the tub with only the best bubble bath products can do a lot to melt the stress away.
There's nothing better than settling down in a candle-lit bath, a glass of wine in hand. Along with the best sleep aid essentials, a pre-bedtime bath can even help you get a great night's rest. But of course, it's important to have the best products on hand to make your soak that little bit more special, be it a scrub to soften your skin or a luxury item to really pamper yourself. Because what is a bath without those extra touches that make it so relaxing?
However, there are many bubble bath products on the market to choose from, so we've compiled a handy guide to help you find the right ones for you.
The 5 best bubble bath products to shop now:
1. L'Occitane Lavender Foaming Bath
This calming formula by L'Occitane will really help to provide a relaxing bathing experience. This foaming bath is infused with ingredients that will moisturize and condition your skin too, so you can really add a bath to your list of self-care practices. Simply toss two or three capfuls of the bubble bath solution into running bath water and sink into the blissful aroma.
---
2. Philosophy Lemon Custard Bubble Bath
If citrus scents are your bag, then you'll definitely want to reach for this jumbo Philosophy Number. A multipurpose formula that can be used from head to toe, you'll love the rich lather it conjures up whether you're using it for a relaxing soak in the tub, or for a quick freshen up in the shower. Simply pour a generous dose into running water and let it work its magic.
---
3. The Honest Company Bubble Bath
For just $11.99, you can grab a 12-ounce bottle of this sweet almond, tear-free and hypoallergenic bubble bath; you can keep this all to yourself or allow the whole family to use it. It boasts all-natural ingredients, is dermatologist tested, and is made without any nasties, such as synthetic fragrances, SLS/SLES, paraben and dyes. It is also cruelty-free, vegan-friendly and biodegradable to boot! To enjoy, place two to four capfuls right under the running water in your tub. Once you notice foam and bubbles begin to pile up, hop in, relax, and soak.
---
4. The Body Shop Berry Blend Bath Foam
Everybody loves a bit of The Body Shop, right? They have several different bath blends to choose from, but we're a fan of this fruity berry concoction. With notes of wild strawberry, praline, vanilla and oat milk, it works to hydrate and nourish dry skin types while you soak. It's also loaded with antioxidants and minerals to brighten up dull winter skin. And did we mention the packaging? It's both 100% recyclable and made from 50% recycled plastic. Lovely!
5. Vitabath Cucumber and White Tea Bubble Bath
With refreshing scents of cucumber and soft water florals, you'll feel your tension melt away as your skin enjoys the benefits of infused Vitamins A, B3, C, E, and Pro-Vitamin B5 in this bubble bath. This formula is also free of parabens, silicones, phthalates, dye, gluten and soy, among others. To use, all you need to do is pour a little bit of the solution under running water to create foamy bubbles that will leave your skin scented and pampered.
---
Which one will you be giving a try?
What are the benefits of a bubble bath?
Sure, most of us took bubble baths as kids, playing with toys and making soapy mohawks and beards. But as adults, baths have become sacred to make of us—after all, at-home spa night routines haven't become a huge trend on TikTok for no reason. So why not add the relaxing, skin-soothing benefits of a good soak to your ritual?
A bubble bath can relax your mind, help set a pre-bedtime routine to promote good sleep habits, and will both cleanse and nourishes your skin. You may also use a bubble bath as a muscle relaxant and physical stress reliever—particularly after exercise.
And there is scientific evidence to back up these facts, too. In a small study conducted by researchers from the Japan Health and Research Center, Tokyo City University and Jichi Medical University, participants took baths instead of showers for two weeks and reported both improved physical and mental health, lower stress levels and less fatigue.
So if you want to reap the benefits of a long hot soak, it's well worth investing in the best bubble bath products to help boost the soothing effects of your bath.
The My Imperfect Life team is all about helping you navigate your world. We bring you the latest on fashion, beauty, travel and wellness so you can live life on your terms.