Self-care day ideas for a perfect day totally dedicated to YOU
These self-care day ideas are all the #TreatYourself inspiration you need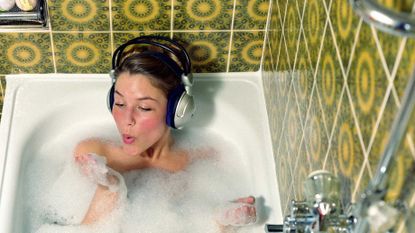 (Image credit: Getty Images)
Need some inspiration for self-care day ideas? Self-care can mean everything from indulging in comfort food, doing some retail therapy, or sitting down for a lengthy skincare routine. The concept is that you're doing something that soothes you and makes you feel better, be it physically, mentally, or emotionally.
While your idea of the ultimate self-care day—the kind of day that helps you calm anxious thoughts and relax those tense muscles—may differ from what helps the next person, one thing is clear: self-care is essential.
The good thing about self-care being so varied is that you can pick and choose the best activities for you. What helps you one day could be something very practical that takes care of an issue that has been bothering you, while what you need to feel at ease the next day could be more spiritual, like having a de-stress session with the best meditation apps, or luxurious, like soaking in bath tea.
Believe it or not, self-care doesn't have to look like something out your Instagram feed or a glossy fashion magazine, nor do you need others' approval to consider something to be self-care. What matters is how it makes you feel and how it helps you to improve your life. If you're looking for guidance, however, try these self-care day ideas and see how each can make your life a little better and brighter!
---
---
Self-care day ideas: 10 #TreatYourself plans to try
1. Do meditation and breathing exercises
If you don't have much time to devote to a self-care routine, taking a few minutes here and there for short meditation sessions is an option. Meditation can reduce stress and doesn't have to be elaborate—all you need is a quiet space and a few minutes when you won't be interrupted. Depending on your personal situation, this could be easier said than done.

However, if you can do it, then a short mindfulness meditation—which can be as simple as breathing in a slow, regular pattern and keeping your thoughts on the present moment as much as possible—can give you a fast break from everything happening around you.

If you can make the meditation sessions a habit, you may feel even better over time, both emotionally and physically. You can also try breathing exercises if your mind simply won't sit still for meditation. Both meditation and breathing exercises are available online or take a look at our guide to the best meditation apps if you want instructions right at your fingertips.
2. Pamper yourself with skincare
One of the most popular ways to "self-care" is to dedicate some time to your skin. Despite what Instagram tells you, it doesn't just have to be on "Skincare Sunday" but whenever you feel like pampering yourself.

Whether it's putting a face mask on at night or making a full day of it with at-home manicures, toners, and the best moisturizers for dry skin, it's completely up to you. If you want, you can even seek inspiration from your favorite celebrities and influencers, like following Hailey Bieber's skincare routine or testing out the biggest skincare trends of 2021.
3. Watch the weather
Sometimes the best self-care is to do nothing at all but watch nature. Weather-watching, particularly cloud-watching as well as looking at and listening to rain, can be very relaxing. You can do this alone or as a family activity.

Try looking for shapes, attempting to identify the types of clouds going by, or simply watching them drift. Who knows, you might discover a new hobby that you want to continue!
4. Watch a feel-good movie
Whilst self-care can be practical, it can also very much be about making yourself feel comfortable and at ease. One great way to switch off from the stresses of the world is by getting lost in the world of cinema.

Watching a movie is the ultimate escapism, but your choice of genre is important. Picking something sweet and wholesome, like the best rom-coms on Netflix, is bound to have a positive effect on you. But of course, if thrillers and action-packed dramas are more your bag, then enjoy!
5. Listen to some music
Sometimes, one of the best self-care day ideas is to just sit in your own cozy space and fall into a Spotify rabbit hole. Whether you're listening to nostalgic old-school tracks for a trip down memory lane or boosting your mood with some of your favorite songs, music has the ability to ignite a multitude of feelings.

Make your own self-care playlists with feel-good songs of your choice, or explore the many pre-existing playlists on the streaming service.
6. Go for a walk
One of the simplest self-care day ideas, going for a walk has multiple benefits. Not only does it give you a change of scenery and fresh air now that many of us are stuck at home during the lockdown, but it can also be incredibly therapeutic. Pick a nice, quiet area like a park or by a lake, and let yourself get lost in nature.

Walking can give you time to reflect, come up with new ideas or simply give your mind a rest, all whilst getting your steps in. If anything, it's two or three self-care practices in one!
7. Go birdwatching
At the start of the pandemic, when lockdowns swept across the globe, people stuck at home realized that there was a lot of activity in their own backyards—especially from birds.

Birdwatching is one of the great self-care day ideas if you're still staying at home because birds are everywhere, even in the middle of the city. Spend enough time watching birds in a particular area and you'll start to see social structures, relationships, and repeated behavior.

Birdwatching is a time-honored hobby that has entertained and fascinated people across the world for years, and it can be a wonderful break during a busy day.
8. Clean and declutter
Sometimes self-care day ideas take extremely practical forms and decluttering and cleaning can—despite the initial impression that these are chores—be liberating.

How you approach this is up to you. You might want to do just a general clean, such as getting rid of the week's layer of dust and putting random things away. A clean, organized space is beneficial for mental health and you get a better sense of control over your space.

You may also decide that tackling the odd pile in the corner of the garage or cleaning out that rarely touched junk drawer is more appropriate. You can also make "cleaning" about cleaning out your follower and following lists on social media. Some sort of organization is what you're aiming for.
9. Stay on top of your diet and water intake
Self-care day ideas that have lasting effects on your well-being are reviewing and adjusting your daily diet and water intake. The pandemic has led to a lot of comfort eating, and that has changed daily diets substantially in many cases. (No judgment here!)

Now, you don't have to throw out all the foods you like and adhere to strict medically approved diets. In fact, given the circumstances, that could be a move away from self-care. But you can take a look at the overall nutritional profile of what you've been eating to ensure that, among the comforting dishes you've made, you're still getting the nutrition you require.

Make sure you're getting enough protein and fiber, and look at your water and other fluid intakes. Merely giving your body the nutrition it needs and staying properly hydrated can go a very long way towards helping you feel calmer and better able to handle whatever comes your way.
10. Take a nap
And if none of the previous self-care day ideas strikes your fancy, and you just feel like you want to escape? Take a nap—even better if it's with a weighted blanket, one of the best wellness gifts. Feeling tired and not being well-rested is one of the worst ways to face a day, week, or extended pandemic and its ensuing stress.

Repeated sleep deprivation can make you less able to handle stress and can have severe physical effects over time, but even just one bad night's sleep can throw you off. A nap can help you reset mentally and physically.

If you're concerned about feeling groggy afterward, try a coffee nap. This is when you drink coffee (or another caffeinated drink) just before napping. The thinking behind this is that the nap helps your body deal with brain chemicals that are making you sleepy, and when you wake up, your brain will be more receptive to the caffeine that you've ingested.
With these self-care day ideas in hand, you can give yourself the time to recharge and tend to yourself. Remember, this is all about taking care of your own personal needs, so be sure to try a few to see what feels right for you!
The My Imperfect Life team is all about helping you navigate your world. We bring you the latest on fashion, beauty, travel and wellness so you can live life on your terms.