The best Hinge answers and questions will guarantee a swipe right
Add the best Hinge answers and questions to spruce up your profile on the popular dating app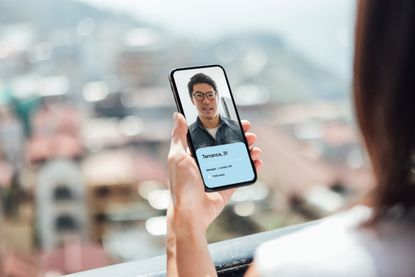 (Image credit: Getty)
These days, a selection of swipe-right-worthy photos isn't enough. Crafting the best Hinge answers is an art form, so you need to rely on more than just being a pretty face.
For users of Hinge—one of the best dating apps on the market—filling out a full profile is mandatory and while it does make for more specific love matches than other apps, it also means you have to be as alluring in your personality as in your profile pictures.

The Hinge profile also led the way in making dating apps offer a question and answer system and again, while it is optional for other services, Hinge has made answering at least three questions mandatory.

Obviously, having to be original against a sea of answers to pre-set questions can feel impossible, which is why these crowd-sourced online dating tips for the best Hinge answers and questions will make sure you are picking the Qs and As that have the most pull factor—so you put some of those outdoor date ideas into practice...
The best Hinge answers to add to your profile
1. "A social cause I'm passionate about is..."
This question is best to work out if you share the same political or social beliefs without having to jump into a deep question-and-answer session before your first date. Eden, who holds Hinge up as her favorite dating app, comments that she prefers "the social cause question because it gives you a chance to show your politics and see the beliefs of other people."
Answering this question with an honest look at your own politics will ensure those who disagree with your fundamental beliefs don't needlessly swipe right. Because who wants to make pillow talk with a person who doesn't agree with your political opinions?!
2. "I won't shut up about..."
While questions on Hinge are so generic that even the best Hinge answers are generic as a result—do we really need to go over the pineapple on pizza debate again?— this question allows the user to get niche about any specific-to-them hobbies or interests they may have. Eden confirms this one as a top clicker for her both on her profile, and for her to interact with other profiles.
"Even if I am not particularly attracted to someone, I will reply to their profile if their answers are good, just to have a conversation," she observes. So if you have any particular interest you love to talk about or need your potential partner to care about, this is the question for you.
3. "My go-to karaoke song is..."
Out of all the interviewees, this Hinge question ranked the highest. Lily, a London-based creative, enthuses that her "all-time favorite Hinge question is definitely the karaoke one. You can learn so much from a person by what song they are willing to belt out in public."
Whether you use this question to show off your impeccable music taste is up to you, but utilizing it for humor is also an excellent choice. Harriet, a fellow Hinge user, says "the best answer I have seen for it is 'The Simpsons theme tune'." Take this one seriously or be a bit jokey—either way, it's the top-rated choice as one of the best Hinge answers and questions combos.
4. "My biggest date fail was..."
Another chance to be funny, but Alex, a lesbian who has tried all the apps, warns against answering too try-hard. "People usually use these questions to 'try to list their most outrageous and unbelievable stories or things about them, but they're often really dull." She explains: "The question encourages people to frame their experiences as really wild, but they're usually very mundane."
Instead, utilize this Hinge question to state what you are not looking for on a date. Be honest about what has turned you off in the past in order to ensure that nobody does it again to you in the future.
5. "I am weirdly attracted to..."
Luke, a creative consultant, says this is his Hinge question of choice because it is a great opportunity to showcase humor, or list a specific turn-on that others might be interested in.

By putting that he "loves dungaree-clad women", the answer is suitably tongue in cheek that it won't put anyone off him, while hopefully bagging him a girl that has an incredible denim collection. Use this question to showcase your personality and slyly impress what you're looking for in your dream partner.
If you get to the next stage (good luck!), you might want to read up on our first date tips...