Online dating tips: we asked the experts for their best advice
In need of some online dating tips? Let the professionals give out some needed advice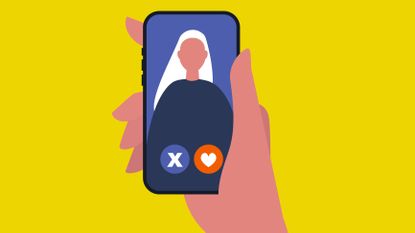 (Image credit: Getty)
While the days of Tinder's monopoly on the online dating world are over, modern dating isn't getting any easier—which is why we've enlisted the help of professionals for their best online dating tips.
Once you have picked a preferential dating app (we're fans of the BARE dating app, the app "for the open-minded") and have weighed up the options—like Hinge vs Bumble, for example—more specific tricks can help you make dating apps work for you. So we called in the big guns and spoke to professionals who have made a career from perfecting online dating profiles on apps for their clients to secure the best online dating tips.
By following these different ways to make your dating app profile stand out, you stand to make more matches than ever and hopefully find the one pairing that stops you from swiping your life away forever.
1. Mix up your photos
Sanjay Panchal, the founder of new dating app Elate, implores you to not just stick to the selfies. "One of the biggest complaints on dating apps are dates not looking like their profile," Panchal explains. "Make sure you always use recent photos (from the last two years), have a mix of full length and close up shots and avoid things like sunglasses, filters, and group shots. Don't have any good photos? Go out and get some!"
2. Keep your bio updated
Although your photos are often the first thing a person sees on dating apps, the bio is more important than ever. As Panchal puts it: "Your profile isn't just about looking attractive, it's to help get to know you and start a conversation."
With more and more apps requiring a full profile filled in - like the best Hinge answers and questions system - personality is more important than ever.
Christan Marashio, an online dating coach, says keeping your profile up to date with modern topics will help show others you're using the app regularly. For now, she instructs: "Update all bios with your COVID dating style (virtual dates only, social distance dating with masks, etc.) This will demonstrate you've been active on the app recently." She continues: "It will also help set appropriate expectations so you don't get stuck in a texting vortex with someone who has no intention of ever meeting you."
3. Don't take it personally
Whether you're a hit on Hinge or a fumble on Bumble, everyone's had experience with being ghosted, ignored or even insulted on a dating app. Marashio says this is a common complaint with her clients but her all-important rule of online dating is to ignore the negatives.
"Literally every client—every one of them—states they're not matching with the right people, they're getting ghosted, and that it has become difficult to meet offline. It's not you. It's not anything you're doing (within reason)", she explains. "It's the mentality created by the apps—the false sense of endless options, the rejection fatigue, the comparison bias. Try not to take the rejection to heart. They are not rejecting you—the flesh and blood human being. They're rejecting a one-dimensional representation of you."
4. Show your personality
We touched on this earlier, but it really is the most important part of dating—online and offline. "Most dating apps are designed to sign you up as quickly as possible so people end up writing short, boring or cliched bios", Panchal says. "Spend a bit more time on it and write something that stands out, you'll get more matches and better quality ones."
He also advises all dating app users to not just focus on being funny but displaying their passions too. What if a potential partner loves the same 00s alt-rock band as you, but neither of you mentioned it on your profile? "Having a passion for something is attractive", Panchal adds. "Don't just write a plain list of interests either, show them in your photos or be specific in your bio about what you like and why you like it."
More and more people are connecting over shared passions and not just on actual dating apps (lots shooting their shot over on Clubhouse)—so don't be scared of going for it.
With these four points in mind, prepare your profile to show the best version of yourself and make more matches than ever before. After all, you're looking for someone who likes you just as much as they like your selfies.