Best mini fridges for skincare to keep your beauty essentials cool
Storing your products in one of the best mini fridges for skincare is a great way to cool your skin down in the heat (plus they look seriously chic)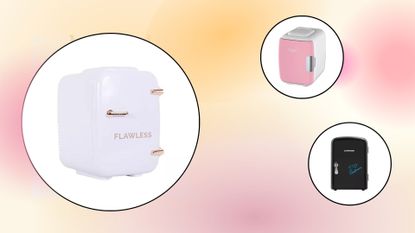 (Image credit: Flawless Beauty, Cooluli, Chefman)
Spotted beauty influencers keeping their skin products in a fridge? While not exactly essential, the best mini fridges for skincare are a nice added luxury for keeping your faves in a dedicated cool space—as well as chilling items like face mists for an extra nice skin refresh when it's hot.
Refrigerating products like the best face moisturizer or tools like jade rollers before using them can provide a cooling hit and briefly de-puff the skin, as well as helping to prevent your products (especially solid cleansers, lip balms and lipsticks) from melting during the warmer months of the year. Plus, who doesn't love applying cool products to their skin? Not only does that crisp, fresh sensation feel great, it can temporarily benefit our skin.
"Most skincare products should be stored at room temperature, but there are some products that do give extra benefits by storing them in the fridge, such as gel-based moisturizers or masks," Dr. Preema, Medical Director of the Dr. Preema London Clinic, tells us. "When applied to the face, the product will help cool irritated skin, and reduce puffiness and redness."
There are mixed opinions on how beneficial it is to refrigerate your products, but some beauty enthusiasts swear by it, so if you're keen to give it a try we've picked out some super-cute mini fridges for skincare to store your favorite goodies.
Meet the expert on skincare fridges
Dr. Preema Vig is an aesthetic doctor and Medical Director of the Dr. Preema London Clinic, who specializes in non-surgical facial rejuvenation. She's explained to My Imperfect Life how skincare fridges can be beneficial.
The best mini fridges for skincare to shop now
Chefman Mini Portable Eraser Board Personal Fridge | RRP: $54.99 (US only)
Both portable and personalized, this mini fridge really is mini—but don't panic, there's still plenty of space to store your beauty products. With 66% five-star ratings on Amazon, the fridge is a hit among customers for both its cooling and warming powers. All you have to do is flip the switch the way you want it.
And did we mention that the front is equipped with an eraser door? This is useful for noting down your skincare product order, or jotting down a reminder for yourself for which items will soon need reordering.
Finishing Touch Flawless Mini Beauty Fridge for Makeup and Skincare | RRP: $59.99 / £113.20
This retro mini fridge by Finishing Touch has two shelves for all your skincare and makeup products. In fact, it's built with beauty in mind, as the inside of the fridge door features a mini basket perfect for face masks, jade rollers, ice packs and any other skincare odds and ends.
StylPro Mini Beauty Fridge | RRP: £54.99 (US only)
Stylpro is known for its brilliant beauty tool cleaning gadgets, but did you know they also offer With a minimalist white and rose gold color scheme, StylPro's skincare fridge never falls below a temperature of 2°C (35.6°F) to ensure your products don't freeze or spoil.
It holds up to four liters, features a removable divider and inner door pocket, and even a built-in noise reduction system so you'll barely notice it cooling your face mists and under-eye patches in summer.
Cooluli Mini Fridge | RRP: $49.99/£42
Another stylish retro design that's available in lots of different colorways, this mini fridge looks like it's straight out of the 1970s and we're not mad about it. Available in shades like pastel pink and baby blues, as well as patterns like cow print, the surprisingly spacious fridge has a modern, matte finish and is perfectly portable.
AstroAI Mini Fridge | RRP: $49.99/£51.99
There's a reason why this mini fridge is an Amazon fan favorite. Not only is it good value for the money, but it features a nice and simple design that can go with any room decor, as well as four liters of capacity.
Whether you store it in your bedroom, bathroom or vanity, a mini beauty fridge will no doubt prove to be a game-changer when it comes to your daily skincare and makeup routines. Stay chill!
Sagal is a journalist, specialising in lifestyle, pop culture, fashion and beauty. She has written for a number of publications including Vogue, Glamour, Stylist, Evening Standard, Bustle, You Magazine, Dazed and Wonderland to name a few.