Best mini fridges for skincare to store your beauty essentials
Battle the heat by storing your products in the best mini fridges for skincare. Time to put your freshest face forward!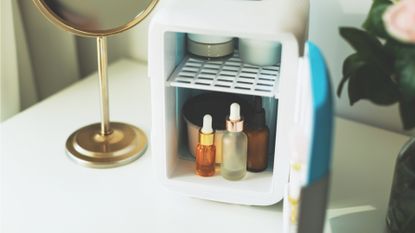 (Image credit: Getty Images)
Whether it's to battle the summer swelter or simply to refresh your face any time of year, the best mini fridges for skincare are super convenient for chilling out all of those beauty products that need to be kept in a cool space—which often includes all the essentials in our skincare regime.
It is believed by many skincare experts that refrigerating products like face creams and tools like jade rollers can be more beneficial for the skin as well as preserving products (especially lip balms and lipsticks) from melting during the warmer months of the year. Plus, who doesn't love applying cool products to their skin? That crisp, fresh sensation not only feels great but seems almost as though it's instantly firming, and according to some dermatologists it actually is.
In fact, Dr. Preema, Medical Director of the Dr. Preema London Clinic, told us: "Most skincare products should be stored at room temperature but there are some products that do give extra benefits by storing them in the fridge, such as gel-based moisturizers or masks. When applied to the face, the product will help cool irritated skin, reduce puffiness and redness."
However, there are of course mixed reviews about how effective it really is to refrigerate your products, with some beauty lovers swearing by it whilst others haven't noticed much of a difference. If you're keen on giving it a try, here are some super-cute mini fridges for skincare to store all of your favorite goodies in.
Meet the Expert
Dr. Preema Vig is an aesthetic doctor and Medical Director of the Dr. Preema London Clinic, who specializes in Non-Surgical Facial Rejuvenation.
---
---
The best mini fridges for skincare to try
1. Pearl Boba Tea Mini Fridge 10 L
A limited-edition mini fridge that's pretty in pink
This adorable mini fridge by Smoko is not only convenient but is bound to make any room look prettier with its sweet bubble tea design. While you can manually change the temperature, it is also automatically determined by the temperature surrounding the outside of the fridge and cools at approximately 16-20 degrees lower than outside temperature.
2. Chefman Mini Portable Eraser Board Personal Fridge
This mini fridge is both portable AND personalized
This mini fridge really is mini but don't worry, there's still plenty of space to store your beauty products. With a 66% five-star rating on Amazon, the fridge is a hit among customers for both its cooling and warming powers. All you have to do is flip the switch the way you want it.
And did we mention that the front is equipped with an eraser door, great for noting your skincare product order or listing which items will soon need a refill.
3. Finishing Touch Flawless Mini Beauty Fridge for Makeup and Skincare, White, 4 Liter
A mini fridge for all the retro lovers
This retro mini fridge by Finishing Touch has two shelves for all your skincare and makeup products. In fact, it's built with beauty in mind, as the inside of the fridge door features a mini basket perfect for face masks, jade rollers, ice packs and any other skincare odds and ends.
4. Cooluli Mini Fridge
This beauty is available in pastel hues and fun prints
Another stylish retro design, this mini fridge looks like something straight out of the 1970s and we're not mad at it. Available in shades like pastel pink and baby blues, as well as patterns like cow print, the surprisingly spacious fridge has a modern, matte finish and is perfectly portable.
5. AstroAI Mini Fridge
This skincare mini fridge is an Amazon bestseller
There's a reason why this mini fridge is an Amazon fan favorite. Not only is it good value for the money, but it features a nice and simple design that can go with any room decor, as well as four liters of capacity.
Whether you store it in your bedroom, bathroom or vanity, a mini beauty fridge will no doubt prove to be a game-changer when it comes to your daily skincare and makeup routines. Stay chill!