How to apply your skincare products in order for effective layering
Is your beauty regime confusing you? Here's the best skincare product order to follow for effective layering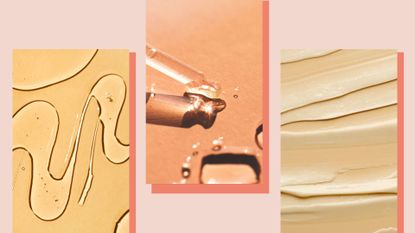 (Image credit: Future/Getty)
Your chosen skincare product order can make a huge difference to the efficacy of your carefully selected potions and lotions. Building an effective skincare routine can already be overwhelming given both the dizzying number of product options on the market to choose from and the many different ways you can apply them, so that's why understanding how to best apply your skincare routine in order can help simplify things.
Broadly speaking, the backbone of a solid skincare routine order is these four pillars: cleanse, serum, moisturize and SPF. And always in this order, says aesthetic doctor Ifeoma Ejikeme: "The rule of thumb with any skincare product is to apply it in order of consistency—from the thinnest to the thickest.
"Products are created to sit on top of one another, but thinner products can't penetrate thicker ones. So humectant serums (which draw moisture to the skin) should always be placed on the skin before occlusive moisturizers (which prevent water from escaping). And wait 30 seconds between each product layer to prevent pilling."
So we've laid out how to create a skincare product order routine for you so that you can make the most out of all your products—from your best face moisturizers to your best vitamin C serums—and get them working the hardest they can.
Meet the experts in how to effectively layer your skincare products
Ifeoma Ejikeme is the founder of Adonia Medical Clinic (opens in new tab), with an MD and Board Certified Internal Medicine amongst other qualifications.
Dr Anjali Mahto (opens in new tab) is a medical and cosmetic dermatologist, and authored the best-selling book The Skincare Bible.
Dr Justine Kluk (opens in new tab) worked as a consultant dermatologist for the NHS before opening a private practice on Harley Street, and is a Fellow of the Royal College of Physicians.
Dr Tom Mammone is the vice president of physiology and pharmacology at Clinique and the lead researcher for Clinique Laboratories.
Dr Barbara Sturm (opens in new tab) is an aesthetics doctor with her own clinic in Düsseldorf who is known for her non-surgical anti-aging treatments.
Dr Maryam Zamani (opens in new tab) is a leading Facial Aesthetics Doctor and Oculoplastic Surgeon who studied her medical doctorate at the George Washington University School of Medicine.
Dr Rabia Malik (opens in new tab) is a cosmetic doctor and general practitioner who founded her own Aesthetic Medicine clinic in 2011.
Paula Begoun (opens in new tab), also known as "the Cosmetics Cop" is the founder of her own skincare brand Paula's Choice.
Your skincare product order made simple
The goal of any skincare routine is to keep skin functioning at its best. It is also a deeply personal experience designed to troubleshoot individual concerns and work with your skin type.
SPF, for example, is non-negotiable for all skin types during the day. "But if you have oily skin, you may only want to apply serum and SPF, as most sunscreens now contain moisturizing ingredients," says dermatologist Dr Anjali Mahto. "Dry skin types may find they need more hydration and prefer to sandwich a day cream between their serum and SPF."
It's also worth noting that there's no such thing as an instant fix—you need to give your products at least a month to get to work as this is how often skin cells renew themselves. So this is the best order in which to apply your skincare routine steps...
Step 1: Cleanse
You may think that washing your face is the most basic step of your routine. And in some ways, it is, as the product only stays on your skin for a short period before being rinsed away—though do make sure to stick to the 60-second rule to make the most out of your cleanser.
But Dr. Ejikeme warns: "If you don't cleanse properly, all the dirt, debris, sweat, and make-up will still be sitting on your skin, which means any skincare you apply on top won't penetrate as effectively."
It's also doubly-important for oily skin types as not washing your skin effectively can lead to an increase in blocked pores, which causes acne.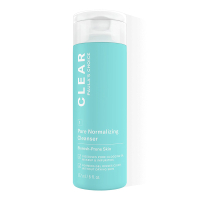 (opens in new tab)
Best cleanser to try for oily skin: Paula's Choice Clear Cleanser
RRP: $14/£17 for 177ml
Foaming cleansers help to break down dirt and excess sebum from pores. Dr. Mahto recommends choosing one spiked with either salicylic or glycolic acid like the Paula's Choice Clear Pore Normalizing Cleanser that removes debris and build-up without stripping the skin.
---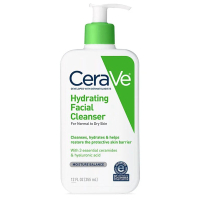 (opens in new tab)
Best cleanser to try for dry skin: CeraVe Hydrating Cleanser
RRP: $12.49/9.50 for 236ml
You have a few choices here. Cream cleansers are formulated with emollients such as glycerin, which wipe away impurities while also hydrating skin. Buttery balms are another option as they transform into a liquid when massaged over damp skin and are a surefire way to avoid that uncomfortable tight feeling.
Dr. Ejikeme says: "I recommend the CeraVe Hydrating Cleanser, as it's a non-foaming gel formula that contains both ceramides and hyaluronic acid for plump skin while ridding pores of grime."
---
Looking for something different? Here are some other of our top cleanser picks...
Step 2: Tone (optional)
For many, the word 'toner' conjures up memories of being 16 years old and applying a cotton wool pad full of stinging alcohol to get rid of spots. Thankfully, toners today look a lot different and can be used to target different skin concerns. Essentially their purpose is to catch any final traces of grime or build-up that you cleanser might have missed, so if you are using one it should be used straight after that step. But they also do so much more than that.
But it's not just ensuring squeaky clean skin that toners are useful for. Firstly, toners can help to balance your skin's pH after cleansing. Due to the alkaline nature of soap and many cleansers, the pH balance of our skin can get thrown out of whack. This means your skin works overtime to find its sweet spot again—a slightly acidic pH, around 5.5—which can result in excess oil and breakouts.
They also provide an extra shot of transformative ingredients pre-serum. If you have acne or sallow skin, look for a toner filled with either salicylic acid or AHAs (alpha hydroxy acids, like lactic or glycolic acid), which help unclog pores, dissolve blackheads and stimulate the skin into naturally resurfacing. You could even opt for a soothing cleanser to calm inflamed or sensitive skin or one packed with hydrating ingredients if your skin is on the drier/more dehydrated side.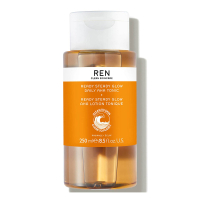 (opens in new tab)
Best toner to try for oily skin: REN Clean Skincare Ready Steady Glow Daily AHA Tonic
RRP: $20/£16 for 100ml
This is a good one to try for oily skin, dull skin or even skin that doesn't see too many issues, as it is packed with exfoliating ingredients like lactic acid and azelaic acid that work to dissolve away dead skin cells to reveal brighter skin underneath.
---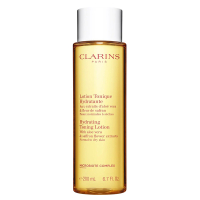 (opens in new tab)
Best toner to try for dry skin: Clarins Hydrating Toning Lotion
RRP: $28/£22.99 for 200ml
If you have dry skin, opt for the Clarins Hydrating Toning Lotion, as it is alcohol-free and newly reformulated to include organic botanicals such as aloe vera and saffron flower to nourish the skin.
---
Here are some of our other favorite toners if you want a wider choice.
Step 3: Serum
Put simply, serums are the treatment stage of your skincare routine. Due to their high concentration and potency, serums are the most effective way of shuttling active ingredients into the skin—master how to use vitamin C serum and co. and you'll be reaping almost endless benefits in no time.
Consultant dermatologist Dr Justine Kluk explains: "Serums are lighter and made up of smaller molecules than your face cream so they absorb into the skin on a deeper level."
There's a wealth of great serums on the market, all of which target different skin concerns and are designed to be used at different times of day. Some of the most common serums that provide the basis of a good skincare routine include:
HYALURONIC ACID
The best hyaluronic acid serums will infuse your skin with the hydrating essential and plump from within. These hydrating serums are a unique breed in that they're something your skin can't really have too much off, so feel free to use in the morning and at night.
However, Dr. Ejikeme recommends ensuring that you include it in your nighttime routine, as our cell production can double, making skin more active, between the hours of 11pm and 4am—so that's the time you want to use ingredients that will make a transformative difference.
"You might want to lean more heavily on hyaluronic acid to replenish skin's hydration levels, says Dr. Ejikeme: "Hyaluronic Acid is most effective when paired with other ingredients like ceramides or niacinamide, which restore the skin's natural barrier. Hyaluronic acid is a big molecule so these ingredients will help to transport it directly into the skin to hydrate and plump up fine lines."
---
VITAMIN C
Antioxidant serums are considered your best line of defence during the day to minimize UV and pollution-based free radicals assaulting your skin. Invisible to the naked eye, pollution is often comprised of tiny specks of soot and toxic oily molecules, which can seep into the skin. Dr Tom Mammone, vice president of physiology and pharmacology at Clinique, says: "This can overwhelm your skin's own antioxidant systems so they no longer repair sufficiently, resulting in lines and sagging."
So it's worth giving your skin a helping hand with an antioxidant serum. The ability of vitamin c serums—like the SkinCeuticals CE Ferulic, La Roche-Posay Pure Vitamin C10 Serum and Medik8 super 30 vitamin c—to protect against free radicals is backed by science.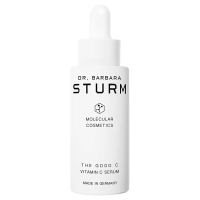 (opens in new tab)
Try: Dr Barbara Sturm The Good C Vitamin C Serum
RRP: $130/£110 for 30ml
As it uses a completely stable form of vitamin c—unlike most vitamin c—this comes without the risk of oxidation, meaning that it will last longer than most other serums. It also sinks quickly into the skin with no stickiness, making it perfect for layering.
---
RETINOL
The serum you apply in the morning should differ from the one you use before bed. Dr Barbara Sturm, aesthetic doctor who has influenced Hailey Bieber's skincare routine, explains: "At night, it's essential to use active ingredients that assist the body's repair processes while you sleep."
Dr Ejikeme also adds: "Overnight is the time to use one main active—and one only to avoid inflammation or breakouts." This includes the best retinol serums, which trigger collagen production and increased cell turnover, in order to fade dark spots, prevent breakouts and brighten skin.
If you're new to retinol, take a softly softly approach to mitigate the initial adjustment period of flaking and irritation. "Apply a pea-size drop to your entire face one night a week for one week, then two nights a week for two weeks, and then every other night going forward," says Dr Ejikeme.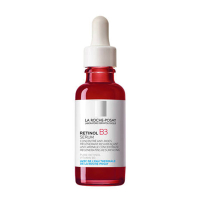 (opens in new tab)
Try: La Roche-Posay Retinol 0.3% + Vitamin B3
RRP: $41.99/£38 for 30ml
With a low dose of retinol, this is great for beginners or anyone whose skin is on the more sensitive side. Plus the addition of vitamin B3—aka niacinamide—works to tighten pores and help the retinol to work harder when it comes to reducing pigmentation.
---
If you want a wider choice, these are some of our other favorite serum picks...
Step 4: Eye Cream (optional)
Can you survive without an eye cream? Maybe. But, if you have specific concerns—like hyperpigmentation, dark circles, dryness or puffiness—you might want to consider using one. If you use a face cream that's thick and rich, like one of the best face moisturizers for dry skin, it's best to apply your eye cream beforehand, as they tend to be a bit thinner. If you're unsure, then we'd recommend still applying after serum and before you slather on your creams just to be safe.
"Dark circles can be caused by a loss of volume—fat, and collagen—which happens naturally as we age and results in thinner skin and more pronounced tear troughs," says Dr Maryam Zamani, oculoplastic surgeon, aesthetic doctor and founder of MZ Skin.
But according to Dr Zamani, there's some genetic component to dark circles, too. "Some ethnicities, such as Asian and south-east Asians, can have hereditary hyperpigmentation under the eyes due to a common genetic trait of very thin lower eyelid skin. This allows veins to show through, resulting in a darker appearance."
Brightening ingredients like vitamin C and kojic acid can help. For underage bags, look for a cooling rollerball with caffeine, while peptides and hyaluronic acid can have a plumping effect on hollows.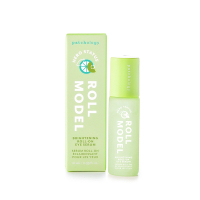 (opens in new tab)
Try: Patchology Hero Status Roll Model Brightening Roll-On Eye Serum
RRP: $22/£20 for 10ml
This comes with a built-in jade roller that soothes the undereye area as soon as you apply, while the powerful formula—which is packed with vitamins, antioxidants and pearlescent minerals—leaves the area visibly brighter after just a few uses.
---
Try our other favorite eye creams if you'd prefer an alternative...
Step 5: Moisturize
Whereas serums are designed to travel into the deeper layers of your skin, moisturizer is thicker in texture and sits on the surface of your skin. Here, among other things, it seals all the goodness from said serum into your skin.
The creams you apply in the morning should also be brimming with antioxidants to protect your skin from environmental aggressors—Origins GinZing Moisturizer is a cult favorite. Some formulas even have a built-in sunscreen to help shield you from UV rays.
Night creams, on the other hand, should be full of ingredients that stimulate skin cells while you are at rest, says cosmetic doctor Rabia Malik: "These include niacinamide to help rebuild damaged cells and copper amino acids, which can help to improve collagen production."
Skin is more permeable overnight as it's warmer—this means it's more receptive to the ingredients in your skincare. On the downside, it also means that it's more prone to water loss. So that extra blanket of night cream will provide welcome relief.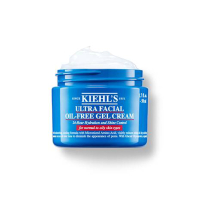 (opens in new tab)
Best moisturizer to try for oily skin: Kiehl's Ultra Facial Oil-Free Gel Cream
RRP: $33/£28 for 50ml
A gel moisturizer like this one is best if you feel like you need more quenching or your skin feels dehydrated. You don't want to apply more oil to oily skin and these water-based options are lightweight and absorb quickly.
---
---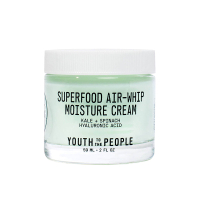 (opens in new tab)
Best moisturizer to try for most people: Youth To The People Superfood Air-Whip Moisture Cream
RRP: $48/£42 for 59ml
A lotion or an air-whipped formula is the sweet spot between a gel that's too light and a cream that's too rich. With a wealth of vitamins and hyaluronic acid, this ticks every box for pepping up tired-looking skin.
---
These are some of our other favorite face moisturizers...
Step 6: Sunscreen (never skip this step!)
Ask any dermatologist and they'll tell you that sunscreen is, without exception, the most important product in your daily regime. Dr Mahto warns: "From a medical standpoint, daily and consistent use of sunscreen will lower your risk of developing skin cancer, which can be fatal.
"If this isn't enough to convince you, then from an aesthetic point of view, it will help slow down the rate of skin aging in the form of wrinkles, pigmentation, and sagging."
Be sure to use an SPF30+—even on cloudy days, as UVA rays are still present.
And always make sunscreen the final step in your daytime routine, says founder of Paula's Choice skincare, Paula Begoun: "Any skincare product applied over the top of sunscreen dilutes it, lessening its effectiveness."
These are some of our favorite sunscreens to use on the face...
Step 7: Face Oils (optional)
The biggest misconception about face oils is that they are the same as moisturizers—when, in fact, they are not.
Face oils are occlusive, meaning they seal in all the hydrating ingredients from your serums and creams to keep them from evaporating as quickly. On their own, face oils don't hydrate skin that well because the size of the fatty acid molecules is too big to penetrate beyond the top layer. So while they are useful to use to lock in all the goodness you've applied underneath, they're not absolutely essential if you're looking to create a more a basic skincare routine.
And due to the large-sized molecules, you should only ever apply face oil as the last step in your skincare routine at night, rather than in the morning, as sunscreen can't penetrate a face oil. Applying a face oil at night also gives you a good opportunity to do a facial massage to relieve tension in the muscles and tone and firm the skin. Our in-house beauty editor, Aleesha Badkar, swears by the Therabody Theraface Pro to help with this step in her skincare routine.
Try one of these face oils for a nourishing finish...
Fiona Embleton is a multi-award-winning beauty editor who has tested over 10,000 products in her 10 years + of writing and shooting beauty stories. For the past four years, she was the Senior Beauty Editor at Marie Claire, having previously worked in the role of Beauty Editor at both Stylist and Cosmopolitan. She has recently gone freelance and alongside My Imperfect Life, she has written for titles including ELLE UK, ELLE Canada, Buro 247, Harper's Bazaar Arabia, Vogue Scandinavia, and ES Magazine. Beauty journalism allowed her to marry up her first-class degree in English Literature and Language (she's a stickler for grammar and a self-confessed ingredients geek) with a passion for make-up and skincare, photography, and catwalk trends. She loves jumping on the latest internet-breaking beauty news, dissecting the best red carpet looks, and having the crème de la crème of dermatologists, make-up artists, and hairstylists on speed dial so she can tap them for the best advice. She's a discerning beauty shopper and knows it can be confusing trying to navigate what's hype and what really works. So if she really likes something, you can trust that she has reached that opinion by vetting it against everything else she's ever tried. Her career highs? Interviewing Cate Blanchett and winning a Jasmine Award for the deeply personal feature Cancer Stole My Mother's Scent.