Rom-coms on Netflix: 14 streaming movies to fall in love with
Consider your next lazy duvet day set! Add these rom-coms on Netflix to your watch list ASAP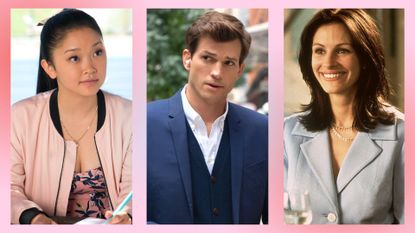 (Image credit: Netflix; Netflix; AJ Pics / Alamy Stock Photo)
Rom-coms on Netflix are our saving grace on a slow Sunday when all we want to do is stay under our duvets and snuggle up to a Hollywood love story, snacks at the ready. But it's a particular salve during Valentine's season when it seems like everyone and their mother is loved up and receiving flowers and candy every minute of February.
Luckily, the streaming service is fully stocked with some of the best rom-coms of all time, both tried-and-true favorites and fresh flicks. In fact, the platform's romance category just keeps on getting better, with new additions coming to Netflix monthly. (And yes, that might just include the cheesiest rom-com ever.)
However, all of those options mean that choosing a romantic flick can get overwhelming. That's why we're here to help make those decisions for you! Spend less time scouring through your recommend lists and more time actually watching those swoon-worthy scenes. But beware, you'll definitely be left in your feelings!
The best rom-coms on Netflix you can watch now
'To All The Boys I've Loved Before'
Based on the books by Jenny Han, the To All The Boys film franchise follows high-school sweethearts Lara Jean Covey (Lana Candor) and Peter Kavinsky (Noah Centineo). And while we adore all three films, we have a special place in our hearts reserved for the first installment, the ultimate teen romance story that'll have you swooning from start to finish.
'Always Be My Maybe'
One of the best Netflix original rom-coms, Always Be My Maybe stars Randall Park and Ali Wong as two childhood best friends who have a falling out (due to everyone's expectations that they'd end up together) and don't speak for 15 years.

When the pair reunite as adults, they have the opportunity to rekindle but romantically this time—however, it doesn't go as smoothly as you'd think. In fact, they face many hilarious mishaps along the way, including a standout scene courtesy of Keanu Reeves, who makes a cameo.
'Notting Hill'
See two of the all-time rom-com greats—Julia Roberts and Hugh Grant—at their most charming, their most endearing and their most lovely in this 1999 fan favorite. He plays William Thatcher, a bookstore owner in the titular London neighborhood, whose world spins upside down when she, playing famous Hollywood actress Anna Scott, waltzes into his shop and buys a book. But despite all of the glitz and glamor, she's just a girl, standing in front of a boy, asking him to, well, you know the rest.
'Set It Up'
Zoey Deutch and Glenn Powell play Harper and Charlie, two overworked and underpaid assistants at a fancy firm. The two come up with a genius plan to get their bosses (played by Lucy Liu and Taye Diggs) off their backs by setting them up with each other. But *spoiler alert!* they might just fall for each other in the process.
'Someone Great'
Starring Gina Rodriguez, Brittany Snow and DeWande Wise, Someone Great is the story of the power of female friendship—especially when you're going through a heartbreak.

It follows a music journalist that has just been dumped by her boyfriend as she gets together with her two best friends for one last wild night out in New York City before she moves to San Francisco. As you can imagine, the night turns out to be very eventful.
'She's Gotta Have It'
The debut feature film by Oscar-winning filmmaker Spike Lee, this 1986 classic centers on Nola Darling (played by Tracy Camilla Johns), a young New Yorker who can't decide what kind of man she wants to date, so she decides to date three completely different men at the same time.

The first is Greer Childs, a rich, handsome narcissist. Then there's Jamie Overstreet, a stable, overprotective alpha male. Finally, there's Mars Blackmon (played by Lee himself), a timid geek with a heart of gold. But who should she end up with?
'Alex Strangelove'
Serving up equal parts heart and humor, this tender 2018 rom-com centers on high-school senior Alex Truelove (Daniel Doheny), who has plans to lose his virginity to his girlfriend until he meets an openly gay teen, Elliot (Antonio Marziale), an encounter that sends Alex on a journey of sexual identity and romantic discovery.
'Eat Pray Love'
You didn't think that a list of the best rom-coms on Netflix would feature only one Julia Roberts movie, did you? She's basically synonymous with the genre!
Here, the beloved actress portrays Elizabeth Gilbert (the author of the 2006 memoir of the same name, on which Eat Pray Love is based), a woman traveling to Italy, India and Indonesia as she says goodbye to an old love (Billy Crudup's Steven), hello to a new one (Javier Bardem's Felipe) and welcomes some self-love along the way.
'The Lovebirds'
Zoey Deutch and Top Gun: Maverick star Glenn Powell play Harper and Charlie, two overworked and underpaid assistants at a fancy firm. The two come up with a genius plan to get their bosses (played by Lucy Liu and Taye Diggs) off their backs by setting them up with each other. But *spoiler alert!* they might just fall for each other in the process.
'Jerry Maguire'
You complete me. You had me at 'hello'. Show me the money. Okay, maybe that one is slightly less heartswelling than the others, but this romantic sports dramedy—about a down-and-out sports agent (Tom Cruise) and a young single mother who believes in him (Renée Zellweger)—is packed with moments as memorable as its most quotable lines. And even all these years later, Rod and Marcee Tidwell are #couplegoals.
'The Half of It'
Desperately in need of cash, shy, studious teen Ellie Chu (Leah Lewis) agrees to help dopey jock Paul Munsky (Daniel Diemer) pen love letters to Aster Flores (Alexxis Lemire), a fellow student at their school. Little does Ellie expect, she not only embarks on a sweet friendship with Paul but also starts falling for Aster herself!
'The Perfect Date'
Ever since his role in To All The Boys, Noah Centineo has become Netflix's poster boy for romantic comedies, and can you blame them? The heartthrob knows how to play a swoon-worthy romantic lead like no other.

In The Perfect Guy, he plays a high school student who creates an app to offer his services as a fake date to make money for college. However, it doesn't take long before he develops real feelings for someone, and things get complicated.
'The Kissing Booth'
This 2018 teen rom-com, based on the 2012 novel of the same name by Beth Reekles, kickstarted the entire The Kissing Booth trilogy and the forbidden romance—as well as the actors' IRL off-screen relationship—between Elle Evans (Joey King) and Noah Flynn (Jacob Elordi), the older brother of her best friend Lee (Joel Courtney).
'Your Place or Mine'
The newest addition to Netflix's rom-com offerings pairs together two of the genre's biggest stars, Reese Witherspoon and Ashton Kutcher, as one-night-stands turned long-distance best friends who trade houses for the week. Will dipping a toe into the other's lives reveal long-hidden feelings between the two? Given that this is a romantic comedy, we'd put money on it!
Sagal is a journalist, specialising in lifestyle, pop culture, fashion and beauty. She has written for a number of publications including Vogue, Glamour, Stylist, Evening Standard, Bustle, You Magazine, Dazed and Wonderland to name a few.
With contributions from