Rom-coms on Netflix: 15 streaming movies to fall in love with
These rom-coms on Netflix are perfect for your next lazy duvet day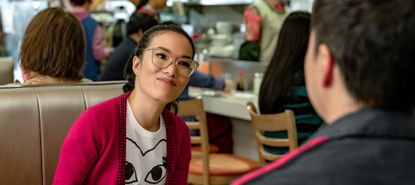 (Image credit: Netflix )
Rom-coms on Netflix are our saving grace on a slow Sunday, when all we want to do is stay under our duvets and snuggle up to a Hollywood love story, snacks at the ready. Winter weather and yet another year of dodging the latest Covid-19 variant has meant that those days occur way more often than just once a week and while we're not complaining, we do need some more movie suggestions.
Luckily, the streaming service is fully stocked with some of the best rom-coms of all time, both old or new. From Netflix originals to '90s classics, the platform's romance category never disappoints. In fact, it just keeps on getting better with monthly updates on everything that's coming to Netflix often including a heart-warming flick to get us through those rainy days. (And yes, that might just include the cheesiest rom-com ever.)
All of those options does mean, however, that choosing a romantic flick can get overwhelming. That's why we're here to help make those decisions for you! Spend less time scouring through your recommend lists and more time actually watching the great movies on offer by simply making your way through our carefully selected list of joyous rom-coms. But beware, you'll definitely be left in your feelings!
The best rom-coms on Netflix you can watch now
About Time (2013)
One of our all-time favorites, About Time is the kind of movie that makes you feel all fuzzy inside. From Love Actually director Richard Curtis, the film follows a young man named Tim (played by Domhnall Gleeson) who, like all the men in his family, possesses the power to travel in time. He uses this unique power to pursue his love interest Mary (played by rom-com queen Rachel McAdams), but the film is about much more than romantic love. It's about the concept of time, family dynamics, and how we choose to view the world. A must-see on all accounts!
To All The Boys Always & Forever (2021)
Before you watch To All The Boys: Always & Forever, you definitely should go back and watch the first two movies in the three-part franchise but we promise you, it's all worth it.

Based on the books by Jenny Han, the franchise follows high-school sweethearts Lara Jean Covey (Lana Candor) and Peter Kavinsky (Noah Centineo). To All The Boys: Always & Forever is the third and final installment, which sees the couple trying to align the future of their relationship with their actual futures as they prepare for college whilst enjoying senior year. It's the ultimate teen romance story that'll have you swooning from start to finish.
Always Be My Maybe (2019)
One of the best Netflix original rom-coms, Always Be My Maybe stars Randall Park and Ali Wong as two childhood best friends who have a falling out (due to everyone's expectations that they'd end up together) and don't speak for 15 years.

When the pair reunite as adults, they have the opportunity to rekindle but romantically this time—however, it doesn't go as smoothly as you'd think. In fact, they face many hilarious mishaps along the way, including a standout scene courtesy of Keanu Reeves, who makes a cameo.
The Lovebirds (2020)
Starring Insecure's Issa Rae (we're already sold!) and Kumail Nanjiani, The Lovebirds is about a couple who are on the brink of breaking up when they find themselves caught up in a bizarre murder mystery.

The twosome end up on a wild goose chase in an attempt to clear their names, but can the dramatic events of the night save their relationship or make them grow further apart? You'll have to watch to find out!
My Best Friend's Wedding (1997)
If you haven't watched this 1997 classic, then how much of a rom-com fan even are you?! Starring Julia Roberts and Dermot Mulroney, the film follows Julianna who is stunned when her best friend Michael—who she is secretly in love with—tells her that he's getting married (and to Cameron Diaz, no less!).

Fueled by a mix emotions, she sets out to put an end to the wedding by finally telling Michael how she feels. But is it too late?
Set It Up (2018)
Zoey Deutch and Glenn Powell play Harper and Charlie, two overworked and underpaid assistants at a fancy firm. The two come up with a genius plan to get their bosses (played by Lucy Liu and Taye Diggs) off their backs by setting them up with each other. But *spoiler alert!* they might just fall for each other in the process.
After (2019)
Based on One Direction fan fiction (seriously!), After tells the story of Tessa Young, a dedicated student, well-behaved daughter, and loyal girlfriend to her high school sweetheart. However, all of that changes when she goes to college and meets bad boy Hardin Scott, a mysterious, moody and incredibly hot British student.

Hardin makes Tessa question everything about life and how she sees it, and the two quickly fall into a passionate love affair but things soon get messy, leaving Tessa heartbroken. When you've watched this, you'll be pleased to know that the sequel, After We Collided (opens in new tab), is also on Netflix.
Someone Great (2019)
Starring Gina Rodriguez, Brittany Snow and DeWande Wise, Someone Great is the story of the power of female friendship—especially when you're going through a heartbreak.

It follows a music journalist that has just been dumped by her boyfriend as she gets together with her two best friends for one last wild night out in New York City before she moves to San Francisco. As you can imagine, the night turns out to be very eventful.
She's Gotta Have It (1986)
Released in 1986, She's Gotta Have It is the first feature film by Oscar-winning filmmaker Spike Lee. The movie centers on Nola Darling (played by Tracy Camilla Johns), a young New Yorker who can't decide what kind of man she wants to date, so she decides to date three completely different men at the same time.

The first is Greer Childs, a rich, handsome narcissist. Then there's Jamie Overstreet, a stable, overprotective alpha male. Finally, there's Mars Blackmon (played by Lee himself), a timid geek with a heart of gold. But who should she end up with? Despite weighing up each of their pros and cons, she struggles to make a decision.
Sex & The City: The Movie (2008)
The first movie spin-off of the hit HBO series, Sex & The City picks up four years from where we left off in the final episode of the show. It sees Carrie and Mr. Big decide to get married. However, on the day of the wedding, Big gets cold feet after talking to a frustrated Miranda about the harsh realities of married life. He calls off the wedding and Carrie is left distraught. Of course, her girl gang is there to pick up the pieces.
Runaway Bride (1999)
Another Julia Roberts classics, Runaway Bride is about a big-city reporter who falls in love with a small-town handywoman. However, she has a reputation of running away from serious commitment, having fled the alter when she was supposed to have tied in the knot in the past—and not just once. Will it be different this time?
50 First Dates (2004)
Adam Sandler plays Henry, a vet who falls in love with a woman named Lucy, played brilliantly by Drew Barrymore. But he soon finds out that she suffers from short-term memory loss. Lucy can never remember meeting Henry the day after their date, so each day is like their first date, where he has to sweep her off her feet and make her fall for him all over again.
The Perfect Date (2019)
Ever since his role in To All The Boys, Noah Centineo has become Netflix's poster boy for rom-coms, and can you blame them? The heartthrob knows how to play a swoon-worthy romantic lead like no other.

In The Perfect Guy, he plays a high school student who creates an app to offer his services as a fake date to make money for college. However, it doesn't take long before he develops real feelings for someone, and things get complicated.
Easy A (2010)
Emma Stone plays Olive, a teenager who lies to her best friend about losing her virginity to one of the college boys. What she didn't expect, however, is that someone overheard their conversation and soon, rumors about her start flying around the school as her attempt to impress her friends backfires.
He's All That (2021)
A modern day remake of the 1999 classic She's All That, this Netflix original stars TikTok it-girl Addison Rae in her first movie role, and she's the lead no less. Flipping the original on its head, it sees an influencer who specializes in makeovers bet that she can transform an unpopular classmate into a prom king. Oh, and Kourtney Kardashian makes several cameos throughout too.
Sagal is a journalist, specialising in lifestyle, pop culture, fashion and beauty. She has written for a number of publications including Vogue, Glamour, Stylist, Evening Standard, Bustle, You Magazine, Dazed and Wonderland to name a few.