The best 2021 TikTok dances you can still learn at home
How many of these viral TikTok dances have you perfected?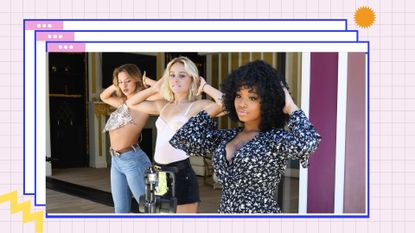 (Image credit: Photo by Jon Kopaloff/Getty Images)
The TikTok dances 2021 has brought us have been even more popular than the ones we indulged in during the early months of lockdown last year. In fact, it feels like they get more and more intricate but that hasn't stopped us from trying to perfect every step, no matter how long it may take.
Much of this has to do with all the best TikTok songs that live in our heads rent-free. From Doja Cat's 'Say So' (a dance even she has had enough of at this point judging by her face during a recent performance) to the 'Renegade' routine, some of the OG TikTok dances set the precedent for a whole wave of new additions.
This year, we've seen everything from the 'Corvette, Corvette' dance to multiple remixes of old hits by the likes of Usher, Kid Cudi and Rockwell (who sings Somebody's Watching Me) take off, and the choreography keeps on coming. So, here are just a few of our favorite TikTok dance routines for you to watch and learn. After all, practice makes perfect... or so we've been told!
---
---
The best TikTok dances of 2021
CKay - Love Nwantiti
If you weren't obsessed with this song before it hit TikTok, chances are you had it on repeat after Tracy Joseph made a dance for it. The Nigerian-born, who moved to Texas at 14, told Vulture that she was happy it started trending after she received criticism from users that the dance was too hard. Unlike popular TikTok dances that focus only on the hands, her choreography focused on the whole body.
She told the publication: "I really wanna focus more on African styles. I think that type of dancing should be put out there. People should really see the beauty of it."
Drake - 'One Dance'
It's been a while since the world was collectively obsessed with Drake's One Dance (remember a pre-pandemic 2016? Good times!), but London-based creator Regina Eigbe brought it back in 2021 with her choreography—and trust us, it may look easy but it might take a while to learn!
Doja Cat - 'Woman'
Doja Cat is the queen of TikTok. Her songs spread like wildfire on the app and somehow, users always create the best choreography for her tracks. 'Woman', from her 2021 album Planet Her, went viral earlier this year with everyone trying to perfect the dance. It's not the easiest one to nail so beginners may want to stay with something a little simpler and work their way up.
Blxst - 'Chosen'
'Chosen' by LA rapper/singer Blxst is one of the biggest songs of the year and naturally, TikTok helped elevate the track when this remixed version became the soundtrack of the latest dance trend.
Destiny's Child - 'Bills, Bills, Bills'
We love this trend because not only did it bring back one of our favourite Destiny's Child songs but it's also super easy. The idea is that you get a picture of your celebrity crush as the background and then do the dance to the song's chorus.
Doja Cat - 'Get Into Yuh'
Yet another hit from Doja Cat's Planet Her album, 'Get Into Yuh' is one of the biggest TikTok songs of 2021 and so is the choreography that goes with it. This one is a little easier to wrap your head around than the 'Woman' dance.
Megan Thee Stallion - 'Hot Girl Talk'
While this song and dance has been around for a while, it seems to be a firm favorite on the app. We're guessing it's because it isn't as fast-paced as many others, meaning it's much easier to pick up. Plus, who doesn't love channeling hot girl Meg?
Soulja Boy - 'She Make It Clap'
This became Soulja Boy's biggest hit in over a decade all thanks to the powers of TikTok and this dance.
Russ ft Tion Wayne - 'Body 2'
This may not be a full-on choreography but the dance went viral earlier this year and has been a favorite on TikTok ever since. So much so that it earned UK drill artists Russ and Tion Wayne their first number one single in the official UK charts.
Sagal is a journalist, specialising in lifestyle, pop culture, fashion and beauty. She has written for a number of publications including Vogue, Glamour, Stylist, Evening Standard, Bustle, You Magazine, Dazed and Wonderland to name a few.