The best TikTok recipes that'll keep you busy in the kitchen
From pesto eggs to chocolate bomb drinks, these TikTok recipes are as camera-worthy as they are delicious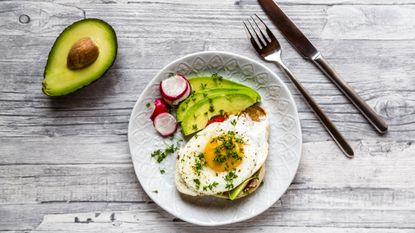 (Image credit: Getty Images / Westend61)
Don't let the absurd challenges fool you: genius TikTok recipes and food hacks abound in feeds, and they'll help you with any culinary exploit you have cooking in the future (pun intended).
Once those devious licks videos have lost their charm (which will hopefully be soon), creative recipes will be there to comfort you whenever hunger strikes.
We've rounded up our favorite dishes and tricks so that you don't feel as if you're starring in your own version of the Paris Hilton cooking show. Delicious eats and viral-worthy content? Sounds like a recipe for success! Ready to venture into the kitchen?
---
---
Our favorite TikTok recipes and food hacks
1. Pesto eggs
The brunch game completely changed upon the news of pesto eggs on TikTok. Emily Wilichowski (@amywilichowski) wowed her audience and garnered viral status for substituting oil or butter in her eggs for pesto.
"You can do fried eggs, sunny side up eggs, or scrambled and then the oil in the pesto will stop the eggs sticking in the pan," she revealed.
Upon completing the eggs, she places them atop of toast with ricotta, avocado, honey and red pepper flakes. YUM! Why settle for an ordinary omelet when it can be extraordinary? Now, all you need to do is pair your pesto eggs with a mimosa and you're good to go!
2. Nature's Cereal
Once our favorite vegan, Lizzo, attempted her own version of Nature's Cereal—a combination of pomegranate seeds, coconut water and a fistful of blackberries, strawberries and blueberries—a breakfast of champions was born. Healthy, tasty and eye-catching to boot.
See how the OG, @natures_food caught the attention of Lizzo, and in turn, the entire platform.
3. Hot chocolate bomb drinks
For the ultimate hygge effect, allow us to turn your attention toward hot chocolate bomb drinks, equal parts cozy and delicious.
First thing's first, place a ball of chocolate inside your favorite oversized mug. Typically the chocolate ball is filled with toppings like mini marshmallows and cocoa powder. Then, pour steamed milk into the cup and you not only have a delicious snack, but an artsy foodie clip for your followers.
4. Iced Biscoff latte
If you're too shy to ask your barista for a cold coffee in the fall and winter, fear not: the iced Biscoff latte can be perfected at home...and provide you with TikTok gold in the process. Here's how to make it:
Add a hot shot of espresso to a big spoonful of Biscoff spread
Mix well, then pour into a glass of ice
Add milk and stir
Froth up the milk before adding
If you want to go the hot route for your coffee, why not add a spooky flair this Halloween? See what we mean below.
5. Roasted garlic
Unless you're a vampire, you're bound to love @foodwithliz's garlic hack for the ultimate garlic bread. (Just be mindful not to smooch your SO after prepping this one.)
Place cut garlic (40 cloves total) in foil and splash with oil
Place garlic in oven at 400 degrees for one hour
Mix together parsley, butter and red pepper flakes
Put garlic into the mixture once the hour is up
Spread on a piece of toasted bread and enjoy
@foodwithliz (opens in new tab)

more satisfying than @drpimplepopper ##garlicbread ##foodtok ##vegan ##garlic ##easyrecipes ##fyp

♬ edamame - bbno$ (opens in new tab)