Meet the cast of 'A League of Their Own' 2022, a.k.a. your new Rockford Peaches
The cast of 'A League of Their Own' on Amazon draws from the original crew while making a statement of their own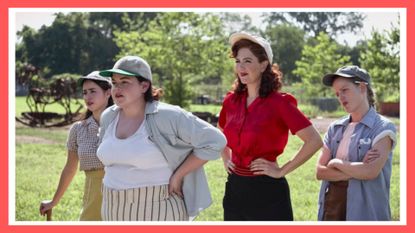 (Image credit: Anne Marie Fox/Amazon Prime Video)
It's time to get acquainted with the cast of A League of Their Own as the 2022 Rockford Peaches line up to bat.
Like the rest of us, Abbi Jacobson is a huge fan of the original film, but she wanted to tackle the story from a new point of view for the A League of Their Own reboot, a project she worked on alongside co-creator Will Graham.
We have hints of our favorite characters sprinkled throughout—Greta is a sassy nod to All the Way Mae (Madonna), and we hear the familiar line "There's no crying in baseball," during a heated practice, but the likes of Clance Morgan and Max Chapman are missing from the 1992 film, so we feel like we're expanding a world we already know and love. Plus, we're coming at the era from new points of view regarding race and sexuality.
"We saw that there was an opportunity here to tell a story that was broader and included a lot of perspectives that weren't there the first time—but with the same sense of heart and humor and unpretentious fun that everybody loves about the movie," Graham told Entertainment Weekly.
One thing both teams have in common, though they're 30 years apart? They're downright lovable. Meet the ladies taking the field who—fingers crossed—will be appearing in A League of Their Own season 2. If you want to revisit the classic film with Geena Davis, Tom Hanks and the rest of the team, here's where to stream Penny Marshall's A League of Their Own.
Meet the cast of 'A League of Their Own' 2022:
1. Abbi Jacobson as Carson Shaw
Along with portraying the Peaches' plucky catcher, Carson Shaw, actress-comedian and Broad City star Abbi Jacobson also wrote and co-created the series.
Jacobson's Carson is a midwestern housewife whose husband is overseas fighting in the war when she hops on a train to Chicago to try out for the AAGPBL. Along with jumping straight into professional baseball, Carson's world expands even further when she explores her sexuality with a member of the team.
Talented but hesitant, Carson surprises herself when she takes control over her team. We see hints of Dottie, but a Dottie with a little less confidence.
"The stories that I want to tell are about how I'm a messy person, and I'm insecure all the time," Jacobson told The New York Times about the role. "And then what if the most insecure, unsure person is the leader? What if the messy person gets to own herself?"
2. Chanté Adams as Max Chapman
A Sundance darling for the 2017 film Roxanne Roxanne and known for titles like A Journal for Jordan, The Photograph and Bad Hair, actress Chanté Adams is stepping up to bat as Max Chapman, an aspiring ball player who initially gets turned down by the All-American Girls Professional Baseball League because she's Black. That doesn't stop her though—she takes a job at a factory just to make it onto their ball team.
She and Clance Morgan (Gbemi Ikumelo) are what best friends are made of. While Max is stealing bases, her dynamic with her ride or die is likely going to steal your heart.
"They didn't need to be born as sisters because they found each other and still became that close," Adams told Essence. "It's so beautiful to play and it's even more wonderful to do it with such a talented actress like Gbemi."
3. D'Arcy Carden as Greta Gill
The glam Greta Gill, who seemingly fills the flirty shoes of the film's Mae, is played by actress D'Arcy Carden, known for her Emmy-nominated role as Janet on The Good Place and her work on Barry.
Carden has been best friends with series star Abbi Jacobson for 15 years and told The Daily Beast that, initially, she was worried about working with her. "I have this fear of working with friends where I was like, 'Well, what if the pilot's not good?'" she said. "And I read the pilot in one sitting and it was so good that it was just like, 'Oh, well this is a complete no-brainer.'"
4. Roberta Colindrez as Lupe García
The pitcher of the Peaches is Lupe García, one of the few Latinas in the league, played by Roberta Colindrez. The queer Mexican-American actor is known for originating the role of Joan in the musical Fun Home and for performances in TV shows like I Love Dick and Vida.
5. Gbemisola Ikumelo as Clance Morgan
Max Chapman's comic book-loving BFF on the show is Clance Morgan. Clance is played by British actress-writer Gbemisola Ikumelo.
Ikumelo's year is a busy one: along with A League of Their Own, she's featuring in Black Ops, a new BBC series with Hammed Animashaun, and the upcoming Road House remake starring Jake Gyllenhaal.
6. Priscilla Delgado as Esti González
The baby of the team, Esti is a bright-eyed talent from Havana, Cuba. Her skills on second base more than make up for her lack of command of the English language.
Esti González is played by Priscilla Delgado, a Puerto Rican native seen in Spanish-language titles including Julieta, Los hombres de Paco and Abracadabra.
7. Kelly McCormack as Jess McCready
Not one for the performative femininity or strict rules demanded of the league, Jess McCready is a no-nonsense Canadian shortstop in it for the sheer love of the game.
Actress-filmmaker Kelly McCormack is also a native of the north, hailing from Vancouver, and is known for playing Zeph in the Syfy series Killjoys and Betty Anne in the Crave show Letterkenny. She's also written and starred in several of her own indie films, including 2020's Sugar Daddy.
8. Nick Offerman as Casey "Dove" Porter
Luckily for these Rockford Peaches, their coach is slightly less cantankerous than the film's Jimmy Dugan. Played by Nick Offerman—best known as Ron Swanson in the NBC sitcom Parks and Recreation—Dove Porter is a former Chicago Cubs star famous for killing a dove mid-air with a pitch, hence his nickname.
9. Melanie Field as Jo Deluca
Another nod to the original movie's Rockford Peaches, Queens-born third baseperson Jo (played by Melanie Field) is a smart-mouthed slugger in the tradition of Rosie O'Donnell's Doris Murphy and is a longtime BFF of Greta Gill. (Fun fact: You can catch O'Donnell herself guest-starring on the series as a lesbian bar owner.)
This isn't Field's first high-profile adaptation: she previously played Heather Chandler in Paramount's TV adaptation of the cult-favorite '80s flick, Heathers.
Christina Izzo is the Deputy Editor of My Imperfect Life.
More generally, she is a writer-editor covering food and drink, travel, lifestyle and culture in New York City. She was previously the Features Editor at Rachael Ray In Season and Reveal, as well as the Food & Drink Editor and chief restaurant critic at Time Out New York.
When she's not doing all that, she can probably be found eating cheese somewhere.