Who is Chelsea Lazkani on 'Selling Sunset' season 5?
Get to know Chelsea Lazkani, the latest 'Selling Sunset' star, ahead of the new season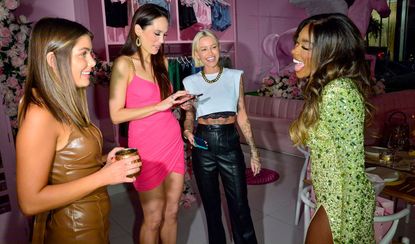 (Image credit: Jerod Harris/Getty)
Netflix's Selling Sunset season 5 is coming soon and we honestly can't wait to see what antics The Oppenheim Group gets up to this season.
A new season brings new drama and there are so many good things to look forward to, including Heather and Tarek's wedding, Chrishell and Jason's relationship and the guaranteed histrionics that you know Christine Quinn is going to bring. It's going to be a good one.
Adding to the whole thing is a new agent in the building. That's right, Vanessa Villela and Emma Hernan are no longer the show's newbies and from the promotional pictures, it looks like The Oppenheim Group's 10th agent fits right in. But who is she? Let's get to know Chelsea Lazkani.
---
---
Who is Chelsea Lazkani on 'Selling Sunset' season 5?
Unlike many of the other members of Selling Sunset, Chelsea Lazkani was born and raised in the UK to a "real estate family" before bringing her house-selling talents across the pond as an adult.
Her biography on The Oppenheim Group website (opens in new tab) reinforces that Chelsea Lazkani has beauty and brains as she has a BA in Economics from the University of Birmingham and a Masters in Oil and Gas Economics from Scotland's University of Dundee, which she completed in 2015.
Prior to 2017, Lazkani had moved to the US and was making more use of her degree working in the corporate world as a business strategist and solar analyst with companies in the oil and gas industry. She then got her real estate license so she could follow in the family profession and her first job was at Rodeo Realty Inc., which is the former employer of Million Dollar Listing Los Angeles star Josh Flagg. She worked at Rodeo Realty until January 2020 before taking a year out, as according to her LinkedIn page (opens in new tab), she joined the Oppenheim Group in July 2021.
Her Oppenheim bio reads: "Lazkani decided to bring her focus, tenacity, and analytical prowess to the Los Angeles real estate market. In her first year, she successfully oversaw more than $10 million in sales, leading her to make her own first home purchase in Manhattan Beach, CA. Now with over five years in the industry, Lazkani is making a name for herself as a premiere luxury realtor at The Oppenheim Group."
Lazkaniwas excited to take part in Selling Sunset season 5 as she told People (opens in new tab): "I feel like with great opportunities comes great responsibility, This was kind of my time to give back and to educate and really mentor and push forward Black women in this luxury sector in real estate. So just knowing that I've got a greater purpose kind of prepared me for this."
Does Chelsea Lazkani get along with the 'Selling Sunset' cast?
Yes, even Christine Quinn. Chelsea Lazkani told People: "I just adore Christine. We have such a great relationship," She also warned she does not get up in Christine's drama with the other ladies. We're seriously wondering if she really means that or if she's going to be like Vanessa last season where she gets involved while saying she's not involved.
As for other close friendships Chelsea could potentially make on the show, that would be with none other than Emma Hernan and her bestie Chrishell Stause. "Emma and I have a very special connection. I think the world of Chrishell. To be honest with you, I just have a budding relationship with all the girls. I'm still getting to know some of them, but I didn't know them before the show," Chelsea said.
Chelsea Lazkani husband: is she married?
Yes, Chelsea married Jeff Lazkani in 2017. He is the managing partner at Icon Media Direct, a marketing and advertising company, and according to his LinkedIn (opens in new tab), it seems he has been working there his whole career.
Jeff and Chelsea share two toddlers together named Maddox Ali Levon, aged three, and Melia Man, aged two.
It was actually through her husband Jeff Lazkani that Chelsea met Jason Oppenheim, according to People. The only people she didn't really know were her colleagues and now costars, who she says "really inspired" her. We love an on-set family!
What has Chelsea Lazkani said about 'Selling Sunset' season 5?
When talking about the upcoming season of Selling Sunset, Chelsea revealed to People that it's "really electric" and "nothing you've ever seen before on TV." We can't wait!
Selling Sunset season 5 will drop on Netflix on Friday, April 22.
Liv is a freelance journalist currently studying English at university. She loves covering everything from entertainment and politics to lifestyle and travel. As well as writing for My Imperfect Life, Liv has bylines in The Times, HuffPost, Den of Geek, Bustle The Metro and The Bookseller.