Who is Chelsea Lazkani from 'Selling Sunset'? Get reacquainted with the O Group realtor
Chelsea Lazkani is no longer the newcomer, but now her husband is getting more screen time on the Netflix hit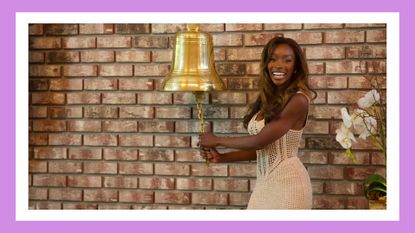 (Image credit: Netflix)
Chelsea Lazkani might not be the new girl in the O Group office anymore—that title goes to Bre Tiesi and Nicole Young—but she's still quite the dynamic force in Selling Sunset season 6, and, dare we say, perhaps a pot-stirrer?
Tensions are high this season, and it seems no one's leaving unscathed, Chelsea included. Since we're still getting to know her, here's a bit of a refresher on the O Group's resident Brit.
Who is Chelsea Lazkani on 'Selling Sunset'?
Unlike many of the other members of Selling Sunset, Chelsea Lazkani was born and raised in the UK to a "real estate family" before she brought her sales talents across the pond.
Her biography on The Oppenheim Group website reveals that she has a BA in Economics from the University of Birmingham and a Masters in Oil and Gas Economics from Scotland's University of Dundee, which she completed in 2015.
Prior to 2017, Lazkani had moved to the US and was making more use of her degree working in the corporate world as a business strategist and solar analyst with companies in the oil and gas industry. She then got her real estate license so she could follow in the family profession and her first job was at Rodeo Realty Inc., which is the former employer of Million Dollar Listing Los Angeles star, Josh Flagg. She worked at Rodeo Realty until January 2020 before taking a year out, as according to her LinkedIn page, she joined the Oppenheim Group in July 2021.
Upon her arrival at the O Group, she told Vulture: "I love real estate, and I know there is a lack of representation in my respective field. I wanted to have a platform to showcase how women of color can really succeed in this industry to encourage other minorities to get into it. There's power in numbers."
Does Chelsea Lazkani get along with the 'Selling Sunset' cast?
Yes, even Christine Quinn. Chelsea Lazkani told People: "I just adore Christine. We have such a great relationship." (As many of you know, we're wondering if Selling Sunset can survive without Christine Quinn now that the most dramatic member of the group is gone.)
That's not necessarily the case in season 6. Chelsea and Bre Tiesi, the mother of Nick Cannon's son, Legendary, have gotten off to a rocky start—and seem to be staying there. She claims to not understand her situation, which makes things a bit off-putting for her. Luckily, Bre doesn't seem to have any intention of rebuilding their friendship, anyway.
Chelsea Lazkani husband: who is Jeff Lazkani?
Chelsea married Jeff Lazkani in 2017 and share two toddlers. He is the managing partner at Icon Media Direct, a marketing and advertising company, and according to his LinkedIn, it seems he has been working there his whole career. His mother, Nancy, founded the business.
It was actually through her husband Jeff Lazkani that Chelsea met Jason Oppenheim,
"I knew Jason through my husband and I said to him, "What do I have to do?" You kind of see how it played out on screen. I wasn't sure whether I was going to get in or not," she told Vogueabout her initial interest in getting a spot at the O Group.
You can expect to learn a bit more about Jeff in season 6, as he makes several cameos.
See what's ahead in the real estate industry (and beyond) for Chelsea and co. Selling Sunset season 6 is now streaming on Netflix.
Liv is a freelance journalist currently studying English at university. She loves covering everything from entertainment and politics to lifestyle and travel. As well as writing for My Imperfect Life, Liv has bylines in The Times, HuffPost, Den of Geek, Bustle The Metro and The Bookseller.