Can 'Selling Sunset' survive without Christine Quinn?
The future of Christine from 'Selling Sunset' is up in the air—can the Netflix hit survive without its most iconic diva?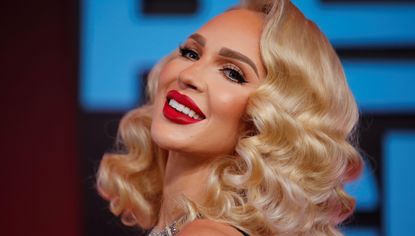 (Image credit: REUTERS/Mike Blake)
It's undeniable that the most talked-about Selling Sunset cast member is Christine Quinn. You hate her, you love her, but the likelihood is you also probably want to be her.
With her dry humor, iconic fashion sense and penchant for backstabbing and one-liners ("I never start the drama, I just finish it"), she rivals all other reality TV divas and with most of the show's storylines revolving around her and her latest antics, Christine from Selling Sunset has become a household name.
Over the last five seasons of the show, Selling Sunset fans have watched Christine Quinn in all her glory. From her achieving her goal of marrying wealthy (yes, the answer to "Is Christine Quinn still married?" is a rich, resounding "yes!") to allegedly bribing other agents' (*cough* Emma Hernan *cough*) clients, Christine is drama personified.
That's why the Selling Sunset season 5 finale, which suggested that Christine's time at the Oppenheim Group is over, had us worried. And to be honest, boss Jason Oppenheim's recent declaration at the Selling Sunset reunion did nothing to decrease those fears, as he revealed that Christine currently has no place at The Oppenheim Group. But what does the loss of one of the most iconic brokerage agents of all time mean for the future of Selling Sunset? Is there even a Selling Sunset without Christine Quinn?
Can the show go on without Christine from 'Selling Sunset'?
Manager—actually, sorry, she's now vice president of The Oppenheim Group and a former friend of Christine's—Mary Fitzgerald seems to think so, but whether that's necessarily true is yet to be decided.
Fitzgerald was recently on the Behind the Velvet Rope podcast with David Pontef and let's just say she didn't hold back when airing her thoughts on whether or not Selling Sunset could survive without Christine.
"I know she's entertaining and good for the show, but she's also taking away from the whole vision and the whole message that we were trying to send out, which is like, women can be boss bitches," Fitzgerald said on the podcast. "I think the show could probably survive without Christine, but I don't know. Thankfully it's not my decision."
It's safe to say we know exactly where Mary stands on the matter, but she does raise a valid point surrounding the whole conceit of the show. When it was first marketed to viewers, Netflix indicated the show would be about #girlboss agents killing it by selling high-end luxury real estate with, of course, a few fights between the agents over clients and property.
However, five seasons in, we wouldn't really say that the show has stuck to that ideology at all. We're seeing less and less selling and more arguing about who has had the latest falling out with Christine.
If we're being technical, yes, these women are still killing it as real estate agents, but the fights have nothing to do with their clients or properties and more to do with the inner workings of their personal lives, namely their relationships. However, that is arguably what viewers love about the recent seasons of the show, as we've recently seen Chrishell and Jason's relationship trending all over social media and fans giving their latest thoughts on the Christine-related drama of the season, proving again that the infamous Christine Quinn is the reason the show trends.
The drama between Christine and Emma over the mutual ex they share had people talking and the show trending for weeks. Likewise, Chrishell and Jason's relationship was at the center of season five and yet it was Christine that was the most memorable thing about their romance, with her dig accusing Chrishell of "only getting listings because she was f**king the boss." The comment led to Christine being further isolated by the rest of the agents, having a showdown with Mary on her birthday, finding a new ally in the form of Chelsea Lazkani and, later, allegedly bribing Emma Hernan's client. Because we all know nobody puts Christine Quinn in the corner.
So, yes, while it's safe to say that viewers love seeing the beautiful and glamorous houses LA has to offer, it's mostly the Christine-related hijinks that is at the crux of the show, that keeps viewers coming back for more.
The fact that Jason has stated that Christine doesn't have a place at the brokerage—plus Christine's response, which was to get rid of all Oppenheim Group-related stuff from her social media pages and announce her new venture RealOpen—suggests that her exit is signed and sealed.
But what show has ever functioned well without an antagonist? If there is no Christine, who is going to create drama among the agents? Who is going to tell wholehearted lies that cast harsh judgment without consequences? There's hope in Chelsea Lazkani, who gave Davina Potratz a serious dusting down in season five, but with a lack of solid connections with the other agents' bar Christine, we don't think Chelsea is ready to deliver drama on the scale that Quinn does.
With Christine walking out the door of the Oppenheim Group without so much as a glance backwards, we think this could be the end of Selling Sunset's glory days.
Liv is a freelance journalist currently studying English at university. She loves covering everything from entertainment and politics to lifestyle and travel. As well as writing for My Imperfect Life, Liv has bylines in The Times, HuffPost, Den of Geek, Bustle The Metro and The Bookseller.