Do Lisa and Brian leave 'The Ultimatum' season 2 early? Here's what's going on
Lisa and Brian had a *major* relationship shake-up during 'The Ultimatum' season 2, and it's not what you'd expect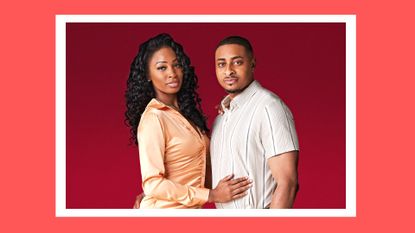 (Image credit: Jackson Petty / Netflix)
The drama didn't wait long to get started The Ultimatum season 2, and Lisa and Brian know that better than anyone. In fact, if you're looking for heaps of lovey-dovey moments in the first few episodes, you'll probably be disappointed.
The Ultimatum: Marry or Move On, a reality dating experiment courtesy of the Love is Blind creators, sees couples sign up for the show in order to see if they're ready to get engaged or if it's time to move on from their current relationship.
During the experiment, long-term couples—including high-school sweethearts—break up with their existing partners to couple up with someone new for three weeks before recoupling with the partner they came on the show with. As you can imagine, some people get intensely jealous or, in season 2's case, one person.
Yes, we're talking about Lisa Horne and that moment at the end of the premiere episode where she gets upset over Brian Okoyein getting to know Riah Nelson. So upset, in fact, that she ends up interrupting Brian and Riah's mini-date, before storming out and later arguing with Brian in the parking lot.
Does the experiment become too much for Lisa and Brian and do they end up leaving The Ultimatum season 2? Here's everything that went down.
Why did Lisa and Brian go on 'The Ultimatum'?
When we meet Lisa, a 32-year-old Vice President of Clinical Services, and Brian, a 29-year-old financial analyst, they've been dating for two years.
During that time, Lisa and Brian have faced a few crossroads in their relationship. Six months into them having casual hookups, Lisa gave Brian the ultimatum of choosing to end their situationship and lock her down or go back to being just friends. Considering they're on the show, we know that Brian chose to lock Lisa down and they have been together exclusively for over a year and a half.
However, despite Brian appreciating how selfless Lisa is and Lisa loving his relationship with her 10-year-old daughter, Brian can't seem to find himself down on one knee, much to Lisa's dismay. Lisa wants to get married and start a family and, in her words, "if he's not ready to propose, then [she's] ready to move on." So once again decides to give Brian another ultimatum, this time on the much bigger scale of a Netflix reality show.
But why is Brian so hesitant? Well, it comes down to how jealous Lisa can get and her small tendency to turn disagreements into explosive arguments, something viewers witness during episode two.
Do Lisa and Brian leave 'The Ultimatum' season 2?
Yes, but not for the reason you may think.
In episode one, before the social experiment really begins, we see Lisa and Brian having some sort of row at 1:22 am over going on the show. Lisa repeats that she wants to go home and starts crying. When she tries to pick up the phone to get production to bring her things so she can leave, Brian manages to talk her down.
When we see them later that morning, they are reflecting on how Lisa is going to cope with the experiment because of her tendency to get jealous. Lisa initially denies getting upset and says she gets "an appropriate level of upset," something viewers come to witness themselves later on in the episode.
They make it to the initial stages of getting to know other people, but Lisa confesses to Brian that it shouldn't be this hard and she's struggling with the idea of him being with another person. Lisa ends up crying again as Brian comforts her, saying if they're not in the experiment, they're not trying and basically giving up. He admits Lisa doesn't trust him and she says because "he's given her reasons not to," but no further context is given. Lisa ends up apologizing for taking up his time but in her confessional reveals she's having second doubts.
Later on in the episode, we see Lisa watching Brian talk to Riah. It's a bit touch and go for a while on whether or not Lisa will interrupt their date but despite Roxanne Kaiser trying to talk her down, Lisa goes over and makes the date really awkward, until Riah decides to leave. When Brian explains he doesn't like how Lisa just intruded on their conversation, Lisa tells him she doesn't "give a f**k." She then calls him a roach, pushes his head and ends up storming out.
Brian and Lisa then start arguing in the parking lot. Lisa is upset but clarifies she's not mad. She is upset because she feels he can't learn anything from Riah yet is entertaining the prospect of getting to know her. In the end, the argument ends with Brian going back inside and Lisa saying "We're done. F**k marriage, f**k the ultimatum."
Fast-forward to the night of the choice, where everyone chooses the new person they'd like to couple up with. There are notably two seats left empty at the end of the table. Co-host Nick Lachey shockingly reveals that "Lisa and Brian have decided to remove themselves from the experience." He adds that despite asking them to come and tell the group why they left themselves, they declined. But that's not the biggest bombshell, as he goes on to add that Lisa came to them and informed them that she had taken a pregnancy test.
Is Lisa pregnant in 'The Ultimatum' season 2?
Yes! After some suspenseful music, at the end of episode two, Nick Lachey reveals that Lisa's pregnancy test indeed came back positive.
We get to see the moment that Lisa tells Brian the news: she reveals she had taken the test in the morning and is happy and excited but nervous about his reaction. Despite being surprised by the news, he is excited about the prospect of them having a baby together.
Needless to say, this was a pivotal moment in the couple's lives and their journey on the show. It completely changed the trajectory.
"I realized I was pregnant the day after the cocktail party," Lisa tells My Imperfect Life. "That morning, I woke up and was not feeling well at all. It was really weird because I had been feeling weird throughout filming the whole time, anyway -- just regular pregnancy symptoms. Once I revealed to Brian he was like, 'Ok let's go home. Let's focus on your health, let's focus on the baby's health.'"
Now, they share a newborn named Mason, and the two are making things work for their family. Though the experiment might not have panned out the way that they had envisioned, it was worth it, according to Lisa.
"Going through the pregnancy hasn't made it anymore clear for me that we're in this together," she adds.
It certainly wasn't what we were expecting when we first started The Ultimatum season 2, but we're glad to hear of a happily-ever-after. The finale and the reunion will both begin streaming on Netflix on Wednesday, August 30. Watch this space for further updates!
Liv is a freelance journalist currently studying English at university. She loves covering everything from entertainment and politics to lifestyle and travel. As well as writing for My Imperfect Life, Liv has bylines in The Times, HuffPost, Den of Geek, Bustle The Metro and The Bookseller.