Does Evan die in 'Good Trouble' season 5?
Fans are worried about the fate of the character after that shocking premiere—does Evan die in 'Good Trouble'?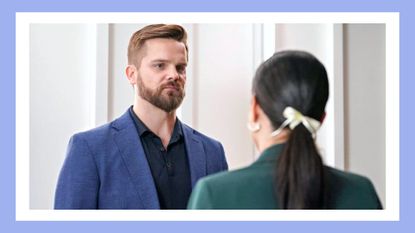 (Image credit: Freeform/Troy Harvey)
Clues, cults and questions are plentiful going into season 5, but "does Evan die in Good Trouble?" is one of the biggest mysteries we need solving after that premiere episode, which aired on Freeform on Thursday, March 16.
Thankfully, Good Trouble season 5 picked up directly after that shocking season 4 cliffhanger, in which one Good Trouble character was shot in the season's final moments while trying to help Mariana (Cierra Ramirez) and Joaquin (Bryan Allen Craig) rescue Joaquin's sister from a cult compound.
It turns out that it was Evan Speck (played by (T.J. Linnard), Mariana's tech-billionaire boyfriend, who ended up taking a bullet during the rescue mission, which has fans wondering about the fact of the Speckulate CEO. Here's where things currently stand with Evan in Good Trouble season 5. (And here's how to watch all of the Good Trouble seasons, in case you need a refresher before diving into the fifth season!)
Does Evan die in 'Good Trouble'?
Despite literally taking a bullet to save Mariana, Evan does not die from the gunshot wound he receives in the Good Trouble season 5 premiere. Mariana, Joaquin and the rest of the crew are able to quickly get Evan to a hospital, but he falls into a coma due to the chest wound, with Mariana keeping vigil by his hospital bed all night.
Already feeling guilty that Evan risked his life for hers, Mariana is overwhelmed even further when she finds out the next morning from Evan's lawyer that the tech boss legally named her his proxy, which makes her the acting CEO of Speckulate while Evan is incapacitated. Quite a lot to deal with in one episode, no? Thankfully, Mariana gets some much-needed support in the return of her sister Callie (Maia Mitchell) at the end of the ep.
As for how the creative team decided on Evan to be the one in the line of fire, Good Trouble's showrunner Joanna Johnson told TV Guide: "We felt that it would have the greatest impact on Mariana. If Mariana had been the one to get shot, it would be a story about recovery, but if Evan were to get shot it would be a story about guilt, trying to pay a debt to him, and also brings up her feelings about him."
"It just seemed so much more interesting to have him be the one who was shot, because also when she finds out that he chose her to be his proxy, she ends up having to go back to Speckulate and ironically run the company in his stead. That just opened the door to a lot of possibilities," Johnson added.
The tragic storyline also, of course, complicates the love triangle between Mariana, Evan and Joaquin, Johnson says, telling TV Line: "In some ways, she feels she has to keep a distance from Joaquin because of her guilt about Evan and wanting to just take care of Evan. So any feelings that she also has left over for Joaquin, she's shoving down because her love for Evan is coming up stronger at the moment. But also, he understands what she went through, he was there, and they live in the Coterie together, and they do tend to rely on each other. So she's kind of torn about how much to rely on him, how much to lean on him. So that's complicated. It's an interesting pull. It creates a lot of dimensions [to] the triangle that makes it one of my favorite stories this season just because it is so complex."
Alas, Good Trouble fans won't find out just yet whether Evan ultimately lives or succumbs to his injuries. "We straddle it for a little while before we come to a conclusion. There are complications with his injury, and Mariana is having to also take care of his company while he is recovering and not knowing what decisions to make because he's in a coma and she can't ask him," Johnson said to the outlet. "We're going to spend some time on that interesting dynamic of, what do you do in a situation like that? How do you kind of try to figure out what Evan would want, especially when there are forces at work that are not being supportive of you or necessarily of Evan's vision for the company?"
Stay tuned for all things Good Trouble season 5! The new season airs on Thursdays at 10pm Eastern on Freeform, and is available to stream next-day on Hulu.
Christina Izzo is the Deputy Editor of My Imperfect Life.
More generally, she is a writer-editor covering food and drink, travel, lifestyle and culture in New York City. She was previously the Features Editor at Rachael Ray In Season and Reveal, as well as the Food & Drink Editor and chief restaurant critic at Time Out New York.
When she's not doing all that, she can probably be found eating cheese somewhere.