What's going on with 'Good Trouble' season 5?
If you've been waiting patiently for updates on 'Good Trouble' season 5, we have you covered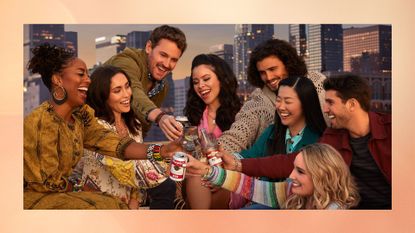 (Image credit: Freeform)
Will we be getting Good Trouble season 5? (*Crosses fingers*)
When season 4 returned to our screens after what seemed like an extremely lengthy hiatus, we were desperate to know if we'd be seeing Mariana and co. at The Coterie for the last time.
So, where do we stand, exactly?
'Good Trouble' season 5: what do we know so far?
Good news for those who appreciate some Good Trouble.
Freeform and Onyx Collective President, Tara Duncan, revealed at the network's virtual TCA press tour session in August 2022 that season 5 is on its way, according to reports from Deadline (opens in new tab).
Cierra Ramirez was one of the stars of the show to take to Instagram to commemorate the news, writing: "more trouble comin' your way🥳🥳🥳".
(Yes, we're just as excited!)
'Good Trouble' season 5 release date
Although we've received the confirmation, it's still unclear as to when the fifth season will begin streaming. Some had suggested we'd get a few episodes by the end of 2022, but details have been scarce. (Patience folks, we're on the case and you'll be the first to know when a date drops.)
The series, which is a spin-off of ABC drama The Fosters, follows sisters Callie and Mariana Foster as they embark on their professional lives in LA... until Callie left, that is. The hit returned to Freeform and Hulu in March 2022, which is where US fans can watch Good Trouble.
Should you have access issues, it might be time to consider a a VPN (opens in new tab).
A VPN is a handy piece of software that allows you to browse anonymously and change your IP address so your mobile, computer, or laptop thinks it's in another location. That means that you can watch your favorite show, film or event—even if you're away from home.
Our favorite VPN service is ExpressVPN (opens in new tab)rated the best VPN (opens in new tab) in the world right now, by our colleagues at TechRadar.
We're very excited this isn't the last chapter, especially as there is so much to unpack (Davia and Dennis, Mariana and Evan... will Callie come back? Will we find out what happened with Callie and Jamie in DC?).
The show first premiered back in 2019, which is when we fell in love with the entire crew at The Coterie and pretty much considered packing our own bags and heading to LA for life in a community living space.
Since then, a lot has changed for our lead girls Callie and Mariana—they've navigated challenges in their careers, made new friends, found love, lost it and found it again (more than once).
Though it goes without saying, we're dying to know how it all unfolds for our favorite ladies, so we're hoping our prayers are answered with a release date (and trailer).
Cheers Good Trouble season 5!
Sagal is a journalist, specialising in lifestyle, pop culture, fashion and beauty. She has written for a number of publications including Vogue, Glamour, Stylist, Evening Standard, Bustle, You Magazine, Dazed and Wonderland to name a few.
With contributions from