'Good Trouble' season 5 is finally here but with a shock twist
'Good Trouble' season 5 is finally back—but it's not for the faint-hearted...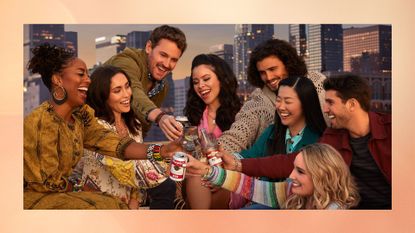 (Image credit: Freeform)
We've had our minds on a Good Trouble season 5 ever since Good Trouble season 4 ended back in 2022.
Last year, the series—which runs on Freeform on Hulu in the US, and BBC iPlayer in the UK— returned to our screens after what seemed like an extremely long hiatus. And when it finished, many viewers were desperate to know if we'd be seeing the gang at The Coterie (their community living space) once more!
Good Trouble first premiered back in 2019, which is when we fell in love with the entire crew at The Coterie, and pretty much considered packing our own bags and heading to LA. Since then, a lot has changed for lead girls Callie and Mariana—they've navigated career challenges, made new friends, found love, lost it and found it again (more than once).
So what do we know about Good Trouble season 5?
'Good Trouble' season 5 release date
Good Trouble season 5 premiered on 16 March 2023. The new episodes will drop week-by-week, rather than all at once, given that it isn't on a streaming service like Netflix.
How to watch 'Good Trouble' season 5
If you want to watch the new season, here's how you can do it depending on where you are (and here's how to catch up on all the previous seasons of Good Trouble too).
How to watch Good Trouble season 5 in the US
Good Trouble has returned to Freeform and Hulu, with new episodes streaming every Thursday at 10 pm.
How to watch Good Trouble season 5 in the UK and anywhere else
While Good Trouble used to be streamed on BBC iPlayer in the UK for free, season 4 actually landed on Disney+ (opens in new tab). The new season might take a while to premiere in the UK, so if you want to avoid spoilers (or are just very eager to catch up with our Coterie pals), then your best bet is a VPN (opens in new tab).
With a VPN (opens in new tab), you can change your location to anywhere in the United States, and access the new Good Trouble season 5 for free via Freeform (opens in new tab).
What can we expect in season 5 of 'Good Trouble'?
The series, a spin-off of ABC drama The Fosters, follows sisters Callie (Maia Mitchell) and Mariana Foster (Cierra Ramirez) as they embark on their professional lives in LA... until Callie leaves, that is.
The actor who plays Callie, Maia, left the show at the beginning of season 4. But Freeform has announced that Callie will actually be back for the beginning of the fifth season!
It's not 100% clear what Callie's role will be as she returns to the show, but Zuri revealed that the series will pick up where season 4 left off.
She revealed to Hello! magazine (opens in new tab): "We will jump directly into where we left off. We're going to see each person choosing themselves—and taking the risks that come with that, which I think we started to see at the end of last season.
"Our lives will start to intertwine, and we have to show up for each other in ways that feel really nostalgic to season one."
Though it goes without saying, we're already dying to know how it all unfolds for our favorite ladies, especially as there is so much to unpack (Davia and Dennis, Mariana and Evan considering what happens to Evan in the first episode...and will we find out what happened with Callie and Jamie in DC?).
Bring on more episodes!
Sagal is a journalist, specialising in lifestyle, pop culture, fashion and beauty. She has written for a number of publications including Vogue, Glamour, Stylist, Evening Standard, Bustle, You Magazine, Dazed and Wonderland to name a few.
With contributions from