Are there any Dyson Airwrap Cyber deals available right now?
If you've been on the lookout for the Dyson Airwrap this Cyber Monday, we have some news for you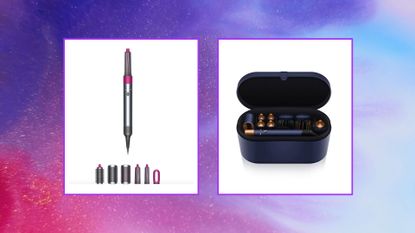 (Image credit: Getty Images/Dyson)
The Dyson Airwrap is the hottest beauty tool on the market, and one we are all guilty of lusting after—how can we not.
Now that Cyber Monday is finally upon us, we have our lists of all the must-have products that we will be purchasing ready to go (well, we've had them ready for a few days now...). Whether it's the best Cyber Monday perfume deals or the Missoma Cyber Monday deals, now is the perfect time to save some cash.
But the question on everyone's lips, and frequently searched on Google, is: will there be a Dyson Airwrap (opens in new tab) sale this Cyber Monday?
Well, we have all the details ahead of this year's sale extravaganza, as well as the affordable alternatives to save you the hefty price tag.
Dyson Airwrap deals on Cyber Monday in the US
While we haven't spotted Dyson Airwrap deals for Cyber Monday, at the moment, buying a Dyson Airwrap is an achievement by itself as they are sold out in most places. If you're desperate for a new hair tool, why not try this Dyson Airwrap dupe or go for one of these affordable alternatives?
Dyson Airwrap™ styler: SOLD OUT $549.99 (opens in new tab) with three complimentary gifts
Dyson Airwrap Cyber Monday in the UK
The Dyson Airwrap is also not being discounted for Cyber Monday in the UK, we noticed there are a couple of versions of the tool that are discounted now on the brand's outlet (opens in new tab). You can save £90 on a refurbished Dyson Airwrap™ styler Smooth+Control (opens in new tab) or £50 on the Dyson Airwrap™ styler Smooth+Control (opens in new tab)—not bad, right?
The refurbishment scheme is part of Dyson's commitment to becoming more sustainable, and you'll be relieved to know all refurbished products come with a full guarantee.
Will there be other Dyson Airwrap deals this Cyber Monday?
The Dyson Airwrap Hair Styler (opens in new tab)officially launched in 2018, and three years later, it is still as popular as ever as the device is still increasing in search trend, especially when in the run-up to big gift-giving seasons like Thanksgiving and Christmas.
The Dyson Air Wrap comes in a classic style, a black and purple colorway, as well as a longer version, and a limited edition bundle.
The hair styler comes with six additional attachment heads to help you create a variety of styles; from a bouncy blow-dry to tousled curls.
Currently, the Dyson Airwrap is not discounted anywhere and retails for the full price of $549.99/£449.99. But stay tuned, as we will keep our ears to the ground for any discounts on the highly coveted beauty must-have.
In the meantime, there are some impressive hair tools, which can help you achieve the same style as the Airwrap—but for less.
Top 3 affordable alternatives to the Dyson Airwrap
Dyson is the most expensive hair tool to shop, and for those who are looking for a similar alternative, but for a fraction of the price, we have you covered.
Last year Google saw searches for Revlon's hair dryer brush soar by up to 300,000 searches, in the USA and UK.
While other high street brands, including Revamp, as well as Babyliss stock very similar alternatives that can dry our locks, and help achieve neat coils with ease.
1. REVLON Pro Collection Salon One- Step Hair Dryer and Volumiser
The REVLON Pro Collection Salon One-Step Hair Dryer and Volumiser (opens in new tab) is our firm favorite for those looking for an alternative to the Dyson Air Wrap.
As someone with mid-length hair, which is wavy, but not quite straight and not quite curly, this three-in-one creation is a lifesaver—and time saver at that.
This creation works to dry your hair when it is damp, which saves time, and makes getting up and out the door even easier. It also adds volume to my lacklustre lucks, and styles them in a neat bouncy blow-dry, without going to the salon.
It has two-speed settings, as well as a cooling option so you can dry your hair, and brush through, then blast with the cool air to set your wave. It is super simple to use, all you have to do is brush through your tresses as you choose to get the style you prefer.
Plus, it is on sale and has been reduced to £41.64.
Top tip: I bought the Revlon Volumiser in the Black Friday sale last year, which saw this price drop even more.
2. Revamp Progloss Hollywood Curl Automatic Rotating Hair Curler
Revamp Progloss Hollywood Curl Automatic Rotating Hair Curler (opens in new tab) is ideal for those looking to achieve more of a curl, rather than a blow-dry look.
Unlike the Airwrap, and Revlon Volumiser, Revamp's Rotating Hair Curler is to be used on dry hair only. However, it is a welcomed alternative to curl your hair, whether you have long or short hair, are looking to create Hollywood waves, loose curls, or tighter ringlets.
This design boasts an automatic rotating system, which prevents your hair from tangling when it is being coiffed. Similar to the Airwrap, this creation has variable heat, ranging from 150 degrees to 210, as well as left and right-hand rotation for easy styling.
The ceramic and ionic barrel ensures your hair is not left static or frizzy. This combined with the Progloss feature, which sees the plates infused with nourishing Keratin, Argan, and Coconut oil, leaves your hair looking sleek.
The Revamp Curler is available to shop online at Revamp, as well as Boots, although it is currently on sale at the former for £59.99.
Those looking for an alternative to this design will also be blown away by Revamp's 5 in 1 styler (opens in new tab).
3. BaByliss Air Style 1000
For those on a budget and looking to buy a gift for under £50, Babyliss' Air Style 1000 (opens in new tab)is a welcomed option.
Similar to the Airwrap and Revlon Volumiser, this design works to dry and style your locks at the touch of a button.
It features a powerful 1000W styler and comes with a variety of attachments, including a 50mm Volumising Thermal Brush, Smooth blow-dry paddle brush, Conical curling attachment, and Drying nozzle, so you can dry your hair, achieve a blow-dry look, straight do or curly effect.
The plates feature ionic technology which tames frizzy strays, leaving your hair silky smooth and sleek.
It's currently on sale at Lookfantastic (opens in new tab) UK, which means you can save over £20—or, you know, treat yourself to an extra something.
---
Maisie is a Freelance Writer and Editor, covering e-commerce and lifestyle content for various online publications. She has previously worked for Yahoo UK, Mail Online, Fabulous, The Sun Online, Grazia and Marie Claire UK, where she covered everything from fashion, beauty, travel to royals and celebrity news. When she's not tracking down the best deals and discounts on the latest must-have products, she can be found slathering lotions and potions on, shopping for new clothes her wardrobe can't home, home interiors, or swooning over adorable French Bulldogs—or frantically trying to solve the Sudoku puzzle like it's a challenge on Squid Game.