Best yoga mats: the best floor mats for your home workouts
Looking for the best yoga mats to upgrade your fitness flow? Check out our tried and tested picks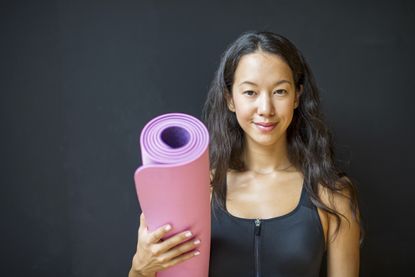 (Image credit: Getty)
Whether you're a yoga novice or veritable pro, investing in the best yoga mats you can find is one of the top things you can do to boost your yoga routine.
For avid yogis, there's nothing more frustrating than being balanced in a particularly tricky pose and feeling your mat sliding beneath your feet. An unstable mat is a surefire way to take you out of the zone. If this is you, then there's more than a need to find the best yoga mat for you.
Whether you prefer vinyasa or hot yoga, a good yoga mat can help aid your sessions whether at a home workout or in a fitness class. After all, your mat is literally the foundation of your practice—even if you're doing something other than yoga, like testing out the best resistance bands for women firsthand. A supple, durable mat should be able to withstand your weekly warrior poses and can even be used during a sweaty HIIT class. But which mat to choose?
There are many yoga mats available on the market at different price points, and all seem to offer a variety of helpful features to better your workouts. We found the Liforme yoga mat—championed by many yoga enthusiasts—to be the perfect all-rounder for the highly active. While it felt like the obvious choice (every yogi I know owns one), the Liforme mat is a solid favorite for good reason. The Cork Yogis cork mats were a surprise: while most mats are made from rubber, the cork mats held their own against the traditional materials (with none of the 'new mat' rubbery smell!).
If you're looking to advance your yoga practice, both at home and in the studio, then it's worth looking at making an investment into these activewear accessories.
The best yoga mats to add to your yoga routine
1. Liforme Yoga
The best yoga mat for most people
Specifications
Material: Rubber
Weight: 2.5kg
Thickness: 4.2mm
Reasons to buy
+
All-rounder
+
Helps with balance
+
Smooth
Reasons to avoid
-
Heavy for travel
-
Expensive
Liforme states that this is the "grippiest yoga mat material currently available on earth"—a bold claim. It's certainly supple and its smooth surface does feel more durable than other mats on the market. The first thing you notice about the Liforme yoga mat is its weight: made from rubber and 4.2mm thick, this mat can withstand a vigorous session, including a particularly sweaty hot yoga sesh. While it comes with its own yoga case, it's not the lightest mat to carry around.
I can see why this yoga mat is championed by both yogis and other fitness enthusiasts. The unique markings on the mat help you stay aligned (I often find myself two feet away from my mat during workouts, so this was handy!) and it's certainly fit for purpose. The price is a considerable investment for a yoga mat, but for devoted yoga enthusiasts, it's a wise one.
2. Cork Yogis classic mat
The best yoga mat for eco-conscious folks
Specifications
Material: organic cork and recycled rubber
Weight: 1.8kg
Thickness: 3 mm
Reasons to buy
+
Anti-bacterial
+
Ethical option
+
Great grip
CorkYogis yoga mats come highly recommended as an eco-friendly option and it's interesting to see how cork mats measure up to the traditional rubber mats. The classic cork yoga mat has a smooth surface, but there's none of the typical stickiness you get with some of the PVC versions—I didn't mind this and had no real bearing on my workout.
Interestingly, CorkYogis say their mats increase in grip as you sweat, which is a great feature. Cork mats have antibacterial properties—a huge plus given the fact that yoga mats can become a breeding ground for grim bacteria.
3. KG Yoga mat Amazon
The best yoga mat for those on a budget
Specifications
Material: Rubber
Thickness: 1.2cm
Weight: 980 Grams
Reasons to buy
+
Affordable
+
Great cushioning for knees
+
Light to carry
Reasons to avoid
-
Not suited for all yoga practices
Understandably, not everyone is comfortable paying big bucks for their yoga mat. Luckily, there are a number of affordable options out there. The KG yoga mats come highly rated on Amazon. At 1cm, it's one of the thicker mats we've tried, which could be too thick for yoga classes but great for Pilates. It's very cushy, which is great for doing push-ups on your knees.
Our main concern is the KG mat's overall longevity: while it does lay flat, the edges seemed to curl over time. Regardless, it's a handy introductory mat for general home workouts.
---
---
4. Manduka PROlite mat
The best yoga mat for both novices and professionals
Specifications
Material: PVC
Weight: 2kg
Thickness: 4.7mm thick
Reasons to buy
+
All-rounder
+
Long
+
Great grip
Ask around—the Manduka PROlite is another yoga-instructor favorite. Manduka has a variety of yoga mats available, yet we chose the PROlite with 4.7mm thickness. For a thick mat, it's actually surprisingly lightweight and would suit those who tend to be on the go. It's very long, which is perfect for taller types. (I'm 5 ft 10 and sometimes find myself lying beyond my usual mat, which isn't comfortable.)
While it has great cushioning supporting both my dodgy ankles and knees, it doesn't interfere with your practice. There's no sinking or squishiness—you feel plenty grounded and supported.
5. Gaiam Yoga Mat
The best yoga mat that's latex-free
Specifications
Material: PVC
Weight: n/a
Thickness: 6mm
Reasons to buy
+
Textured
+
Eco-friendly
+
Latex-free
+
Sticky grip
Gaiam yoga mats have a bit of a cult following in yoga circles. The large mandala pattern on the mats, which come in varied patterns and colors, makes it stand out from traditional designs.
While I typically prefer smooth mats, the Gaiam textured mat offers a great alternative depending on your preferences. This mat is extra thick, which is ideal for those who need extra cushioning for their joints. I like the feeling of extra support for my ankles which tend to ache during workouts. The thickness may be a turnoff for those who like to feel a little more connected to the floor when it comes to balancing postures.
The Gaiam mats are made with latex-free PVC, giving them that sticky texture that provides an extra grip sensation. Gaiam says its mats are ethical and non-toxic, and also offer a biodegradable cork version.
6. Lululemon Carry Onwards Mat
The best yoga mat for travelers
Specifications
Material: Natural rubber and Latex
Weight: 1.34kg
Thickness: 2mm
Reasons to buy
+
Ideal for travel
+
Lightweight
Reasons to avoid
-
Not the best for home workouts
The modern yogi doesn't tend to spend much of their time practicing on sandy beaches or at peaceful retreats, sadly. Instead, many need a yoga mat that can be carried to the studio and then to the office and vice versa.
I really like Lululemon's travel option. Naturally, it's light enough to be carried around. Its handy elasticated straps make it easy to fold away neatly and can be tucked under the mat when you're in class. Plus, the black colorway makes the mat a bit more inconspicuous and sleek than the bright or patterned options.
7. Sweaty Betty Super Grip Yoga Mat
The best yoga mat that's affordable AND eco-friendly
Specifications
Material: 100% Natural Latex Thermo Plastic Elastomer (biodegradable)
Weight: 2kg
Thickness: 6mm
If you're not quite decided on whether you're a smooth or textured mat lover, then Sweaty Betty's Super Grip Yoga Mat is a solid option.
There's a different pattern on each side: one slightly textured and one smooth, which is handy if different workouts require different levels of grip. It's a subtle difference, yet long-practicing yoga students will definitely tell and feel the difference—it's a nice feature. The mat is also biodegradable, made with 100% natural latex.
What to look for in the best yoga mats?
You may be surprised by how many kinds of yoga mats are available. As shown, they can vary in thickness, material, texture and purpose. The majority of mats tend to be made from rubber, vinyl, and PVC materials, yet there's been a growing trend in more eco-friendly mats made from natural materials like cork (especially good for those who suffer latex and vinyl allergies).
The general advice is to buy a mat most suited to your personal needs. For example, if you tend to be a yogi on the go, then you'd most likely opt for a travel mat that is light enough to carry with you on a regular basis. For those who need extra grip, smooth-surfaced mats are said to be best (who knew?), especially for those who work up a good sweat during practice. Mats with ribbed textures also help you stay put, however are more suited to low-impact training.
Thickness is also an important factor when making a decision; a thin mat may help you feel more connected to the floor aiding your postures, but thicker mats can support your knees. Yes, it's a yoga-mat minefield and there's a lot to consider when shopping for the best yoga mat for you, but these reviews should help you whittle it down to some of the most popular yoga mats on the market. Now go grab your best reusable water bottles (we're fans of the Chilly water bottle), and get your flow on!
L'Oréal Blackett is a journalist, presenter, and magazine editor specialising in women's lifestyle (BBC Radio, Bustle UK, Body Confidential, Daily Mirror). She also hosts popular podcast The Edit. Fuelled on coffee and a hip hop soundtrack, you can find L'Oréal sprinting a daily 5K or trying the latest HIIT class. L'Oréal also credits interviewing fitness guru Shaun T in his underwear (long story). She's currently training for her first marathon.