Foundation or concealer first? An expert explains what you need to know
It's the age-old question: should you apply foundation or concealer first? We asked a professional make-up artist to break it down once and for all...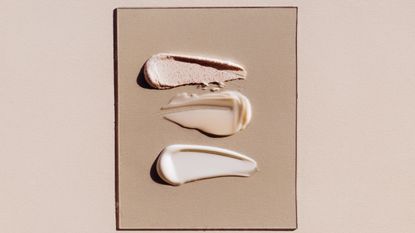 (Image credit: Getty Images)
Should you apply foundation or concealer first? Although understanding what your foundation and concealer do is fairly straightforward, the 'proper' order might not be so obvious.
When it comes to base products, your concealer works to brighten under-eye circles, cover up blemishes or neutralise any redness and discoloration. Meanwhile, foundation will even out your skin tone with a finish that's matte, dewy or anywhere in between—all depending on your preferred level of coverage.
So, which of these should be tackled first when putting on your make-up? To clear the fog with some expert insight, we asked a professional make-up artist whether you should apply foundation or concealer first – as well as getting some application tips.
Should you apply your foundation or concealer first?
"The best universal advice I can give is to apply under-eye concealer first," Bobbi Brown Senior Pro Artist Warren Dowdall tells us. "The logic behind this is that by brightening the eye area first, we instantly look and feel fresher and will be inclined to use much less foundation than if we apply foundation first.
"If you have a skin type that may be blemish prone, or if you have high colour or rosacea, you can apply a matte full-coverage concealer over areas you'd like more coverage on first, and then gently pat foundation over it. This helps to create a more natural finish to your base."
That said, the answer isn't completely black and white and there are exceptions to this rule. Dowdall adds that the order you apply these base products in may vary depending on the type of concealer you're using.
"The concealer formula itself also plays a part in whether to go over or under your base," he explains. "For example, if you are using a light-reflecting concealer, it should always be applied alone or over other complexion products to get the brightening benefits."
Is it better to apply concealer with fingers or a brush?
Now that we've tackled applying foundation or concealer first, what should you use to apply your formula of choice? It's the age-old question, but again our answer here is not so cut and dry.
There are benefits to both finger and brush application. Finger blending is easier, while brush application is more precise. And of course, you won't get your hands dirty with the latter!
As for which one is the 'right' way, it's really down to personal preference and what you find easiest – but our professional has some pointers for getting that perfect finish.
"I generally tend to use a hybrid technique [when applying concealer]—a brush application will stop you from being too heavy-handed and also aid in more precise application," Dowdall says. "But then I would use the warmth of my finger to really melt the concealer into the skin for a really beautiful, second-skin finish."
This principle can apply to your foundation too. Some professional make-up artists like to use the warmth of their fingers to blend into the skin, but it can also be applied using a full-headed brush and buffing in.
So there you have it – apply your concealer before your foundation, unless it has light-reflecting properties, and you can use a mix of brush and finger application for that second-skin finish.
Lucy is a beauty journalist who has written for titles including Marie Claire, Cosmopolitan, OK!, woman&home and Women's Health, as well as regularly contributing to My Imperfect Life. Her work covers everything from skin and haircare tips to trying and testing the latest beauty launches, and interviewing celebrities and experts. A certified dog person, her other interests include mental wellbeing, books, piña coladas and not getting caught in the rain.