BB cream vs foundation: which is better for your skin?
If you're confused by the BB cream vs foundation dilemma, this is the difference between the two products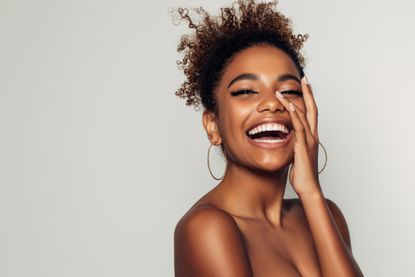 (Image credit: Getty Images/CoffeeAndMilk)
There are a few topics that are sure to divide a group and when it comes to BB cream vs foundation, there is no exception. If you want to ace your base, which one should you plump for?
We all have individual skincare needs to take into account, after all, and you need to pick the right makeup for you. However, knowing which one is best for your skin in particular can be tricky. If you've ever been confused by the BB cream vs foundation quandary, fear not, for we have dispelled many a myth and (hopefully) answered all your questions below.
The options can feel endless—do you go matte, opt for medium coverage, or is it a dewy glow that you're after? It's no surprise so many people feel both thoroughly confused and overwhelmed.
We'll make acing your base simple by filling you in on all you need to know about two of the most popular skin tone perfectors out there. So, do you pick one of the best BB creams or best foundations?
When should you use a BB cream?
Since the 80s, Koreans have been perfecting BB formulations, and although they are now known for their love of elaborate multi-step beauty regimes, they have set the standard for this multi-tasking skincare/make-up hybrid. Beauty brands in the West have taken their cue from Korean innovations, and so you'll find that BB cream formulations here are anything but basic.
"'Beauty' or 'blemish' balms aka BB creams are the perfect entry into color cosmetics. They offer sheer coverage that conceals and blurs imperfections and contains a hefty dose of actives to keep skin looking its best," shares make-up artist Elaine Lynskey.
BB cream floods the skin with restorative actives like ceramides, hyaluronic acid, and vitamin C, which offer instant skin-perfecting and more importantly long-term results. Most protect against harmful UV rays and there are options for all skin types and most skin concerns.
This means oily, combination, normal and dry skins are all catered for and even concerns such as acne, rosacea, lines, and wrinkles may be addressed.
However, we found that there is one place that BB creams fall behind, and that is the range of available shades. Designed to offer sheer coverage and made with pigments that adapt to the wearer's skin tone, most brands only offer one or two shades. And while others offer more, many (but not all) don't have a range of darker tones. This makes it harder for warm and dark skin tones to find a BB cream that addresses their skin concerns and matches their skin tone too. Seriously, beauty brands—what is the deal with this?
We've looked into this, as we tested several BB creams to find the best. One of our stand-out favorites is pigment-packed and offers serious long-term benefits. To find out just how good this product is, read our Pixi Beauty Balm review.
---
---
What about the case for foundations?
Foundation is usually the first port of call for most makeup wearers—it forms the basis of your regime. Foundation comes in several different forms; from liquids and mousses to powders and sticks. They all offer a host of different coverage options and finishes. Whether light, medium, or full coverage, mattifying, natural, or dewy, foundations are designed to camouflage skin conditions such as acne, pigmentation, redness, and even out skin tone too. They have incredible staying power too and are made to last, with some boasting up to 18 hours of wear.
However, one size does not fit all, and nowadays there is a range of formulations to suit every skin type. And, despite 'color correcting' and texture perfecting being their main objective, you'll find that many of them offer some skincare benefits as well. Typically, these come in the form of hydrating hyaluronic acid, mattifying clay, repairing anti-oxidants, SPF protection, and acne-busting acids. For those with acne-prone skin, you can take comfort in the fact that the best non-comedogenic foundations won't block your pores either—and we've also assessed the best foundations for sensitive skin, if that feels more suited to your needs.
Shade-wise, offerings have increased considerably in recent years, and while drugstore brands still have some work to do, generally warm and dark skin tones have more options than they once did. In comparison to BB creams, foundations tend to have better shade options too.
BB cream vs foundation: what's the main difference?
"The main difference between a BB cream and a foundation is the coverage. BB creams are skincare products first, that are designed to treat your skin and even out skin tone with very light coverage. While despite the addition of skincare ingredients in some formulations, a foundation's main job is to hide imperfections," shares Diego dalla Palma's international beauty ambassador, Gianluca Oddi.
BB Cream vs foundation: which should you go for then?
When it comes to BB cream vs foundation, there is no need to pick just one. In fact, when it comes to most beauty products, you'd be wise to invest in a wardrobe of bases (much like you do your capsule wardrobe)—similarly to how you would with lipsticks.
Some days you might just want something quick and easy that benefits your skin and imparts a sheer, second-skin veil of color—if so, go for a BB cream. While on others your main concern might be concealing imperfections and evening out your skin tone—this is something a foundation does best.
It really depends on your skin goals and the look and feel you prefer. We reckon having both in your arsenal is the safest bet, though!
Amerley is an award-winning beauty & lifestyle journalist who has been writing for the UK's most well-known glossies, websites and newspapers for over a decade. Known for her ability to predict the next big trend, there is really very little she won't try for a story. From microblading and injectables, to10 step skincare plans and breathing her way to better skin, Amerley loves to share her experiences and write relatable, informative and trend-led copy for beauty novices and junkies alike.