The one with all the 'Friends' Thanksgiving episodes, ranked
The 'Friends' Thanksgiving episodes are iconic, from celebrity cameos to disgusting trifles, but which one comes out on top?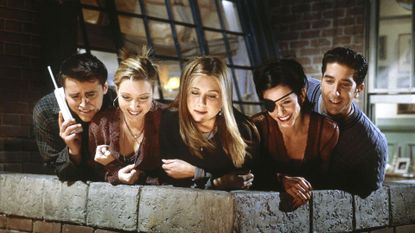 (Image credit: Warner Bros. TV/Alamy Stock Photo)
More than Halloween, Christmas or any other holiday, the Friends Thanksgiving episodes prove that the iconic sitcom truly cornered the market on Turkey Day television.

The NBC show featured nine Thanksgiving-themed episodes across ten seasons (season two doesn't have a dedicated T-Day episode), and the holiday eps—some of the highest-rated Friends episodes ever—have spawned hilariously memorable TV moments like Monica's turkey shimmy, the "I Hate Rachel Green Club," and an absolutely, positively disgusting trifle.

And though the word "Friendsgiving" didn't necessarily originate with the show, the annual food-filled festivities with best buddies Rachel, Monica, Phoebe, Chandler, Ross and Joey no doubt helped popularize the trend over the years.
So before you celebrate Thanksgiving with your loved ones, have yourself a little Friends reunion and spend Friendsgiving with your Central Perk pals via this ranking of the best Friends Thanksgiving episodes—where did your favorite wind up on our list?
All of the 'Friends' Thanksgiving episodes, ranked:
9. "The One Where Chandler Doesn't Like Dogs" (Season 7, episode 8, 2000)
By all means still an entertaining episode of television, the season 7 Thanksgiving edition takes the last spot because it's pretty small-stakes, with the bulk of the drama revolving around Phoebe hiding a dog in the apartment (revealing that Chandler isn't actually "allergic" to canines, he just doesn't like them), none of the friends knowing how many states there are (56, according to Joey), and Rachel revealing that she has a crush on her hot assistant, Tag.
8. "The One With Rachel's Other Sister" (Season 9, episode 8, 2002)
Christina Applegate scored an Emmy for Outstanding Guest Actress in a Comedy Series for her turn as Rachel Green's younger sister Amy, who shows up during season 9's Thanksgiving episode to wreak havoc and catfight with her big sis, much to Joey's thirsty joy and Monica's Type A chagrin. (Mind the wedding china!)
7. "The One With the Late Thanksgiving" (Season 10, episode 8, 2003)
In the last Thanksgiving episode of the series, Monica doesn't feel like playing holiday host, what with the stress of trying to adopt weighing down on her and Chandler. The gang, however, convinces her to keep up the tradition but when everyone turns up late to dinner (thanks to a hockey game and a baby beauty pageant), she locks them out of the apartment.
Joey, of course, gets his head stuck in a door and ends up ruining the Turkey Day feast, but Monica doesn't care, because she gets the call that she and Chandler have been chosen as adoptive parents. "This Thanksgiving kicks last Thanksgiving's ass!" Based on our rankings, we agree!
6. "The One Where Underdog Gets Away" (Season 1, episode 9, 1994)
The holidays can be a tough time for people, but they're always better when you have a little help from your friends. In the show's first-ever Thanksgiving episode, all of the gang's plans woefully fall through, leaving them to celebrate the holiday together at Monica's apartment.
However, when a giant Underdog balloon from the Macy's Thanksgiving Day Parade goes loose and the gang runs out to the balcony to watch, they get locked out and their turkey dinner turns into a burned mess. Thanks to a reality check from Ugly Naked Guy, however, they realize they've already got everything they need to feel thankful for—each other, plus some grilled cheese sandwiches courtesy Chef Chandler. Sweet and simple.
5. "The One With the Football" (Season 3, episode 9, 1996)
Packed with what would soon become Friends hallmarks—from Monica's competitiveness to Chandler's flailing dance moves and Rachel proving everyone wrong—this Thanksgiving episode centered around a guys-versus-girls touch football game is a fan favorite, worthy of a coveted "Geller Cup" (that would be a Troll doll nailed to a 2x4, naturally).
4. "The One With Chandler in a Box" (Season 4, episode 8, 1997)
Any Friends episode that features an exasperated, eyepatch-wearing Monica absolutely roasting her five besties ("Married a lesbian, left a man at the altar, fell in love with a gay ice dancer, threw a girl's wooden leg in a fire, live in a box!") is already a classic.
Add in Chandler atoning—and later being forgiven—for kissing Joey's girlfriend by willfully spending the entire holiday trapped in a wooden crate beside the dinner table and you've got an all-time great Thanksgiving episode.
3. "The One With the Rumor" (Season 8, episode 9, 2001)
Two words: Brad Pitt. Friends had plenty of epic guest stars over the years, from Julia Roberts to Reese Witherspoon and George Clooney, but the most memorable celebrity cameo was no doubt the then-Mr. Jennifer Aniston, who turned up as Monica and Ross's formerly portly high-school buddy, Will.
Not remembering Will from high school, nor that she apparently bullied him relentlessly back in the day, Rachel initially crushes on the newcomer (I mean, he does look like Brad Pitt). That is until she finds out that not only was Will in an "I Hate Rachel Green Club" but also that Ross, Rachel's baby daddy, cofounded it. Elsewhere, Joey dons Phoebe's maternity pants to eat an entire turkey, simply to prove he's "a Tribbiani."
1. "The One Where Ross Got High" (Season 6, episode 9, 1999)
What are the holidays without a total family breakdown? Monica and Ross's parents come to spend Thanksgiving, which would be fine had Monica already told them that she recently moved in with Chandler, of who Mr. and Mrs. Geller aren't the biggest fans. The reason for their disapproval? They once caught Ross smoking pot in college but he lied and said that the culprit was Chandler.
All evening long, Monica and Chandler try to get a dawdling Ross to fess up to his parents about the longtime fib, leading up to a hilarious cacophony of revelations from the entire gang: Monica broke the porch swing, Ross stole the Playboys, Phoebe loves Jacque Cousteau, Joey would rather be spending Thanksgiving with his roommate's hot model friends across the hall and, no, Rachel was not supposed to put beef in the trifle (nor should it have tasted "like feet").

As Mrs. Geller said, that's a lot of information—and laughs—to get in 30 seconds.
1. "The One With All the Thanksgivings" (Season 5, episode 8, 1998)
One of the show's best Thanksgiving episodes revolves around memories of their worst Thanksgivings: Chandler learning about his parents' divorce via the houseboy, Joey getting his head stuck inside a turkey, Phoebe losing an arm during her past life as a Civil War nurse, you know, the usual.
The majority of the episode, however, is dedicated to flashbacks of Monica's worst Thanksgiving in 1987, when she was an overweight teenager crushing on Ross's roommate and her current-day boyfriend, Chandler, who rebuffed her back then. A year later, a newly slimmed-down Monica vengefully tries to seduce Chandler but accidentally severs his toe with a kitchen knife.
To get Chandler to forgive her in the present day, Monica famously dons a turkey on her head (complete with a fez and oversized sunglasses) and performs a silly shimmy to cheer him up, during which he blurts out for the first time that he loves her. That's what we call romantic comedy, people.
Christina Izzo is the Deputy Editor of My Imperfect Life.
More generally, she is a writer-editor covering food and drink, travel, lifestyle and culture in New York City. She was previously the Features Editor at Rachael Ray In Season and Reveal, as well as the Food & Drink Editor and chief restaurant critic at Time Out New York.
When she's not doing all that, she can probably be found eating cheese somewhere.