Ginny & Georgia ending explained: let's talk about that shocking final episode
Need a debrief after watching the ending of Ginny & Georgia? We got you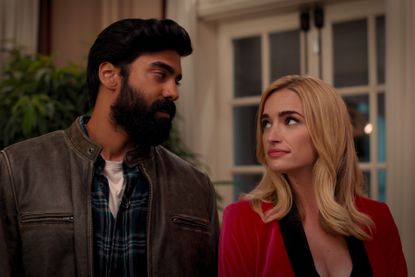 (Image credit: Netflix)
To be honest, the better question would be what didn't happen in the ending of Ginny & Georgia?
The episode opens with Paul, Georgia, and the kids doing a photoshoot and interview to celebrate Paul and Georgia's engagement and the new family. But as we all know, a happy opening does not mean a happy ending in the world of Ginny & Georgia.
Here's the rundown of what happens in the season finale, as we eagerly await the second season of Ginny & Georgia.
*Warning: spoilers for Ginny & Georgia season 1 ahead.*
Ginny & Georgia ending explained: what happens on the final episode?
What happened to Ginny?
After spending much of the season conflicted between her best friend's twin brother, bad boy Marcus (Felix Mallard), and her official boyfriend, Hunter (Mason Temple), Ginny finally admits that she wants to be with Marcus. However, before she can tell Maxine and the rest of her friends, her secret relationship comes out and causes a massive rift between her friends and the two boys.
Isolated from everyone, Ginny also has to deal with her AP English teacher Mr. Gitten who, when talking about N-world, points out Ginny during the conversation. After leaving to go to the bathroom, Ginny sees Bracia, and they have a conversation about being Black in a very white town like Wellsbury.
On top of this, she's dealing with the even bigger issues of her mother's secrets. Ginny knows her mother has been keeping secrets from her. This has driven a wedge between their once-close relationship as the season's gone on. However, they did have a breakthrough moment when Georgia finally opened up to Ginny about the sexual abuse she suffered by her step dad in her childhood. While Ginny is shocked and saddened to hear about this, it doesn't take long before she realises there's more to her mother's past which once again gets her guard up. The final straw for her is when Cordova (the private investigator) reveals to Ginny that Georgia killed her ex-husband Kenny.
She then returns home to find that her little brother Austin has discovered that Georgia hasn't been mailing out the letters he has written to his father, who is currently in prison. Ginny is furious.
Completely isolated from those closest to her, she decides to take a page out of her mother's book and runs away with Austin on a motorcycle, taking Georgia's beloved leather jacket with her. Where is she going? We have no idea. All Ginny says in the voiceover is: "Knowing some things about a person, you can't come back from that," suggesting she has no intentions of returning to life living with her mother.
Is Ginny pregnant in the season finale of Ginny & Georgia?
While Ginny discovers sex with Marcus during the first season, she does not get pregnant like her mother did when she was a teenager. She does have a minor freak out about contraception but Georgia puts her on contraception before she even knows Ginny has been sexually active.
What happened to Georgia?
As the season went on, it became clear that Georgia Miller is not the sweet girl she appeared to be. Flashbacks to her troubled past: abused by her stepfather, running away from home at 14, and being on her own ever since. She's done it all, including running an underground poker ring and killing multiple people (mostly her exes) in an effort to survive and protect herself and her children.
Her hope that she could leave that all behind and start a new life in Wellsbury goes well at first, with her working on getting Mayor Paul Randolph (Scott Porter) re-elected and ending up engaged to him by the end of the season. However, in the final moments of the season, we get to see the true Georgia Miller as it is revealed she cremated Kenny's body in order to get the private investigator off her back. Her reasons? The never remorseful Georgia Miller states in her voiceover: "[Ginny] will never have to know the fear and desperation that I did," just as Ginny and Austin do just that.
What's the situation between Georgia and Joe?
Joe notices Ginny's sunglasses that she stole from Georgia, and after, Ginny tells him the story of how she got them. He realizes that the girl he met on a school trip as a teenager was Georgia. But just as he plans on telling her his true feelings, he realizes that she's engaged and he's too late.
Does Marcus die in Ginny & Georgia?
Despite almost dying at the end of episode 8, Marcus does survive to see the end of the season as he recovers from his motorcycle crash. What's the situation like between Marcus and Ginny? In one word… complicated.
After stating that sleeping with Ginny was a mistake when confronted by his twin sister Maxine, Hunter and the rest of Ginny's friends, things were not looking too great between Ginny and Marcus. His apology to Ginny comes just as she decides to leave Wellsbury for good. So once again it does seem Ginny, and Marcus' relationship is on the rocks.
Liv is a freelance journalist currently studying English at university. She loves covering everything from entertainment and politics to lifestyle and travel. As well as writing for My Imperfect Life, Liv has bylines in The Times, HuffPost, Den of Geek, Bustle The Metro and The Bookseller.