Forget Gilmore Girls—Ginny & Georgia is nothing like it
Ginny & Georgia is our new Netflix obsession, but is it more Gilmore Girls or How to Get Away With Murder?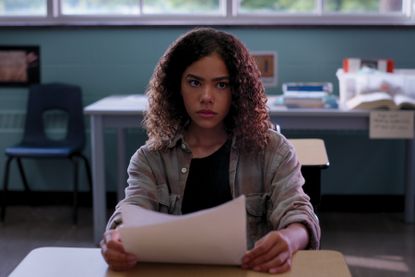 (Image credit: Netflix )
For diehard Gilmore Girls fans, a new mother-daughter show like Ginny & Georgia is exactly the type of news you like to hear (they even have the same acronym). You'll probably be expecting a show full of awesome pop culture references, loveable characters, a small town, and lots of scenes that either make you want to laugh or cry.
Well, Ginny & Georgia is not exactly that. While it's got the small-town vibes going on, Ginny & Georgia is a much darker and a much sexier version of Gilmore girls that will keep you on the edge of your seat from start to finish.
If like us, the show has your interests seriously piqued and you're already eagerly awaiting the second season of Ginny & Georgia, here is everything you need to know about the series...
What is Ginny & Georgia about?
Ginny & Georgia is all about Virginia Miller, a fifteen-year-old who often feels more mature than her thirty-year-old mother, Georgia Miller.
The Miller family, which also includes Georgia's son Austin from another relationship, moves to a new town in New England where Georgia hopes to give the family a normal life. Something Ginny isn't too keen on until she meets her super cute neighbor, Marcus, and his twin sister Maxine, with who she instantly becomes best friends. But as you can expect, life is not that simple for the Millers, and Georgia's dark past threatens to catch up with her and her family. The only thing is Georgia will do anything to protect her family.
While the comparisons to Gilmore Girls (which Georgia even mentions saying: "We're like the Gilmore Girls, but with bigger boobs.") are great for the ratings and a clever marketing tool, the truth is that apart from living in a small town and being a show about a mother and daughter, the show is the complete opposite of Gilmore Girls.
Ginny & Georgia is very How To Get Away With Murder and Desperate Housewives-esque with flashbacks to dark pasts, steamy romances and lots of mystery.
Where was Ginny & Georgia filmed?
This may come as a bit of shock but, Ginny & Georgia wasn't actually even filmed in the USA but rather in Ontario, Canada, with the town of Cobourg giving us our picturesque backdrop of Wellsbury.
Sadly Wellsbury, Massachusetts it isn't a real place but that doesn't mean you can't plan a trip to where the show was filmed.
COMMUNITY: We are still Cobourg, Canada! Just a fun reminder that @NetflixCanada2 is in town filming Ginny & Georgia. They are touching up some of our Downtown Cobourg storefronts too! 🎨 pic.twitter.com/WTRMkAjpdcAugust 29, 2019
See more
Many shops and landmarks in Cobourg are featured in the show, such as Cobourg Lawn Bowling Club, Victoria Park—which becomes Wellsbury Arts Centre, St. Peter's Anglican Church, and Audrey's In Town Fashions—the shop where Ginny gets caught shoplifting.
You can also visit the iconic Blue Farm Café in the show which is actually real-life gastro pub, El Camino!
Another small piece of trivia is that a couple of the cast from Ginny & Georgia—Sara Waisglass, Raymond Ablack, Mason Temple, and Jennifer Robertson, who play Maxine, Joe, Hunter, and Ellen, actually hail from Canada.
Who stars in Ginny & Georgia?
Antonia Gentry stars as Ginny Miller, in what is her first breakthrough role on screen. Georgia Miller is played by Brianne Howey, who you may recognize from The Exorcist, 90210, The passage, or Dollface.
Cute neighbor Marcus is Felix Mallard. The Australian actor has also played Ben Kirk in the soap Neighbours as well as the Netflix series Locke & Key and Zoey's Extraordinary Playlist.
Sara Waisglass is Maxine, best known for her role as Frankie in Degrassi.
Their mother Ellen is played by Jennifer Robertson, who we all know from her role on Schitt's Creek as Jocelyn Schitt and the teen movie Twitches as Ileana.
Mayor Paul Randolph is played by Scott Porter, most recognizable for his roles on Friday Night Lights and Hart of Dixie.
Raymond Ablack is Joe in the show—the Canadian actor is best known for his role as Sav Bhandari in Degrassi: The Next Generation and Orphan Black, Narcos, and Shadowhunters.
What are people saying about Ginny & Georgia?
Ginny & Georgia has received a lot of praise for its portrayal of self-harm, a family who use American Sign Language, sexual abuse, and racism.
just spent the last 10 hours binge watching ginny & georgia and i regret nothingFebruary 27, 2021
See more
after celebrating the show last night, today i had the worst hangover... 🤦‍♀️ my biggest regret? not eating doughnuts to soak up the alcohol.March 1, 2021
See more
But while most people have praised the show, it has also received some criticism. Taylor Swift called the show out for a sexist joke about her relationship history, while others have questioned how the show has addressed identity and race in that Oppression Olympics scene.
Liv is a freelance journalist currently studying English at university. She loves covering everything from entertainment and politics to lifestyle and travel. As well as writing for My Imperfect Life, Liv has bylines in The Times, HuffPost, Den of Geek, Bustle The Metro and The Bookseller.