Good Trouble's Callie and Gael relationship: what's next for these two?
Good Trouble's Callie and Gael have always had a complicated relationship. But where do they stand now?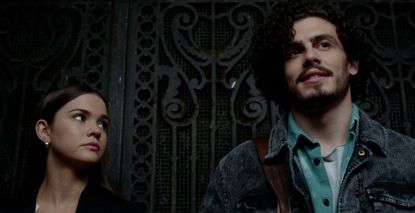 (Image credit: Freeform )
Good Trouble's Callie and Gael's relationship is the definition of "it's complicated". But one thing is for sure, their chemistry is undeniable—much of which we saw in the first season of The Fosters spin-off.
Back in Good Trouble season 3, a lot happened in Callie and her sister Mariana's lives since moving to Los Angeles to embark on their careers and step into their independence. From Mariana and Evan's secret relationship and misogyny work environment as one of few women at her male-dominated tech start-up to Callie and Jamie's on-again, off-again relationship. But through it all, she's had a special connection with her Coterie housemate, Gael. So where do the two actually stand - especially now that he's got a baby with someone else?
Here's a look at Callie and Gael's relationship. But first, make sure you know how to watch Good Trouble in your country so you can keep up to date with the new season 4 episodes as they drop..
How did Callie and Gael's relationship begin?
Callie and Gael met in the first season of Good Trouble when Callie and Mariana moved into co-living space, The Coterie, where Gael was already living. The two had an initial attraction and hooked up in the first episode before Callie realized that Gael was the same guy her sister had been crushing on at her new job. Luckily, any potential for a love triangle with the sisters was squashed when Mariana gave Callie her blessing to start seeing Gael.
However, when Callie realizes that Gael is bi-sexual, she's conflicted about how she feels about it—it's a whole storyline with Callie stating that she's not bi-phobic, but her hesitance to date Gael because of his sexuality is rooted in old stereotypes about bisexual people. She eventually decides it shouldn't be a factor when it comes to how she feels about him. The two start seeing each other non-exclusively, with Gael also dating a guy named Bryan.
Why did Callie and Gael break up?
Despite it all, their relationship is short-lived when they realize that neither of them can focus on their careers and professional lives whilst seeing each other as it's too big of a distraction—especially since they're roommates.
They later continue to see each other casually but when Callie starts seeing Jamie at the same time and the two men tell her that they want to be official, she is forced to choose between them and eventually picks Jamie.
In the spring finale of Season 3 back in April, we were all in for a shock when Isabella—a girl who had previously lived at The Coterie but moved out after a dispute with Mariana—returned with a bombshell. When Isabella first moved into The Coterie, she and Gael ended up sleeping together after he helped her move her stuff in and they both found themselves single and lonely. Well, it turns out that one night of passion is about to change everything as Isabella revealed that she was pregnant in the season finale. She explained that she planned on keeping the baby and Gael promised to stick by her.
Sadly, when season 3 ended this meant that Gael and Callie's love story was over for good. Or is it? Now that the show is back with season 4, anything could happen, including a whole new life for Callie...
Sagal is a journalist, specialising in lifestyle, pop culture, fashion and beauty. She has written for a number of publications including Vogue, Glamour, Stylist, Evening Standard, Bustle, You Magazine, Dazed and Wonderland to name a few.