Will Good Trouble's Callie and Jamie get back together?
Good Trouble's Callie and Jamie have been through a lot together. Here's everything you need to know about their whirlwind relationship...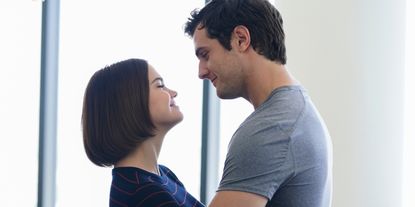 (Image credit: Photo by Eric McCandless via Getty Images)
Good Trouble's Callie and Jamie have been a hot topic of conversation among fans of the Freeform show for some time now. Throughout Good Trouble season 3, it was safe to say we'd been through a lot with not only the couple, but all the characters on the show—including Davia and Dennis, or even Gael and Callie. Right now, however, we're diving into Callie and Jamie, and their once upon a time young corporate love story.
Here's everything you need to know about the fictional relationship...
The beginning of Callie and Jamie's love story
As viewers know, Good Trouble is a spin-off show from The Fosters, which is where Callie and Jamie's relationship was birthed. The two met when Jamie's sister Eliza married Callie's adoptive brother, Brandon, where they bonded over being lawyers. At the time, Callie was finishing up her last year at UCSD before heading to Los Angeles with Mariana (where Good Trouble is set) to be a clerk, meanwhile, Jamie was already working with a law firm in the city.
The two reconnected in the first season of Good Trouble when they met up in LA and eventually began a "friends with benefits" type situation while Callie was also non-exclusively dating her fellow Coterie resident, Gael Martinez. With both relationships developing fast, the two men respectively confessed that they now wanted to be in a committed relationship with Callie, forcing her to choose between them. Despite having feelings for both, she picked Jamie and the two started dating officially. However, crack soon begin to appear when politics gets in the way of their relationship.
While Callie and Jamie are both lawyers, they're on the opposite end of the spectrum: he's a corporate lawyer, while she went into law to represent those fighting against injustice. Their morals and values clash, especially in season two when she finds out that he is a Republican.
In one episode, she joins Jamie at one of his work parties, where she pictures herself as his wife and realizes what a life with him could look like. Attending events like the one she's at, full of rich, white people who are out of touch and unaffected by the social and political issues happening in America right now—be it voter suppression or women's and LGBTQ+ rights. She begins to question her relationship and whether Jamie really is a good guy if his values align with those of the Republican Party. She has it out with Jamie, explaining that his silence in all the right-wing wrongdoings is acceptance in her eyes and the two go back and forth before finding common ground. Jamie eventually throws away his voter ID card and the two have a steamy make-up session in the pool before deciding to move in together.
Callie and Jamie's break-up
It doesn't take longe before, once again, the couple's professional lives and moral compass get in the way of their relationship and ultimate end in their break-up at the end of season two. Callie is working class-action lawsuit tenants who are fighting to keep a roof over their heads but in order to do the right thing by them, she has to betray Jamie. When he found out what she had done, he was heartbroken and the two agreed that she should move out of their apartment in the season finale.
What's next for Callie and Jamie?
The episode leaves viewers uncertain about their relationship status but the break-up becomes pretty clear in the ongoing third season of Good Trouble, as things remain pretty awkward between the two. Callie's actions have led to Jamie losing his job and he isn't over that. He now has another corporate job at the DA's office and asks Callie to meet up for a drink to discuss the Yvonne Byers case, which they're both working on. The meet-up comes after the two bumped into each other at a bar while they were both out with other people and visibly tried to make one another jealous. However, when they meet up, Jamie explains that he wants to stop being angry with her and move on but that he doesn't think he and Callie can ever be friends. Naturally, Callie is upset by this but the conversation shifts when Jamie then delivers some bad news about her boss Kathleen Gale, revealing that she's under investigation by the FBI, which immediately frustrates Callie, making her defensive and distrusting of them. He tells her to be careful and she tells him to stop patronizing her before storming out.
Half way through season 3, Jamie looks disheartened when he sees a picture of Callie and colleague Tony together on Instagram, showing once again that he is far from over his ex.
However, as the season drew to a close and Callie got close to Gael once again, their story felt like it was over once and for all. Although you never know with these two, a lot can change over night!
Sagal is a journalist, specialising in lifestyle, pop culture, fashion and beauty. She has written for a number of publications including Vogue, Glamour, Stylist, Evening Standard, Bustle, You Magazine, Dazed and Wonderland to name a few.