Good Trouble's Maia Mitchell and Cierra Ramirez: A look at their adorable IRL relationship
On-screen sisters Maia Mitchell and Cierra Ramirez are just as close as Good Trouble's Callie and Mariana—if not closer...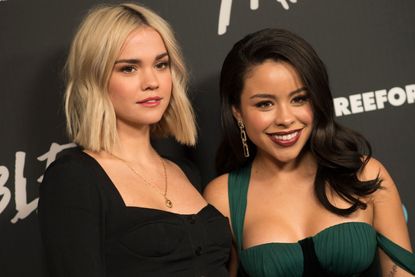 (Image credit: Photo by Matt Petit via Getty Images)
Maia Mitchell and Cierra Ramirez play on-screen sisters Mariana and Callie Adams Foster in Freeform's Good Trouble—the hit spin-off from The Fosters. But just like their bond on-screen, the women have shared a close friendship in real life and quite frankly, we're obsessed with it.
Maia and Cierra have been acting alongside one another for years now. The two starred in The Fosters together as teenagers from 2013 to 2018 before landing their own show. Good Trouble sees their characters Mariana (played by Cierra) and Callie (played by Maia) leave home and start their new, adult lives in Los Angeles. Naturally, it's not all as easy as it seems to them at first, but the women really come into their own. Callie starts working as a clerk at a law firm and fighting against social injustices, while Mariana is working hard to navigate a male-dominated and misogynistic tech industry.
In real life, Cierra, who grew up in Texas, and Maia, who is Australian, are close as can be, referring to one another as sisters with nothing but good things to say about one another in interviews and on social media. In fact, Maia's Instagram bio reads "stage mum to @cierraramirez". Their relationship is nothing short of adorable—here's a little look inside.
Maia Mitchell and Cierra Ramirez's friendship
Maia and Cierra grew up together on the set of The Fosters and have maintained their close relationship, especially whilst working together on Good Trouble.
Back in 2019 when the spin-off first premiered, Cierra told Entertainment Tonight: "[Maia] is the yin to my yang. If you meet us as individuals, we are the complete opposite, but we make so much sense together. A lot of people come in and out of your life and I got really, really lucky to be able to continue to work with her."
Similarly, Maia is equally gushy about her co-star. When asked about their relationship, she said: "Cierra and I have a very similar dynamic to Callie and Mariana. She's my best friend in real life, so she's so easy to work with. We know each other so well. We know what presses each other's buttons, and we kiss and then we make up. We just forget about it two minutes later."
She continued: "She's like the easiest person to work with because I could never say anything that would offend her. And we hang out on the weekends. People think we're crazy because we'll wrap like a day of 14 hours together and we're like 'What are you doing tomorrow night?' So, I'm really, really lucky that I get to keep working with her."
Talk about friendship goals!
The girls never shy away from expressing their sisterly love for one another on social media either. In March 2021, Maia shared a sweet post dedicated to Cierra on her birthday.
"HAPPY BIRTHDAY SISSY!!! I love you! The Mariana to my Callie. Always so bloody grateful to be a part of your path," she wrote in the caption. "I grow more proud and more obsessed with each year, dooood. Cheers to you honey bun ❤️❤️❤️"
Cierra's response was just as cute, as she commented: "love you forever and ever and ever & then some❤️"
Most recently, Cierra shared a couple of adorable selfies of the two of them on November 19 2021, with the caption: "How it started vs how it's going."
The two also often share photos of them together, be it on the red carpet, on vacation, or just hanging out. Anyone who follows them can see just how special their friendship is and we couldn't be more here for it!
Roll on Good Trouble season 4, which is officially back from Wednesday 9 March!
Sagal is a journalist, specialising in lifestyle, pop culture, fashion and beauty. She has written for a number of publications including Vogue, Glamour, Stylist, Evening Standard, Bustle, You Magazine, Dazed and Wonderland to name a few.