How to catch up on 'Good Trouble' season 4 ahead of the season 5 premiere
If you're not caught up on 'Good Trouble' season 4 and all it's drama, here's how and where to watch it before the newest season drops...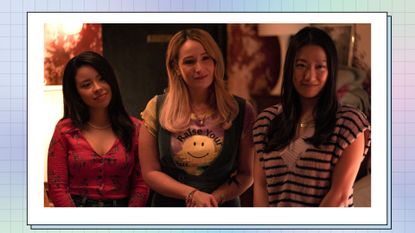 (Image credit: Freeform/Terence Patrick)
With the return of season 5 imminent, you may be keen to catch up on Good Trouble season 4, which was full of emotions, drama—including Callie leaving the show—and of course, plenty of funny moments.
Picking up where Good Trouble season 3 ended, things in season 4 got emotional to say the least. For those who aren't familiar, the series is a spin-off from ABC's The Fosters, first launched back in 2019 when sisters Mariana and Callie Adams-Foster (AKA Cierra Ramirez and Maia Mitchell) moved to Los Angeles together to start their new adult lives, with new jobs and a new set of friends. As expected, however, nothing has gone smoothly for the pair with work troubles, relationship dramas, and sticky friendship situations making up most of the juicy storylines.
Season 4 was hugely popular with fans, with everything from the Good Trouble soundtrack to the complex lives of Callie (for two episodes), Mariana and the rest of the gang at The Coterie living up to our expectations. But now, Good Trouble season 5 is about to drop! The new season premieres on 16 March, making it the perfect time to catch up on season 4—whether you fancy a re-watch, or you haven't yet managed to watch it at all yet.
So while we wait for the new episodes, here's everything you need to know about season four and how to watch Good Trouble in both the UK and the US before season 5 hits our screens.
'Good Trouble' season 4: when did it premiere?
After what felt like an eternity, Good Trouble season four premiered with episode one on March 9, 2022 at 10 pm on Freeform and then the next day on Hulu. If you need to catch up on previous season before you watch season 4, check out how to watch all the Good Trouble seasons.
Good Trouble season 4 ran for 18 episodes, coming to an end at the beginning of September 2022.
The season saw plenty of highs and lows in the lives of our faves at The Coterie, with Isabella and Gael making some huge decisions, Mariana making some brave and bold moves, and of course, the fact that Callie left at the beginning of the series to pursue a new life in Washington, D.C. Does Callie come back to Good Trouble for season 5 though? You'll have to wait and see...!
How to watch 'Good Trouble' season 4 in the UK and elsewhere
If you're not in the US but you're desperate to catch up on Good Trouble season four, then you're in luck. While you can catch up to season 3 on BBC iPlayer in the UK, you can only catch season 4 on Disney+. Good Trouble season 4 hit Disney Plus UK earlier this year, which suggests that all future seasons of the show will be available to stream there now, instead of on the BBC.
Wondering how to watch Good Trouble season 4 UK if you don't happen to have a Disney+ account though? Luckily, you can watch the episodes right now using a VPN. A VPN will allow you to change your IP address so your mobile, computer, or laptop thinks it's in another location. This can be used in the UK and across many other parts of the world, including Australia.
Follow these steps:
Sign up for a VPN service like Express VPN (voted best in the world by our colleagues at TechRadar) and log in
Change your location to anywhere in the United States
Head over to Freeform and stream the new season of Good Trouble
In the US, you can catch up on Hulu, where all of the previous seasons and episodes are available to stream.
What time does Good Trouble come on?
If you're planning on watching Good Trouble in real time in the US (as you may well be for season 5), it comes on on Freeform on Thursdays at 10pm PT. It's available on Hulu the next day.
Did Callie leave Good Trouble in season 4?
As mentioned, sadly Callie did in fact leave the show in episode two, season four. In the show, she left to pursue her dream job with the ACLU in Washington D.C, leaving LA and The Coterie behind for a new life.
But the real-life decision was made by the actress who plays Callie, Maia Mitchell, who left the show to move back to her native country, Australia, to be close to her family.
"The pandemic was really hard for me," she said, explaining her move in an interview with People "I know I'm so privileged and I was so lucky to be able to work, but it also meant that I was separated from my family for 18 months. And there was something about not being able to see them if something happened, just the knowledge that you couldn't get on a plane and see each other, was really hard. I just had to be with them."
Who is left in the Good Trouble cast?
It's likely that all of your faves will be returning for season 5—and that includes Cierra Ramirez (Mariana), Sherry Cola (Alice), Tommy Martinez (Gael), Zuri Adele (Malika), Emma Hunton (Davia), Josh Pence (Dennis) and Beau Mirchoff (Jamie).
Similarly, Bryan Craig (The Grand Hotel, General Hospital), and Booboo Stewart (The Twilight Saga, X-Men: Days of Future Past) also joined the cast as new regulars in season 4, and we're expecting to see them in season 5 also. Craig plays Joaquin, an independent investigative journalist, while Stewart plays Luca, an unhoused man who is an aspiring dancer.
Sagal is a journalist, specialising in lifestyle, pop culture, fashion and beauty. She has written for a number of publications including Vogue, Glamour, Stylist, Evening Standard, Bustle, You Magazine, Dazed and Wonderland to name a few.