Gousto vs HelloFresh: which meal kit is the best option for you?
Recipe boxes are convenient AF, but between Gousto vs HelloFresh, who is the delivery meal-kit king? We dive into the pros and cons of each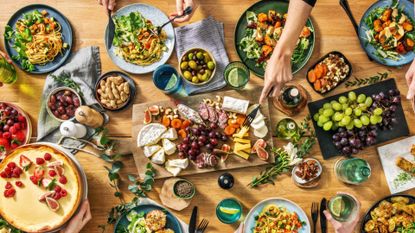 (Image credit: HelloFresh)
Gousto vs HelloFresh—if you're on the hunt for an easy-to-use meal preparation service, then you've probably wondered about the differences and pros and cons between two of the most popular options around.
You've likely seen ads for both of the best meal prep delivery services while scrolling through social media or during your latest TV binge-watch, and both were super strong contenders in our food writer's tried-and-tested review of the best meal kits on the market. But if you haven't yet taken the plunge to subscribe to either of these meal kits, we've broken down the differences between the two services to help you make the right choice.
So what sets the recipe boxes apart from each other? From price and menu diversity to the flexibility of the subscription, this is how Gousto vs HelloFresh compare against one another, to help you decide which one might be the best option for you.
Gousto vs HelloFresh: our tried-and-tested review of the delivery options
Our food expert Jessica Ransom has evaluated both boxes, to share the pros and cons of HelloFresh vs Gousto with you.
So, how do both of the recipe boxes work? With HelloFresh, you can make recipe selections up to four weeks in advance. If you don't make selections, recipes are automatically picked for you, which is great if you're time-poor or simply want a surprise—though less than ideal if you are quite specific about what you eat. The cut-off for box edits is at 11:59 pm on Tuesday, the week before your delivery. The same deadline applies if you'd like to cancel your subscription or skip weeks due to vacation, etc. You can skip up to eight consecutive weeks.
When it comes to the Gousto recipe box, you choose the recipes you want, and have until midday three days before delivery to edit. Recipes are available to pick up two weeks before the delivery date. The menu is updated every Tuesday at midday.
If you pause your Gousto subscription, it stops all future orders until you choose to resume. If you skip a week, it will automatically renew the week after. Unlike HelloFresh, with Gousto, you can order a one-off box without setting up a subscription or while it's paused.
HelloFresh has a minimum order of three recipes a week for two people, whereas Gousto allows you to order just two for two people. The maximum number of recipes you can order for two adults is four with Gousto, and five with HelloFresh. If you want more meals, Gousto recommends ordering another box to come mid-week.
Our verdict? Gousto is the more flexible meal kit, as you don't need to be tied to a regular subscription—however, you can order more meals with HelloFresh, which may work better for you.
HelloFresh box options: what's available?
HelloFresh offers six plans: Mostly Meat, Veggie, Family, Quick Cook, Calorie Smart and Pescatarian. Plans are available for two or four people, and as mentioned, you can choose from three to five meals per week.
They do not currently offer a box for one, however, they suggest that if you are a one-person household, the two-portion box is a good option if you are able to share the second portion with friends and family, or can have it for lunch the next day. The same is true for Gousto.
You can change your box subscription from week to week and add extras to your boxes, such as desserts, wine, and bread for an additional charge. However, the deadline mentioned above applies.
Gousto box options: what's available?
When it comes to Gousto, you can purchase either a regular box or a large box as part of your weekly delivery:
Regular box
Two, three, four or five recipes for two adults.
Large box
Two, three, or four recipes for four adults, or two adults and two to three children.
Like HelloFresh, you can also add extra essentials from the Gousto Marketplace to your order, such as chocolate, beer, wine, and olive oil.
What's the cost of Gousto vs HelloFresh?
As mentioned, the minimum order you can place with HelloFresh is three meals for two people. This costs £28.49 (£33.48 with £4.99 shipping) and doesn't include any extras or premium meals. For the same number of meals with Gousto, it costs £29.99, which totals to about £5 per portion.
The biggest option available on Gousto, which is four meals for four people, now costs £47.85, or £2.99 a portion. The HelloFresh equivalent costs around £52.99, with an additional £4.99 for shipping.
In the like-for-like comparisons, Gousto is cheaper and also gives you the option of only ordering two meals for two, which costs £24.99 (£6.25 per portion).
However, both HelloFresh and Gousto do also offer lots of great discounts on a regular basis, especially for new customers. At the time of writing, HelloFresh's introductory offer was 60% off your first box and 25% off your next two months worth of orders.
For new Gousto customers, the offer is very similar, with 60% off your first box, and 25% off of your first two months after that. Often, Gousto and HelloFresh will also offer deals to customers who have left the service, in an effort to entice them back—so there's every chance that you could continue to get brilliant deals on these recipe box services by pausing your subscription every now and then, too!
Who has better produce, Gousto vs HelloFresh?
All Gousto meat is 100% British and sourced from Red Tractor-approved farms. Eggs are also British and free-range. They responsibly source fish, and seasonal British produce is used as much as possible. When needed, Gousto also sources produce from overseas or from specialists like Tenderstem to help keep the menu varied.
All yogurt is organic and all dairy is vegetarian-friendly and made with pasteurized milk, which is especially important to know if you're pregnant.
HelloFresh sources its meat and poultry from farms that undergo regular animal welfare audits and visits, but they do not specify British. They stress that they only take produce from suppliers with certifications from leading auditing standards. While some HelloFresh items are organic, their priority is working with suppliers who are sustainable and ethical.
Who has more diverse recipes, Gousto vs HelloFresh?
Gousto has a menu of 84 recipes to choose from each week, whereas on HelloFresh's current selection suggest that there are 52 recipes to choose from.
Unlike HelloFresh, on Gousto, you can choose gluten-free meals. There are also several plant-based recipes, as well as (at the time of writing) 31 dairy-free choices. With recipes such as crispy teriyaki tofu and roasted cauliflower korma, even meat-eaters will be tempted to give the plant-based options a try.
On HelloFresh, they guarantee at least five veggie options but don't set the number of vegan recipes available. However, one of My Imperfect Life's contributors is a regular HelloFresh user, and admits that the veggie/vegan meal options aren't anywhere near as expansive as the options for meat-eaters.
There are some fun options you can't get on Gousto though, such as Dinner to Lunch meals, which are delivered with extra ingredients, for an additional charge, to transform your leftovers. You can also select a custom meal option, which means you can get a recipe that is easily tweaked to be suitable for kids as well as adults.
But, unlike Gousto, they don't have the "Lean in 15" master Joe Wicks on board. Perhaps better known as "The Body Coach," Wicks has worked with Gousto to design meals that support a healthy lifestyle and complement HIIT training. He often demos the recipes on his Instagram feed and boasts about how good they taste. However, HelloFresh have recently partnered with WW, to provide healthier meals for those who are more calorie conscious, which is a great alternative to the Joe Wicks meal options.
Although you can opt into a Rapid HelloFresh box, for 10-minute meals, there aren't as many recipe choices compared to Gousto, which has six 10-minute options plus five oven-ready meals, thanks to a new partnership with Charlie Bingham.
So when it comes to meal varieties, who wins in the Gousto vs HelloFresh debate? In our view, Gousto simply has more choice, and offers the same flavor variations as HelloFresh. For example, the Gousto menu next week features recipes including veggie goulash with potato cakes, Caribbean style pork with pineapple salsa, and lentil enchiladas. Honestly, there are almost too many delicious recipes to choose from and not enough days in the week!
Which is better for the environment, Gousto vs HelloFresh?
HelloFresh is phasing out individual paper meal bags and has reduced packaging in their boxes by 20% from 2017. All black plastic has been abandoned and spices, nuts, and seeds now come in recyclable materials.
Last year, Gousto pledged to reduce its plastic by 50% and succeeded. They removed 100 tonnes of plastic from its boxes and have slashed even more in the past year thanks to its new Eco Chill Box. The cool box is made from recycled paper and is fully recyclable, saying goodbye to 74.5 tonnes of plastic. That's nearly six double-decker buses! The box rivals HelloFresh's recycled PET cool pouch, which is currently only recycled by select local councils.
Jessica is a senior food writer at Future and works across the Life & Style portfolio writing recipes and curating food and drink content. When she's not cooking, Jessica loves to dine out and travel in search of new inspiration. Her saved posts on Instagram mostly consist of burgers and craft beer or brunch spots. She also likes to keep fit and chill out with yoga after a long day.