Your hair removal creams 101—here's everything you need to know
If you're after a fresh method for de-fluffing...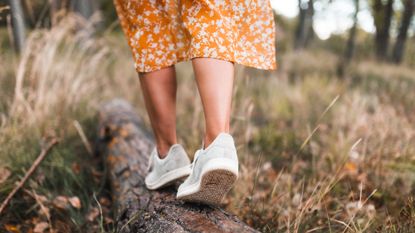 (Image credit: Image credit: Getty Images)
Let us be clear, there are no rights or wrongs when it comes to hair removal. Maybe you're very happy going au natural, or perhaps you're keener to go without. If you fall into the latter, silky-skin camp there are a variety of options to choose from—from hair removal creams, waxing and dermaplaning, to shaving, threading, epilating and laser hair removal (if you're after the best ipl hair removal devices, look no further). It's all down to personal preference.
Now, amongst all those methods, hair removal creams—sometimes called depilatory creams—may be less common. But they can still bring smooth and long-lasting results, with the added benefit that they are rather affordable and also pain-free. Fun fact: they are first known to have been enlisted by people living 6,000 to 7,000 years ago in Turkey, who used the ingredient quicklime for fluff-free results. These days, things are a bit more user-friendly—read on to have all your questions about this handy beauty solution answered...
First up—how do hair removal creams work?
Great question, because it does seem pretty miraculous that slathering a lotion on your limbs has the same end-point as hacking away with a razor. "They contain chemical formulations that target the protein structure of the hair," says Dr. Rekha Tailor, a cosmetic doctor (healthandaesthetics.co.uk). "This causes it to dissolve, meaning it can be easily wiped away from the skin." Smooth stuff.
It's important to point out that—as with other forms of hair removal—these clever creams are best used in particular sections of the body. While they can be used in most places, they shouldn't be applied to intimate areas. This makes them most suitable for legs, armpits, and the upper lip. But, FYI, if you want to use this method for the latter, most brands have a specially-designed facial product.
Now, are they safe to use?
Hair removal creams seem appealingly straightforward. You just apply like body lotion, eave for a while, and wipe or wash off, right? Well, you need to be careful—there have been instances, according to research, of chemical burns when not used properly.
"In order to avoid any harmful reactions, you must make sure you read and follow the instructions, as these can vary from one brand to another," explains Dr Tailor. Also, if you're using the creams for more sensitive areas like the bikini line, she advises choosing a product that targets this specifically, since the chemical composition will be different.
It's also worth pointing out that using this option on the genital area is an, err, not-so-pleasant idea. And while we're on the topic, your brows, nose, and ears are no-go areas too since you may risk a burn if it slips into your eyes, nostrils or ear canal.
One of the key pit-falls people make is to not wash the cream off when recommended—but this risks irritation, stinging and rashes. The area where the hair has been removed will also be more sensitive to the sun and prone to sunburn, so ensure you layer upon protection. And avoid using it on skin affected by acne or cuts. It's normal to feel a slight tingling sensation when it's applied, but if you feel burning then wash it off with water straight away. This is not a no pain, no gain situation…
---
---
Finally, how long does this method last?
This will, of course, depend on how fast your stubble tends to reappear. "But these creams eradicate hair to just below the skin's surface, so you can expect regrowth in two to three days approximately," notes Dr Tailor.
While this may not be forever, the fact it takes hair down to below the skin—rather than just above it, like shaving—is good news if you hate the nasty, prickly feeling. What's more, hair removal empire Veet estimates that you'll be hair-free for twice as long as shaving—meaning you can save on time in the shower (always welcome). Even better, they saw it will regrow with rounded tips, so it feels softer to touch. Now, that sounds pretty great...
Lauren is a freelance writer and editor with more than six years of digital and magazine experience. Most recently, she has been the Acting Commissioning Editor of Women's Health—where she co-produced the Going For Goal podcast—and has previously also written news and features for titles including The Telegraph, Grazia, Stylist, Dazed, The Sun's Fabulous, Yahoo Style UK and Get The Gloss. She covers all aspects of lifestyle, specializing in health, beauty, and travel. Can't live without: oat milk lattes, new podcast episodes, long walks, and great skincare.