The best IPL hair removal devices for salon-like results at home
The best IPL hair removal devices will make regrowth a thing of the past in a flash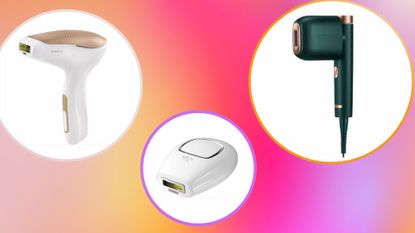 (Image credit: Future/brands pictured)
We're totally in favor of embracing body hair at My Imperfect Life and whatever you do with yours is your own personal choice. For those whose preference is removal, though, the best IPL hair removal devices can be a gamechanger. Capable of more than expertly removing hair, these tools are also designed to reduce regrowth, saving you time in the future.
Quick science lesson: they work by firing rapidly flashing light at the melanin (the pigment that gives hair its color) in your hair follicles, which converts to heat beneath the skin, damaging the hair at the root and effectively "putting it to sleep". Your hair will be removed and whatever hair does grow back will be much reduced, making these gadgets doubly useful and a real upgrade from hair removal creams.
In this guide, we've covered off the burning questions you might still have about this method, as well as the best IPL hair removal devices we've tried and tested ourselves. Before we get stuck in, it's important to point out that IPL devices are often not suitable for very dark skin tones, because of the lack of contrast between skin and hair color. If this is you, head to our guide to hair removal for dark skin for the best and safest methods. The same rule applies to combinations of very light blonde or auburn hair with very light skin.
Meet the experts on IPL hair removal devices
Emily Buckwell is a product expert at CurrentBody (opens in new tab), an online retailer that specializes in at-home tools that mimic salon-quality devices. In this piece she explains how IPL hair removal works and what you can expect from the results.
Jess Gregory is a Consumer Marketing Manager for Philips Beauty (opens in new tab), which is an industry leader in health and wellbeing technology, and advised My Imperfect Life reasons on the difference between IPL and laser hair removal.
How to choose the best IPL hair removal device
Suitability: The device that you finally decide is the one should be the most suited to the area of your body you want to target. Prone to fuzz on your legs even one day after you've shaved? Then look for a device that is better for large areas. If facial hair is a problem, then instead look for devices that will be kinder to your face.
Affordability: Whilst these devices are a total lifesaver, they are an item you must have to save up for. Think about what your budget is for your IPL hair removal device, and then establish the kind of features you'll be able to fit into that price. There are excellent value for money options on this list too.
Features: If you're a newbie to the IPL game, then look for devices with features that will help you along the way. Or, if you struggle with dexterity issues, then be sure to look closely at options that are easy to grip.
The best IPL hair removal devices to shop now
1. Braun IPL Silk·expert Pro 5 PL5124
Best for speedy IPL hair removal
Specifications
RRP : $760/£599.99 (though currently almost half price)
Power: Mains
Cordless: No
Light intensities: 10
Skin sensor: Yes
Attachments: 2 (face and body)
Reasons to buy
+
The number of light settings, which is double that of most of its competitors
+
The extra gentle mode for sensitive skin
+
The additional glide mode, which de-fuzzes legs faster
Reasons to avoid
-
It isn't as convenient as its cordless competitors
-
There's no attachment for precision around the bikini line
This device has 10 intensity settings—double that of many competitor tools— including an extra gentle mode if you have sensitive skin (and a Venus razor so you can get started right away). The body attachment, in particular, covers large areas of skin within a short space of time, which was a big bonus for me. In fact, speed is what sets this device apart from the others for hair removal at home.
There are two treatment modes, "stamp" and "glide". Glide mode speeds things up by delivering more flashes on large body parts, like your legs, which makes it appealing to both the time-poor and first-timers who are a bit squeamish. I'm neither, but when you can get your bikini line done in a matter of minutes it's a godsend! It also treated both my legs in under five minutes at its lowest setting. My hair was sparser after eight weeks and with the equivalent of 22 years' worth of flashes, it's a worthwhile investment.
2. Philips Lumea IPL 9000
Best overall for face and body IPL hair removal
Specifications
RRP : $579/£459.99
Power: Mains
Cordless: Yes
Light intensities: 5
Skin sensor: Yes
Attachments: 3 (face, body and bikini)
Reasons to buy
+
Has curved heads for face and body
+
Is cordless for ease
+
Ergonomic, lightweight design
+
SmartSkin sensor detects your skin tone and indicates the most comfortable light setting for you
+
The attachments adapt so the program is tailored for each body area
+
The app sends reminders of when your next session is due
Reasons to avoid
-
It comes with a hefty price tag (thinking of it in terms of price per use makes this more palatable)
This device is all about sleek lines, features the most advanced technology and, above all, is easy to use. Depending on the attachment, the device switches to a program for either the body or the face. There are five light settings and once the head is slotted into place, a built-in sensor automatically selects the right one for your skin tone and sensitivity. As well as being reassuring, this is also practical as it takes away the guesswork for the many people who won't be familiar with the Fitzpatrick scale (a classification system for skin type and color). The device treats naturally dark blonde, brown and black hair on skin tones from very white to brown. You can also download the free app to get advice and create a tailored treatment schedule for each area. I found the reminders particularly useful for helping to keep up my routine. It also makes at-home treatment feel very bespoke, which is great if you're searching for an affordable alternative to laser hair removal.
The curved attachments are easy to work around the body—it's especially ergonomic around the bikini line, which incidentally wasn't the grit-your-teeth-and-bear-it experience I was expecting. Philips claims the device will show results in as little as four treatments, with further sessions helping to reduce regrowth—which is a pretty tall order. But boy, did it deliver. I used the device for a full 12 weeks on my armpits, legs, bikini line, and even the teeny hairs on my upper lip. Most have stopped growing back altogether—those that have, such as stubborn stragglers around the bikini line, are definitely finer now. Despite the hefty price tag, it still works out cheaper than a course of salon treatments, so it's worth every penny.
3. Silk'n Infinity 400,000
Best space-saving IPL hair removal device
Specifications
RRP : $389/£295
Power: Mains
Cordless: No
Light intensities: 5
Skin sensor: Yes
Attachments: 1
Reasons to buy
+
Its compact size
+
It's one of the less pricey devices on the market
+
The inclusion of galvanic current makes the treatment less painful and prevents ingrown hairs
+
A built-in skin tone sensor checks compatibility
+
Mobile app to monitor treatment plan
Reasons to avoid
-
It's not cordless so you are restricted with where you can use it in the home
-
It's not the easiest device to hold
-
There's only one do-it-all attachment
Most IPL devices sit somewhere between looking like a gun and a 90s blowdryer, so they can be bulky to store. This compact device is completely different as it looks more like a computer mouse but, despite its dinky size, it comes with some pretty impressive features. For me, the standout was what Silk'n calls eHPL, which essentially combines galvanic energy with standard light energy. The former temporarily widens your pores, allowing the IPL to reach hair follicles more easily. It doesn't feel any different against the skin but it's said to make the treatment less painful and avoid ingrown hairs (both of which I can attest to). Better still, it is this technology that the brand says means body hair can be treated twice as fast—20 minutes, to be precise.
Again there's a built-in skin sensor, which checks compatibility with skin tone and hair color, ensuring the device emits the correct light pulse. You can also connect it to an app via Bluetooth to set out your treatment plan. I also noticed a reduction in hair growth and thickness after the initial four weeks, although this was more noticeable after 12 weeks. A drawback for me, though, was the ergonomics of the machine. I couldn't find an easy way to hold the device, as you need to touch the metal base at the back while simultaneously pushing the button on the top, which felt unnecessarily fiddly and made the overall treatment time longer.
4. Sensica Sensilight Pro Permanent Cordless Hair Removal Device
Best IPL hair removal for legs
Specifications
RRP: $539/£379
Power: Mains
Cordless: Yes
Light intensities: 6
Skin sensor: Yes
Attachments: 2 (face and body)
Reasons to buy
+
Two treatment modes (pulse and glide)
+
Sensors that react to skin tone with every flash of light
+
Speed
Reasons to avoid
-
It's bulky
-
Switching between treatment heads takes practice
This device comes with a built-in sensor to customize its settings according to your skin tone and hair color. It also goes one step further by continuously reacting to your skin tone and condition, even if you have dark spots. So if the sensors detect that the skin in the treatment area is too dark, no flash will be emitted—an added safety measure I found particularly reassuring. It offers six energy levels and two attachment heads, one for face and one for body.
It also comes primed with a glide mode option, which basically means you don't have to repeatedly press the button and wait for the click before zapping an area. This makes it quicker to use, as you simply move the handset up and down—which is handy especially on larger areas of skin such as your legs. The longer I used this the more impressive the results but if I was being fussy, I'd say there is one drawback—the device's bulkiness. The design is quite cumbersome and heavy, plus I found it tricky to change heads.
5. SmoothSkin Pure Hair Removal
Best for IPL hair removal newbies
Specifications
RRP : $379.99/£279
Power: Mains
Cordless: No
Skin sensor: Yes
Attachments: 1
Reasons to buy
+
Not intimidating for IPL newbies
+
Glide mode makes light work of treating legs
+
Stamp mode for smaller areas
Reasons to avoid
-
Not cordless
-
No option of different heads for different body parts
Probably the simplest device out of the bunch to use, largely because there are only three settings to worry about—Gentle, Speed, and Power. It does, however, still include the all-important built-in skin sensor that adjusts the light intensity based on your skin tone so there's no skimping on safety, which is especially handy if you have drier skin, or suffer from winter skin issues.
Again there's a glide mode for speedy results on larger areas but I really liked the stamp mode on this device as it was easy to slowly and precisely work across my upper lip and underarms. There was a marked difference in hair regrowth after eight weeks. If I could make one change to this device it would be to make it cordless, but overall it's a good buy.
6. Jovs Venus Pro
Best value for money IPL hair removal device
Specifications
RRP : $429/£319
Power: Mains
Cordless: Yes
Light intensities: 5
Skin sensor: Yes
Attachments: 6
Reasons to buy
+
Skin-cooling technology to numb the area you're treating
+
The only IPL device to also include a red light anti-ageing mode for the face
+
Rotating head
+
Device offers a lifetime of treatments
+
Good value for money
Reasons to avoid
-
There is a lot of tech involved here, which IPL newbies may find overwhelming
This matte metal device might look close to the Dyson Supersonic than a hair removal device, but it is in fact the only gadget on our list to target both unwanted hair and the first visible signs of aging. The device has six targeted treatment heads and can be used on both the face and the body. You can rely on its safety, too, as it has a built-in skin sensor to check your skin tone is suitable before use. After that, things get pleasingly technical.
A big draw for me was the 180-degree rotating head, which makes it comfortable to remove hair from hard-to-reach areas like behind the legs. Then there's the cooling technology that effectively numbs the area you're treating, making the experience virtually pain-free. I also loved the fact that the device can switch to red-light mode to help skin cells repair themselves and improve collagen production for plumper, smoother skin over time. It's like getting the benefit of two salon treatments in one super device. And with 500,000 flashes, there's enough for a lifetime of treatments, so once you've committed to the spend there are no additional costs.
The need-to-knows about IPL hair removal
What is IPL? IPL is short for Intense Pulsed Light. It's a broad-spectrum light that is scattered across the skin to help get rid of unwanted body hair. The level of discomfort varies—for some IPL can simply feel hot against the skin while others report a sensation not unlike being flicked with an elastic band. It's worth noting that IPL is much less painful than epilating, but the golden rule stands—if you experience irritation, seek medical advice.
How does IPL work? "IPL transfers light energy to the hair shaft," says explains Emily Buckwell, product expert at Current Body. "Once absorbed, this light energy is converted to heat, which prevents further hair growth. As hair grows in cycles you will need to repeat your treatments until you eventually catch each phase of growth, resulting in reduced hair over time."
Laser hair removal vs IPL—what's the difference? IPL is often confused with laser hair removal because both methods target the melanin in the hair follicle. But as Jess Gregory, Consumer Marketing Manager for Philips Beauty, points out: "They are two different light technologies". While laser uses a single, concentrated beam of light, she says: "IPL progressively reduces hair regrowth by applying gentle pulses of broad spectrum light and heat to the root. This means that larger areas of skin can be treated with IPL while laser only works point by point."
Is IPL permanent? No, the results of IPL aren't permanent but the hair will grow back finer, slower and, in some cases, not at all. Emily says: "What IPL does offer, is permanent hair reduction, depending on the hair color, density and texture. To see results, you need regular at-home treatments for a minimum of eight weeks, followed up with top-up treatments to maintain results. Hair can grow back due to hormonal changes like childbirth and menopause but having a device at home means not forking out for further salon sessions."
How many IPL treatments before I see results? IPL devices should be used regularly for four to 12 weeks, to make sure all hair has been treated. Typically, body hair requires treatment every two weeks for the first four weeks, then once every four weeks afterwards. Top-up sessions can be done where there is any regrowth.