Gua Sha facial: the benefits, how to do it and why you should master it
You won't believe the surprising benefits of a gua sha facial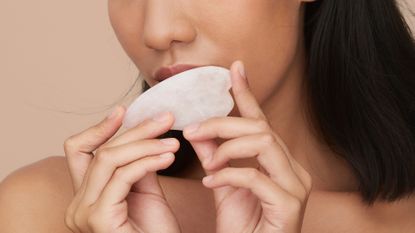 (Image credit: Getty Images)
Like the fancy avocado on toast that came before it, the gua sha facial is saturating our social media feeds. Any wellness influencer worth their salt has waxed lyrical about this ancient method of self-care—and they'd be right in their assessment that it works wonders on the face.
Gua sha (pronounced gwa sha) originated from traditional Chinese medicine in which a tool (or gua sha stone), usually made from jade, bone, or horn, is scraped across the skin to redirect energy flow. "Gua means scraping and 'sha' means bruises. It literally means to scrape away pain," explains celebrity facialist Su-Man Hsu, whose IGTV videos on how to do a gua sha facial have gone viral.
Of course, for the face, a gentler gua sha technique is employed but the basic objectives remain the same: to reduce inflammation, increase blood flow and stimulate the lymphatic system.
There are added benefits, too, according to Su-Man. "The friction created by the tool also tones facial muscles and improves the look of wrinkles and sagging skin. It stimulates vital energy points along the face to release toxins, which in turn helps pores look more refined and skin look brighter as you're helping to bring out waste and blackheads."
Not to mention that studies have shown this daily ritual improves micro-circulation by up to 400 percent, which sends oxygen and nutrients to the surface of the skin for a lit-from-within glow.
In other words, an impressive roster of the most common skin bugbears can be improved with gua sha. Better still, there's no need to see a therapist as you can incorporate the technique as part of your skincare routine. Plus, it really feels good.
Want to learn more about gua sha and its benefits? Here's everything you need to know.
Gua Sha Benefits: can facial massage make you look younger?
"Over 40 muscles make up the scaffolding of the face," says FaceGym Founder Inge Theron. "And just like the muscles in the body, the more you move them, the more lifted, tightened, and toned they become."
She continues: "Gua sha also stimulates the most important protein for keeping the face looking young: collagen. Focusing on the health and strength of your facial muscles as part of your self-care routine will pay dividends when it comes to the appearance of key focus areas like the jawline, forehead, and eye area."
Gua Sha how to: What's the best gua sha technique?
Shape-wise each gua sha tool has subtle differences. FaceGym's Multi-Sculpt, for example, has teeth on one end to work across fine lines; a long edge to aid lymphatic drainage; a short edge to de-puff the eye area; a pointed tip to release tension; a medium edge for cheek sculpting and a wavy grip to place along the jawline for contouring.
Or the Therabody Theraface Pro offers up a-whole-nother method for relieving facial tension.
But there is one common rule of thumb for the direction to work in.
"Always work from the center of your face outwards and, if you are working on your neck, then work down towards your heart," says Theron.
"This allows you to work with your circulation and lymphatic system to achieve the best results. The pressure you use always makes a difference to the end result. If you are wanting to focus on reducing puffiness, use super light pressure; if you are wanting to sculpt and reduce facial tension, a medium/firm pressure is recommended."
How often should you gua sha?
"I normally recommend my clients use the gua sha technique every day for five minutes," says Su-Man. "If you want to do a fuller massage of 30-45 minutes, then cut back to just one session a week."
The key is to see a gua sha facial as being like a gym workout, explains Theron.
"As with any workout, the results are better the more work you put in and how hard you train your muscles," she explains. "Gua sha results can be instant, and with continued long-term use they help to reset fatigued muscles restoring optimal circulation and reinvigorating the complexion, for healthy skin."
And in the same way that repetition reaps rewards in training, the same is true of gua sha. "Be sure when you are working on one specific area of concern, you repeat the technique anywhere between 6-8 times to see a significant difference within the skin," says Theron.
Should I use skincare products during gua sha?
For the stone to easily glide over your face, it's important to hydrate beforehand and create 'slip' over the skin.
"We recommend using an oil, serum, or moisturizer to give the skin enough slip and slide to perform a routine without dragging or pulling the skin," says Theron. "FaceGym Signature Face Oils are our personal favorites - we designed each one specifically with our signature massage techniques in mind."
Check out our picks of the best retinol serums, best vitamin C serums, or best moisturizers for dry skin for the best products to use during your gua sha facial.
So how do you know which one to pick?
There are no set-in-stone rules here. Gua sha tools come in different sizes, shapes, and materials. Most of the time, the one you're drawn to is simply down to personal preference.
That said, in Chinese medicine, jade is thought to balance yin and yang energy so may be good if your skin is looking dull and out of whack. Rose quartz, on the other hand, tends to be best suited to soothing sensitive skin. Su-Man's ceramic version is made from ceramic as it is more ergonomic while a stainless steel gua sha tool like FaceGym's Multi-Sculpt can even be used on acne-prone skin as it is naturally hypoallergenic.
"Stainless steel is also heavier than jade," adds Theron. "This helps to optimize your results, really working the skin and muscles in your face and neck harder to de-puff, contour, sculpt and drain."
Now that's one workout we can all get on board with.
Fiona Embleton is a multi-award-winning beauty editor who has tested over 10,000 products in her 10 years + of writing and shooting beauty stories. For the past four years, she was the Senior Beauty Editor at Marie Claire, having previously worked in the role of Beauty Editor at both Stylist and Cosmopolitan. She has recently gone freelance and alongside My Imperfect Life, she has written for titles including ELLE UK, ELLE Canada, Buro 247, Harper's Bazaar Arabia, Vogue Scandinavia, and ES Magazine. Beauty journalism allowed her to marry up her first-class degree in English Literature and Language (she's a stickler for grammar and a self-confessed ingredients geek) with a passion for make-up and skincare, photography, and catwalk trends. She loves jumping on the latest internet-breaking beauty news, dissecting the best red carpet looks, and having the crème de la crème of dermatologists, make-up artists, and hairstylists on speed dial so she can tap them for the best advice. She's a discerning beauty shopper and knows it can be confusing trying to navigate what's hype and what really works. So if she really likes something, you can trust that she has reached that opinion by vetting it against everything else she's ever tried. Her career highs? Interviewing Cate Blanchett and winning a Jasmine Award for the deeply personal feature Cancer Stole My Mother's Scent.