HBO Max's F Boy Island sounds like our worst nightmare but we can't wait to watch it
Yes, you read that right. A new show called F Boy Island is coming to HBO Max and it's as wild as it sounds...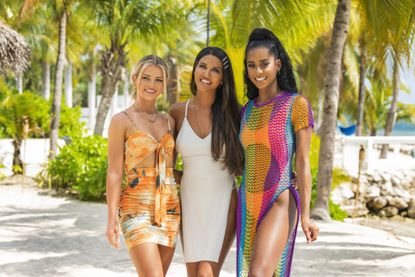 (Image credit: Warner Media)
The idea of a show called 'F Boy Island' is both terrifying and incredibly enticing, much like the real deal! So when the new dating show was announced by HBO Max recently, we were instantly intrigued.
The upcoming series looks like it's set to fill the Too Hot To Handle-shaped hole in our hearts, though the concept is very different to both that Netflix series and Love Island. In fact, we've never seen anything quite like it.
The upcoming series will be launching on the streaming service on July 29th. Here's everything you need to know about F Boy Island, including how to watch...
What is F Boy Island about?
F Boy Island will see three single women try to find love among 24 bachelors. However, unlike your usual set of contenders on The Bachelorette, half of the men in this group are self-proclaimed "FBoys" who are participating in the show only to win its cash prize at the end, while the other half are "Nice Guys" who are genuinely there to find love.
The women have the difficult task of sussing out which of the men are "Nice Guys" and which of the men are simply there to play them and leave with cash money. Eek, we can see the drama and heartbreak already!
Nakia Renee, a 28-year-old hair and makeup stylist and singer-songwriter from Los Angeles; CJ Franco, a 30-year-old content creator/model also from L.A.; and Sarah Emig, a Chicago-based social media manager, are the three leading ladies. But as we all know, working out a man's intentions is never easy, especially if he's well-versed in f*ckboi nature.
But either way, it's safe to say we won't be short of entertainment...
Who is the host of F Boy Island?
Move over, Chris Harrison. The new name in dating-show hosting is none other than comedian-actress Nikki Glaser. Alongside stand-up specials and Comedy Central roasts, you've likely seen Glaser in movies like Amy Schumer's "Trainwreck" and "I Feel Pretty." She's also performed hosting duties before, most recently at the 2021 MTV Movie & TV Awards.
Is there are a trailer for F Boy Island?
There is indeed a trailer, and it's quite something!
When is the F Boy Island release date?
F Boy Island will be available to stream on HBO Max on Thursday, July 29th, when the first three episodes of the ten-part series will be dropped. Of course, we'll all be hooked...
Sagal is a journalist, specialising in lifestyle, pop culture, fashion and beauty. She has written for a number of publications including Vogue, Glamour, Stylist, Evening Standard, Bustle, You Magazine, Dazed and Wonderland to name a few.