How to watch Love Island UK 2021 online from anywhere in the world
Our favorite dating show is back! Here's how to watch Love Island UK online...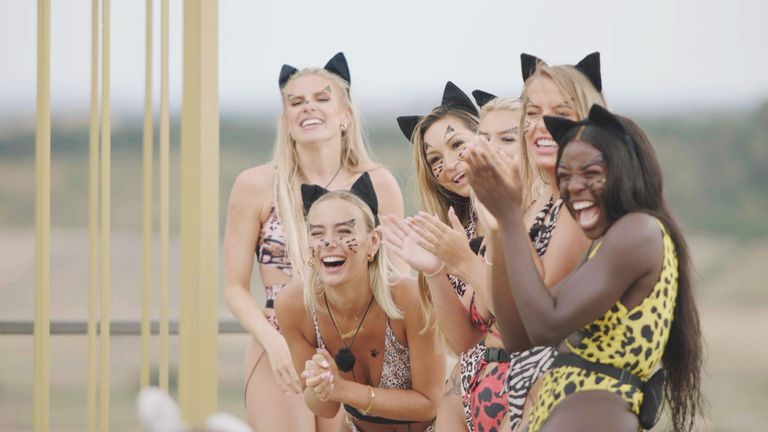 (Image credit: ITV Pictures)
Wondering how to watch Love Island UK from wherever you are? If you want in on the action and you're in the US, Canada, Australia, or somewhere else in the world, you've come to the right place for answers. 
Ever since the Love Island 2021 cast was announced, we couldn't stop thinking about the highly anticipated return of our favorite dating show. Honestly, it's been a long time coming. With two canceled seasons due to pandemic restrictions, this new season is the first to air since the first Winter edition of Love Island—which aired in January 2020. 
Gorgeous host Laura Whitmore is back delivering all the good and bad news to the Islanders while our favorite voiceover guy, Ian Stirling (who happens to be Laura's husband IRL), will also return to do what he does best. If you're wondering where Love Island UK is filmed, this time the show is back in its original destination of Mallorca, Spain, where the cast and crew arrived a week before the launch date, to prepare for the show. As always, the group of singletons will spend eight weeks together over the summer, living (and loving) in a luxe villa—all in the hopes of finding love and/or leaving with a cash prize. All of us watching, are just here for the drama... so much drama! 
Fans in the UK can watch the show every night on ITV2, which comes with all Freeview packages, or alternatively, stream it on the ITV Hub. 
If you're not in the UK this summer, then fear not. You can still tune in to the show using this popular method... 
Where to watch Love Island UK 2021 online
Summer 2021 entered the chat... 📲☀️ #LoveIsland pic.twitter.com/PbCkuPToHDJune 21, 2021
See more
How to watch Love Island UK in the US
If you're tuning into Love Island UK from outside the UK, then you'll need to use a VPN. While Love Island UK will air on streaming platform Hulu, this will most likely be once the show has finished airing in the UK. So if you want in on all the live reactions on social media and simply refuse to wait another long while before you hear classic Love Island sayings like "I've got a text!", then we recommend investing in a VPN ahead of time. 
A VPN is a handy piece of software that allows you to browse anonymously, and change your IP address so your mobile, computer, or laptop thinks it's in another location. This means you can watch your favorite show, film, or event—even if you're away from home.
With a service like Express VPN (voted best in the world by our colleagues at TechRadar) you'll be able to access UK streaming sites like ITV's free ITV Hub website. Just make sure you have registered for an account and you'll be good to go for your daily Love Island streams—plus, as well as being able to watch the episodes live, they will also be available to stream shortly airing.
How to watch Love Island UK in Canada and Australia
 Just like viewers tuning in from the States, if you are in Canada or Australia and want to watch Love Island UK, you can use a VPN to browse anonymously and to change your IP address so your mobile, computer, or laptop thinks it's in another location. In this instance, you'll need to change your location to the UK in order to use ITV hub, where you can stream Love Island as it airs on British TV. 
How to watch Love Island on catch up
If you're not able to watch Love Island UK live when it airs, you can still stream the episodes online after. All you have to do is head to the ITV hub, find the episode you're looking for, and press play (don't forget to switch on your VPN if you're not in the UK).
And if you're wondering when does Love Island go ITV hub, it's shortly after the episodes air on TV, so you don't even have to wait a long time (or risk spoilers—just make sure you avoid the timeline!) before you're all caught up with the latest Love Island gossip.
What time is Love Island on?
Love Island 2021 started on Monday, June 28 — running for eight weeks until mid-August (if you're wondering how long Love Island lasts). The hour-long show airs on ITV2 every night Sunday to Friday, at 9 pm BST / 4 pm ET. 
Make sure you also catch the weekly Sunday-night special, Love Island: Aftersun, which is a live studio debrief of the week's activities, with a guest panel, exclusive clips, and the first interviews with the dumped Islanders. It's a must-watch for all the tea!
More Love Island
Sagal is a journalist, specialising in lifestyle, pop culture, fashion and beauty.  She has written for a number of publications including Vogue, Glamour, Stylist, Evening Standard, Bustle, You Magazine, Dazed and Wonderland to name a few.