How many days a week should I work out?
Fitness experts reveal the number of days you should work out per week for optimal results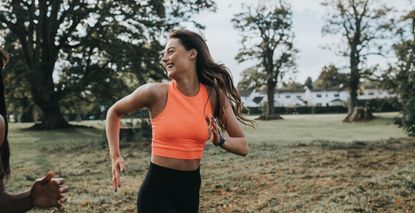 (Image credit: Getty)
It's a question we've thought about a lot—how many days a week should I work out? But when it comes to exercise, it is important to understand that there is never one rule for all.
Instead, it all depends on what your personal goal is. Are you trying to build muscle or is your aim to lose weight? Ultimately, your reasons for working out dictate how much time you should be spending at the gym (or on your yoga mat at home) every week. We all know that consistency is key to getting and maintaining results, but what should your routine look like?
---
---
"It's important to establish that we should move every day, whether it be to maintain health, gain muscle or lose weight. Every day should include some form of training or low aerobic activity," says Michael Jones, a personal trainer and the co-founder of the wellness consultancy company, Better Happy.
We spoke to some fitness experts who broke down exactly how much time you should set aside for your workouts every week, whether you're building up your strength or burning out calories.
How many days a week should I work out to build muscle?
When it comes to building muscle, research has shown that to do so, you should be working out a minimum of twice a week. "This would be two times full-body workouts reaching hypertrophy [an increase and growth of muscle cells]," says David Soute, a fitness trainer at In10sity.
"Another option would be to split the body parts trained into two separate days and train four times per week. However, all the training in the world will not reward you with muscle unless you have a high-protein diet combined with plenty of complex carbs and healthy fats and optimal rest."
Meanwhile, Jones adds that the maximum amount of training you should do per week for high-intensity workouts like heavy weight training to build muscle is five days, as it is essential to have at least two days rest. "The ideal is five days a week with some form of low-intensity exercise on days off," he says.
How many days a week should I workout to lose weight?
If your workouts are all about sweating out calories on the treadmill or any other form of weight-loss training, then Soute recommends short workouts more frequently in the week.
"Training for fat loss can be as little as three to four 20 mins workouts per week. However I would also introduce daily walks for around 5-10k steps," he says. "Fat loss is mainly determined by diet and metabolism. Your basal metabolic rate (BMR) is how much energy (stored fat) your body burns just to live (breathing, digestion, body heat regulation—basically like the Bee Gees sang, staying alive)."
Your BMR accounts for around 60- to 80-percent of your energy burned. Another 10-percent is burned during thermogenesis, which is the energy used to digest and store food. "This means exercise, walking around, sex or any other physical activities only burns 10- to 30-percent of your fat stores. Once you take off walking, etc, your gym workout is around 10-percent of your daily fat loss," he adds. "If you have a low BMR you will need to exercise to burn more fat (energy). Exercise and good nutrition can also increase your BMR leading to more fat loss."
He also points out that building lean athletic muscle can also increase your BMR as more muscle requires more energy (fat) to move. Men usually have a higher muscle: fat ratio and hence have a higher BMR and can therefore eat more without putting on much weight—yes we know, very unfair!

"Focus on eating real foods so you feel full and your body gets the nutrition it needs and stay consistent with your workouts," says Soute. "Consistency is the key to building muscle and fat loss with your workouts and nutrition."
How many days a week should I workout as a beginner?
While all of the above applies to beginners too, it is important that you ease yourself into a consistent workout schedule if you're new to it. "When new to training, a person may only be able to train two or three days whilst the body adapts," says Jones. "A very simple way to track this is to listen to your body. If your muscles are excessively sore or you are more tired than normal, leave it a day or two."
Sagal is a journalist, specialising in lifestyle, pop culture, fashion and beauty. She has written for a number of publications including Vogue, Glamour, Stylist, Evening Standard, Bustle, You Magazine, Dazed and Wonderland to name a few.