How to find the perfect workout schedule that's right for you
Planning a workout schedule will tell you exactly what you need to do each week to stay in shape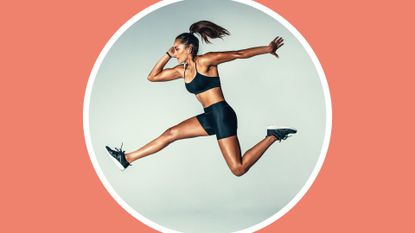 (Image credit: jacoblund/Getty Images)
The thought of a "perfect" workout schedule is so subjective.
Some of us are weighing yoga vs pilates while the the influencers among us are turning to the TikTok-approved exercises like the Cupid Shuffle and the 12/3/30 workout routine.
There's no one right answer, and everyone has different needs. Every body has different needs. However, there are a few general guidelines from fitness experts that will help lead you in the proper direction.
Find the best workout clothes in your wardrobe and get ready to make some moves!
How to find the workout schedule that's right for you
1. Determine your frequency
While some people live for the gym, others want to achieve results while doing as little exercise as possible. Fair enough!
"If you're starting out, you don't want to go overboard, so begin with a moderate amount of exercise—I'd recommend around two to three times per week, ideally every other day so you can have a recovery day in between. It's all about consistency, so you want to commit to something you can sustain," says fitness coach Noelle McKenzie.
Those who have been working out for a while can do more training sessions per week (McKenzie recommends four or five), but there are other ways to advance your workouts without increasing frequency.
"You can increase the number of reps and sets you're doing or the weight you're moving to make it more taxing on your body," McKenzie adds. "Another way to ramp up your program is to slow down the movement, increasing the time under tension."
Meet the expert: Noelle McKenzie
According to Joanna Dase, a fitness expert at Curves, women in their 20s should aim for roughly 30 minutes of cardio and 30 minutes of weight training four times per week and 45 minutes of straight cardio twice per week.
"In our 20's, our bodies can handle greater workloads which means we can train at higher levels," Dase says. "However, our 20's is often a time we neglect our physical health and take it for granted. The sooner we start to build a base in fitness, the better prepared we are for later in life."
Women in their 30s should aim for one hour of circuit training (cardio and resistance) three times per week and a 30-minute full body workout three times per week.
For a more in-depth look, check out what the experts have to say about the best exercises for your age.
Meet the expert: Joanna Dase
Dase is all about health as the COO for Curves Europe & Africa & Senior International Director – Consulting on Franchise Operations.
2. Determine your type of workout
There are so many forms of exercise out there, from boxing and circuits to yoga and pole fitness, that even just thinking about all of them is exhausting. Moving your body in any way is beneficial, but McKenzie recommends strength training as the most effective method.
"I don't usually recommend HIIT or steady state cardio for staying in shape. You can burn fat and build lean muscle just through strength training. Moving a load that's taxing will elevate your heart rate as well as help promote muscle growth and prevent bone density loss, so strength training is a win-win," she says.
McKenzie also suggests incorporating mobility training into your schedule, so break out the best yoga mats you've got.
"With mobility work, you're also building strength while improving your flexibility and range of motion. This can be very beneficial for improving your workouts in general."
(Here's what type of yoga is best for beginners! Do be sure to check out the best yoga accessories while you're at it!)
Alongside dedicated workouts, it's also a good idea to fit in at least 10,000 steps per day. "Getting in your steps is definitely important—there have been studies that show it literally adds years to your life, so you don't want to forget the value in basic movement as well. Your workouts are only a few hours out of your week. What really counts is what you're doing for those other hours."
3. Find your focus
You've probably heard people talking about how they're struggling to walk after "leg day" or that they're going to hit the gym up later for "arm day," but isolating muscle groups isn't strictly necessary the key to a successful workout schedule.
"With most of our clients, we do total body workouts to make sure we hit each body part as many times as possible during the week in order to promote more hypertrophy," McKenzie says. "If you're trying to change your whole physique, it's not just about how hard you train, it's about repetition and hitting each muscle group consistently."
If, however, you're trying to balance out your body and focus on building one specific part, then you might want to split your workouts.
4. Determine the length of your workout
The length of a workout depends on what you're doing and what you're looking to achieve from it. Happily, according to McKenzie, you can have an effective workout in as little as 10 minutes.
"A good 10-minute mobility workout, for example, would be to do three rounds of windmill, prone cobra and traveling bear plank. The key is making sure you execute excellent form and range of motion, and intensify each exercise through good mind and body connection," she says. "A lengthier workout is also effective if you are doing, for instance, circuit training."
For strength training, you will likely have to do a longer session.
"If you're trying to add volume to your workout, which you need to do for hypertrophy, you would ideally go through 3-4 sets of your workout. On average this should take between 30-60 minutes to complete."
But above all, in order to ensure that you stick to the routine, feel well and get the most out of your workout, Dase says it's important to find something that you like.
When discussing the discipline and commitment required for fitness routines, it can feel like a chore! However, moving your body can be an enjoyable part of your daily life," Dase insists. "If you're struggling with motivation, start by dancing to your favorite music or going on a riverside stroll."
Once you've found what suits you, up the ante.
"Experiment with exercise and if there is something you enjoy, try adding some resistance to it or focussing more on your breathing technique," she adds.
Victoria is a freelance journalist with eight years of experience, writing everything from reviews and news pieces to meaty features for various online and print titles — including easyJet Traveller and b.inspired. Her work covers travel, lifestyle, health, and fitness. In her spare time, Victoria performs improv comedy and she's currently training to be a PT.