How many seasons of 'Succession' will there be?
Season 4 is a go, but how many seasons of 'Succession' will fans get overall? What we know about the show's future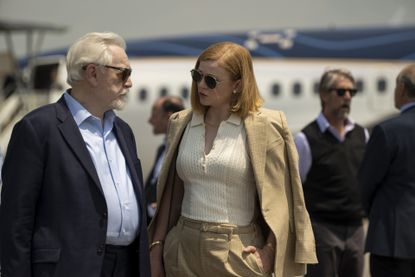 (Image credit: Hunter Graeme/HBO )
Succession season 4 is happening, people! Another season of the hit HBO series was announced just a week after the first episode of season 3 aired in October, so we think it's safe to say that HBO is confident in the show.
"With each season of Succession, [creator] Jesse Armstrong has continued to surpass our wildest expectations, pulling us deeper into the Roy family's inner sanctum with indelible wit, humanity, and precision," said Francesca Orsi, HBO's Executive Vice President, in a statement. "This season is undoubtedly no exception, and we couldn't be more excited for all that's in store in this next season ahead."
So what do we know so far about Succession season 4? And, more importantly, how many seasons of Succession can fans expect overall?
---
---
'Succession' season 4 release date: When will it air?
The announcement of Succession's renewal was announced via Instagram and Twitter with short clips of home movies from the Roy's childhood alongside the caption: "Renewed for Season 4."
However, that exciting announcement unfortunately didn't arrive with a date. In terms of an official release for season 4, it's hard to say right now as COVID-19 caused massive disruptions for many shows, including Succession.
The first two seasons of Succession premiered on HBO in June 2018 and August 2019, respectively. However, production of the third season of the show was disrupted by the pandemic, resulting in an air date of October 2021, more than two years after its previous season.
So, it could be possible that we're looking at a summer 2022 date or, if we're being realistic, early autumn for Succession season 4. Either way, we'll hopefully be seeing more from the Roys sometime before the end of next year.
'Succession' season 4 plot: What will happen?
With season 3 of Succession less than halfway through, it really is too early to say what will happen in season 4. But if we were to make a guess, we'd say the main question of the series would remain: who is going to be Logan Roy's successor, and will it go to one of the Roy kids or someone else entirely? (Personally, we're hoping it goes to the always great Gerri Kellman. She was already named interim CEO at the start of season 3, so really anything is possible!)
A few other possible story lines for season 4 of is that one or more of the Roys could find themselves behind bars for the roles that they played in the covering up of sexual exploitation and a few murders during their tenures at Waystar Royco.
There's also that small situation going on with Shiv and Tom's marriage, so who knows if they will survive the end of season 3 or will we see a divorce? Will we see another Kendall relapse? As for Roman? Anything, literally anything could happen there.
'Succession' season 4 cast: Who's returning?
Unless Succession season 4 is even more of a shocker than previous seasons and something tragic happens, we would expect to see the full Roy clan back for the new episodes, including Brian Cox (Logan), Jeremy Strong (Kendall), Sarah Snook (Shiv), Kieran Culkin (Roman), Alan Ruck (Connor), Matthew Macfadyen (Tom), Hiam Abbass (Marcia) and Nicholas Braun (Cousin Greg).
That's not to say nothing could happen to them, as Brian Cox recently revealed in an interview with The Guardian that his character was meant to die in season 1 of the show. "Originally, I was supposed to die at the end of the first series, but I think they realized that Logan is the centrifugal force of the piece. Everything has to spin off him, and the kids' vices are all about their father, and relating to their father. Do they love their father, and if so, how do they show that love?"
Others that are likely to return is fan-favorite J. Smith-Cameron (Gerri) and fellow series regulars Peter Friedman (Frank), David Rasche (Karl), Fisher Stevens (Hugo) and Connor's girlfriend Willa, played by Justine Lupe, who was promoted to a series regular for season three.
In terms of new characters that have arrived for Succession season 3—such as Sanaa Lathan, who joined the show as Lisa Arthur, a high-profile lawyer who's decided to side with Kendall in his legal battle against his father—It is yet to see if they'll stick around for season 4. There may even be some cast members who we haven't met yet in season 3 that could potentially return for the new batch of episodes as well.
'Succession' season 4 trailer: When will it arrive?
HBO have made no announcement about a Succession season 4 trailer and given that they are less than halfway through season 3 and just announced the season 4 pick-up, we probably won't see an official trailer until closer to the release date. Stay tuned!
How many seasons of 'Succession' will there be?
If the announcement for Succession season 4 wasn't enough and you're concerned about the future of the Roys beyond that, there is a chance we may (and it's a big may) get one more season after that.
Speaking to Variety before the release of season 3, creator Jesse Armstrong spoke about the longevity of the show: "All I know is there's a promise in the 'Succession' title, and it can't go on forever." He definitely may have broken our hearts there a little bit.
Writer and executive producer Georgia Pritchett was also interviewed by The Times, where she said there could be a fifth season: "I think the maximum would be five seasons, but possibly more like four."
In terms of the cast's thoughts of another season, Sarah Snook spoke to Digital Spy about how long she thinks the show will run for: "I don't know. It's definitely up to Jesse and the creative team, I think. And Jesse, as the leader, I think he's got the challenge to keep that bar high, and for us all to climb up to it, and hopefully jump over it."
Snook continued: "Really, at the end of the day, he's a very classy writer, who's not going to make it go longer in a way that's not going to be at the excellent level that it has been so far. As long as it lasts is as long as it lasts."
So there's hope…maybe.
Liv is a freelance journalist currently studying English at university. She loves covering everything from entertainment and politics to lifestyle and travel. As well as writing for My Imperfect Life, Liv has bylines in The Times, HuffPost, Den of Geek, Bustle The Metro and The Bookseller.