When is 'Derry Girls' season 3 on Netflix? An update on the finale
It's time to say goodbye to Erin, Orla and the lot, but 'Derry Girls' last episode is not to be missed—here's how to watch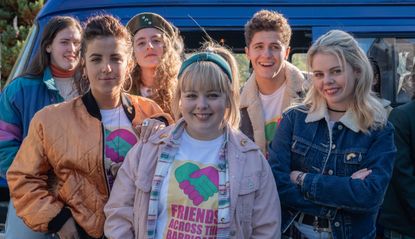 (Image credit: Netflix)
It's always hard to say goodbye to a good friend—the Derry Girls last episode will have TV fans saying goodbye to five of them: Erin Quinn (Saoirse-Monica Jackson), Orla McCool (Louisa Harland), Michelle Mallon (Jamie-Lee O'Donnell), James Maguire (Dylan Llewellyn) and Clare Devlin (Bridgerton season 3 leading lady Nicola Coughlan).
Show creator Lisa McGee confirmed back in September 2021 that the beloved coming-of-age comedy—which premiered in January 2018 and centered on teenagers in 1990s Northern Ireland—would come to an end with the third season.
"It was always the plan to say goodbye after three series. Derry Girls is a coming-of-age story following five ridiculous teenagers as they slowly… very slowly… start to become adults, while around them the place they call home starts to change too and Northern Ireland enters a new more hopeful phase—which was a small, magical window of time," McGee said in a social-media statement.
"Derry Girls is a love letter to the place I come from and the people who shaped me. It has been an honour to write it and I will be forever proud of everything it's achieved."
How to watch the 'Derry Girls' last episode in the UK:
The Derry Girls finale, called "Halloween" capped off season three and the series as a whole in early 2022. You can check out all three seasons on Channel 4's streaming service, All 4.
How to watch the 'Derry Girls' last episode anywhere else:
Should you not have access to Channel 4, a VPN can help.
A VPN is a handy piece of software that allows you to browse anonymously, and change your IP address so your mobile, computer, or laptop thinks it's in another location. Meaning that you can watch your favorite show, film or event—even if you're away from home.
Our favorite VPN service is ExpressVPN—rated the best VPN in the world right now, by our colleagues at TechRadar.
When does 'Derry Girls' come to Netflix?
Netflix acquired the international rights to the Irish hit in November 2018, dropping the first season onto the streamer in December 2018, nearly a year after it first premiered in the UK. The second season initially hit Netflix in July 2020 but had to quickly be pulled because the streamer did not have rights to the program until the COVID-delayed third season premiered in the UK, reported Variety.
As of now, both Derry Girls seasons one and two are available to watch on Netflix, and season 3 will premiere on October 7!
Oh Hey there all you international Derry Girls. We're on our way! https://t.co/2CvzjLzq19August 31, 2022
See more
What about that 'Derry Girls' bonus episode?
Don't fret: that season three finale is not the last we'll see of the Derry Girls.
On April 29, 2022, it was announced that the series will have an hour-long special titled "The Agreement," which will be set in 1998 during the historic signing of the Good Friday Agreement, the peace agreement signed by the British and Irish governments that ended The Troubles.
The official synopsis of the special reads: "It's the week of the referendum on the Good Friday Agreement and its timing couldn't be any worse as the highlight of the year, Erin and Orla's joint 18th birthday party, threatens to be overshadowed. While the family try to get their heads around the possible outcomes of the vote, the gang realise that they may not be ready for what the future holds."
Lisa McGee said of the extra episode: "Like all the very best 90s bands, I couldn't resist ending our farewell tour with an encore for our loyal fans."
"The special deals with the historic and momentous Good Friday Agreement vote, which coincides with the gang's coming of age, they enter adulthood just as Northern Ireland embarks on a new future."
"I'm so proud of this show and of our incredible cast and crew and everything we've achieved over the past 5 years. What a journey it's been," she continued. I'm so grateful Channel 4 gave me the space to end the stories of these characters that mean so much to me with this special."
McGee added: "Derry people aren't great at saying goodbye so I will instead use one of our native expressions 'That's us away now', Love Lisa McGee, always a Derry Girl."
Tuesday And Wednesday night this week folks. And not to be all 'writer' about it but please watch them in that order. They very much go hand in hand #DerryGirls #Goodbye https://t.co/OYA9EvnQDkMay 16, 2022
See more
What does the cast say about the end of 'Derry Girls'?
"Lisa [McGee] knew she had huge ambitions with this one, [with] what she wanted to do," Coughlan told RadioTimes.
"She's a genius. Like, there's not really any other word for her. She just, everything is so brilliantly balanced and nuanced and the characters, there's so much detail in every single character in those scripts."
As for the fan-favorite ship between James (Dylan Llewellyn) and Erin (Saoirse-Monica Jackson), Coughlan said: "I don't think I can say much about specific things like about James and Erin, but I think there's no way people are going to be disappointed.
"It's really magical," the actress said of the finale. "I cried and cried and cried when I finished reading the scripts. Because, you know, it's our last one."
"It's bittersweet, but I think we're sending it off in style," she added.
"Very mixed emotions," costar Dylan Llewely agreed, telling The Guardian: "The show has been such a huge part of my life and has helped me loads personally. So I'm sad it's the end of an era, but happy because [creator] Lisa McGee has written such a perfect ending. It feels like the right time to stop. Quality, not quantity."
Of the final day of filming Derry Girls, Llewellyn said: "Everyone was in shock: 'What the hell? This is our last day.' There were lots of hugs, some tears, several parties. It was very special. The girls have become like my sisters over the past four years.
However, don't completely rule out seeing our fab five again. In McGee's social-media statement, she wrote: "Who knows if Erin, Clare, Orla, Michelle and James will return in some other guise someday?" Fingers crossed!
Christina Izzo is the Deputy Editor of My Imperfect Life.
More generally, she is a writer-editor covering food and drink, travel, lifestyle and culture in New York City. She was previously the Features Editor at Rachael Ray In Season and Reveal, as well as the Food & Drink Editor and chief restaurant critic at Time Out New York.
When she's not doing all that, she can probably be found eating cheese somewhere.