Nicola Coughlan has shared the first episode title for 'Bridgerton' season three—here's the scoop
Here's all your 'Bridgerton' season three intel, including the first episode title that hints at some major character developments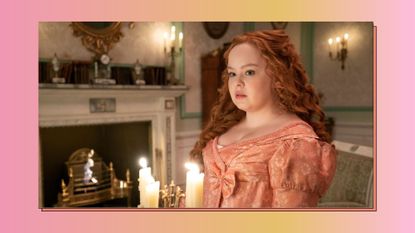 (Image credit: LIAM DANIEL/NETFLIX)
While we've all barely recovered from the steamy scenes in Bridgerton season 2 (watch out Regé-Jean Page, Jonathan Bailey seems to be coming for your crown as the Ton's hottest rake!) we can't help but already be curious about Bridgerton season three. Plus it really doesn't help our excitement that Nicola Coughlan (aka Lady Whistledown herself) keeps teasing updates on the storyline and episode titles—here's everything we've heard!
Netflix confirmed the third season—and a fourth!—back in April 2021 and that's given us plenty of time to gossip about the Ton and what we might be seeing in the third edition of TV's hottest Regency drama. After all, there are eight Bridgerton siblings, all of whom have their own dedicated book to explore their quests for love.
However, while fans of Julia Quinn's novels may have had their money on a Benedict-centered storyline for season three, it looks like we may be getting a shake-up—especially after *that* production teaser and episode title reveal!
Here's what fans can expect from Bridgerton season three, including whether we'll see Anthony Bridgerton and Kate Sharma return for us to swoon over...
Who is 'Bridgerton' season three about?
Nicola Coughlan, who plays both Penelope Featherington and alter ego Lady Whistledown, has confirmed what we have long been suspecting—Bridgerton Season three will focus on hers and Colin's love story.
In a post on Instagram, Nicola wrote: "Like Lady Whistledown I've been keeping quite a big secret for quite a long time… but I can finally tell you that @bridgertonnetflix Season Three is Colin and Penelope's Story." The announcement was also accompanied by a seriously cute black and white snap of her and Luke Newton.
Now, this may come as a surprise for some fans of the books as so far the Netflix adaption has followed Julia Quinn's novel order.
Each Bridgerton book focuses on a different sibling. Eight Bridgerton siblings mean (you guessed it) eight novels, which, thanks to the author Julia Quinn, have all been written and released for your page-turning pleasure. (If the wait for a new season is killing you, the books will definitely quench your thirst, so we recommend a read of those!)
Season one covered the first story of Daphne Bridgerton, played by Phoebe Dynevor, while season two focused on eldest sibling Anthony Bridgerton (Jonathan Bailey), as laid out in the second Bridgerton book, The Viscount Who Loved Me. So taking the books as bible, the next in line for their love match should have technically been the family's second-eldest sibling Benedict Bridgerton, played by Luke Thompson—or so we thought!
We now know that showrunners are changing up the order and it hasn't really come as a surprise. Simone Ashely already hinted to People (opens in new tab), that the next installment will actually focus on Colin Bridgerton and Penelope Featherington—as opposed to Quinn's third book An Offer From A Gentleman. Which is very much a Cinderella-inspired love story—which sees Benedict fall for Sophie Beckett, the born-out-of-wedlock daughter of an earl forced into servitude by her stepmother, Araminta.
In the interview, she said: "I think we're passing the baton to Nicola and Luke, I'm so excited for them to perform their love story and to see what they've got up their sleeves. I think they're going to smash it out of the park."
Fans of the books will know that Colin and Pen's love story is not actually covered until the fourth installment, Romancing Mr. Bridgerton.
However, considering where we left them at the end of season two, it does make sense to depict their love story next...
Have we got any 'Bridgerton' season three episode titles?
Now that you mention it, we have quite the juicy update for you! On September 25th, Netflix dropped 'The Bridgerton Cast Portrait Challenge' where Nicola Coughlan gave a little taster of what's coming in season three.
In the video, we caught a brief glimpse of episode one's script which is titled, 'Out of the Shadows'—which, knowing who this season focusing on, could mean major character developments are in store for Penelope in episode one alone!
Nicola then went on to give us a little snippet from Lady's Whistledown's infamous column, she said: "Dearest gentle reader, we've been apart for far too long. At last, London's smart set has made its return, and so too has this author.
"As the season begins, the question on everyone's mind is, of course, which newly-minted debutante will shine the brightest? The crop this year appears to be rather dazzling indeed. Unfortunately, not every young lady can attract the light."
What is 'Romancing Mr. Bridgerton' about?
Quinn's fourth book focuses on developing Colin and Penelope's relationship—which has now been confirmed as the plot of Bridgerton season three, much to the disappointment of Benedict stans.
Despite the end of season two leaving things looking very uncertain between the pair after Pen overhears Colin tell friends he would 'never marry her,' they do end up together in the books.
*Spoilers ahead*
Things heat up between them when Colin confides in Penelope his fears that Eloise is in fact Lady Whistledown. Penelope tries to reassure him that she is not, but Colin makes the valid point that someone simply accusing her would see Eloise ruined. To evidence his fears, he tells Pen the same would be true if the Ton found out that they had kissed while meeting—even if they hadn't...
This conversation then results in, you guessed it, a kiss. In true romantic-novel fashion, this kiss blows Colin's mind and he becomes conflicted with his feelings.
Things become more complicated when he spots Pen getting into her carriage and follows her to Lady Whistledown's printers. He discovers her secret and they argue, but somehow along the way the argument turns into a proposal.
The pair get married after spending a night together during a very eventful ball—but we won't spoil that one for you...
This deviation from the book's sequence does make sense, as in the last season we did see more of Pen and Colin's developing friendship than we did Benedict's own social life.
What is 'An Offer From A Gentleman' about?
Julia Quinn's third Bridgerton book, An Offer From A Gentleman, opens with a Cinderella-type ball as Sophie Beckett sneaked out in a ballgown to attend a masquerade at the Bridgerton house. And yes, we did say sneak because even though Sophie was supposed to be raised as the earl's ward, due to his untimely death and his hateful wife, she is treated more like a servant than a member of the family.
Even though Sophie tries to stay in the background at the party, she catches the eye of Benedict Bridgerton and they have a meet-cute. However, it all goes downhill when Sophie returns home, as her stepmother learns of her night out on Ton and accuses Sophie of theft—which at this time is punishable by death. She then kicks Sophie out onto the streets, starting Sophie's life on the run.
Benedict, meanwhile, searches for the beautiful woman he met at his family's ball but whose identity he doesn't know. (The whole masquerade thing, remember?) The majority of the book flashes forward two years later and let us tell you, if you think seasons one and two were steamy, book three gives them a run for their money because Benedict and Sophie's chemistry is insane.
It now seems like Benedict and Sophie's story will be put on hold until season four, but we may still get some relationship set up in season three. It's clear Shonda Rhimes has no issue interweaving the siblings' collected stories and love interests even if it's not their dedicated season.
Plus, we know season three is in good hands as last May, Netflix announced that Jess Brownell was taking over as Bridgerton showrunner for seasons three and four. Brownell is no guest to Shondaland, as she has worked on Scandal, Inventing Anna and the first two seasons of Bridgerton. Safe to say she knows what she's doing!
Who will be in the 'Bridgerton' season three cast?
As season three will focus on Colin and Pen, that means Nicola Coughlan and Luke Newton are definitely returning. We will also likely see the return of Luke Thompson as Benedict Bridgerton, as things were left unresolved with him last season.
If showrunners do decide to lay the groundwork for Benedict's love story after all then we will likely see a few new cast members. But there's no word yet on who would play Sophie Beckett or her evil stepmother Araminta.
It's also safe to assume all the Bridgerton's will makes an appearance and we're also secretly hoping that we see the return of Regé-Jean Page—one can dream, right?
Will Kate and Anthony be back for 'Bridgerton' season 3?
Yes, the Viscount and the Viscountess Bridgerton will make their grand return for season three. While season one's main couple, Daphne and Simon, were not shown together in season two due to Page's departure from the show, series newcomer Simone Ashley confirmed to Deadline (opens in new tab) that both enemies-to-lover Kate Sharma and Anthony Bridgerton will be featured together next season.
"We're going to be back! Kate and Anthony are just getting started," Ashley told the outlet. "We have the amazing Jess Brownell who is taking the lead as showrunner in Season three. In Season two, there was a lot of push and pull between Kate and Anthony, there were complications with the family, and then they find each other towards the end. I think everything is just starting. I'd like to see Kate just let go a bit more and play more in Season three and kind of swim in that circle of love together. I think they both deserve it."
The actress even gave us some insight into the couple's dynamic and Kate's character growth for season three, and we can't wait to see it!
"She's in charge of the household now and she's got big boots to put on. I think she can do it," she revealed. "I want to keep that softness and vulnerability to Kate, for sure, and she can share that with Anthony. I'm just excited for her to have a home and to have a family. I'm excited to see her grow. I think I'd like to see Kate being much braver and less headstrong and more heart strong."
When is 'Bridgerton' season three coming out?
The cast and crew are still filming Bridgerton season three so, alas, no official trailer or release date has been revealed just yet.
Given the release date of season two, we would predict season three to drop, at the earliest, by the end of 2022 but more likely in early 2023.
Liv is a freelance journalist currently studying English at university. She loves covering everything from entertainment and politics to lifestyle and travel. As well as writing for My Imperfect Life, Liv has bylines in The Times, HuffPost, Den of Geek, Bustle The Metro and The Bookseller.