How to watch 'Love In The Flesh', the new Catfish-esque BBC dating show
Here's how to watch 'Love In the Flesh', Love Island star Zara McDermott's new BBC Three dating show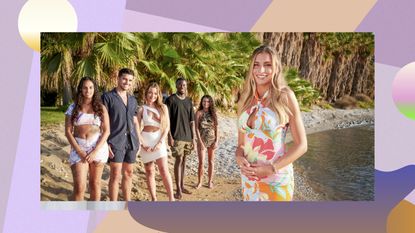 (Image credit: BBC Three)
Want to know how to watch Love In The Flesh? Of course, you do. The new BBC Three dating show is exactly what we need right now, as we gear up for this summer's Love Island return, especially as it features an ex-islander.
Zara McDermott (from the fourth season) hosts the program, which in short, is a combination of two popular love-based TV shows: Catfish and of course, Love Island itself. We can imagine the drama already...
Love In The Flesh is all about digital dating, which includes everything from dating apps to social media meet-cutes (not to mention the dating burnout that follows). It brings five couples, who formed relationships online, face-to-face for the first time to see if their love really is as strong in 3D as it is in 5G.
Here's what you need to know about it, including how to watch Love In The Flesh in the UK, US and beyond...
What is 'Love In The Flesh' about?
Hosted by Zara McDermott, Love In The Flesh follows five real-life potential couples who have already formed relationships via dating apps and social media but have never actually met in real life—hence the Catfish comparison.
The couples are whisked away to an island where they will meet for the first time, leaving their digital devices behind to explore whether their connection can thrive in the flesh. Can they make it work? And more importantly, are they what each other expected? Like any dating show, we're expecting tears and tantrums as well as romantic happy endings and as always, we're here for all the drama.
How to watch 'Love In The Flesh' from anywhere in the world
How to watch in the UK
For UK audiences, Love In The Flesh debuted on BBC Three and iPlayer on March 23. It now airs every Wednesday and Thursday at 10 pm for the remainder of the season, with all episodes available to watch on iPlayer whenever you wish.
To access iPlayer, all you have to do is have a UK address and you can register to watch everything on the streamer (including Love In The Flesh) for free. It's as simple as that!
How to watch 'Love in the Flesh' in the US or anywhere else in the world
If you want to watch Love In The Flesh but are currently in the US or traveling anywhere else in the world outside of the UK then you'll have to work a little harder for those precious episodes. Unfortunately, the show is not being aired on any US networks so the best way to tune in is to use a VPN.
A VPN is a handy piece of software that allows you to browse anonymously, and to change your IP address so your mobile, computer, or laptop thinks it's in another location. That means you can watch your favorite show, film or event even if you're away from home. In this case, you would need a VPN service (like ExpressVPN, voted best by our colleagues at TechRadar) to change your IP address to a UK one so that you can access BBC iPlayer, which is usually only available to those with a UK address.
Once you've set one up, then you can watch Love In The Flesh in real-time like everyone else, meaning no bodging spoilers on the internet because let's face it, it's an Olympic sport!
Sagal is a journalist, specialising in lifestyle, pop culture, fashion and beauty. She has written for a number of publications including Vogue, Glamour, Stylist, Evening Standard, Bustle, You Magazine, Dazed and Wonderland to name a few.