How to watch The Suicide Squad online from anywhere in the world
The gang's all here! Here's how to watch The Suicide Squad—the latest in the DC Universe—online and in theaters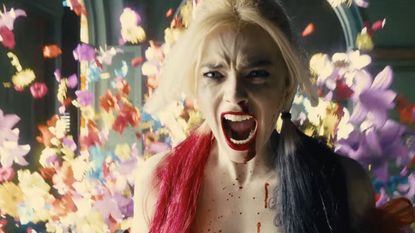 (Image credit: Warner Bros. Pictures)
The DC Universe is expanding—and here's how to watch The Suicide Squad to see all of the action-filled drama go down.
Directed by James Gunn, who helmed all three "volumes" of Guardians of the Galaxy, the new Suicide Squad flick will see the return of some of your superhero (or supervillain!) favorites like Margot Robbie's Harley Quinn, along with some fresh faces to the franchise. (Well, as fresh-faced as a guy called Bloodsport could be.)
So that you don't miss a minute of the pulpy fun, we've broken down all of your viewing options, whether you want to watch at the theater or from the cozy comforts of your own couch. Here's how to watch The Suicide Squad, no matter where you are in the world:
---
---
How to watch The Suicide Squad 2021
The Suicide Squad opens in theaters in the US on Thursday, August 5th. The blockbuster flick was set to drop on HBO Max a day later, on Friday, August 6th, but director James Gunn had a special birthday surprise for fans: he announced on Twitter that the movie would be released on the streamer a day earlier, so streaming fans can watch at home on the same day as the theater premiere.
For those of you who can't wait, #TheSuicideSquad is coming to you a day early in the US - see it on the evening of Thursday, August 5 - which also happens to be my birthday. #InSquadWeTrust pic.twitter.com/8Z1SJBqpcUJuly 9, 2021
See more

Like other HBO Max releases, The Suicide Squad will be available for streaming for one month, ending on September 4th. Just a head's up, though, that the film is not included in HBO Max's cheaper subscription plan, which is priced at $5.99 in contrast with the streamer's $11.99 commercial-free subscription. Those who go the ad-supported route do not get access to much-anticipated same-day titles, including The Suicide Squad and the upcoming Dune, so plan accordingly!
Brits have been enjoying The Suicide Squad in theaters since July 30th, but if they or anyone else outside of the US want to stream the movie from their own home, your best bet is by using a VPN.
A VPN is a handy piece of software that allows you to change your IP address so your mobile phone, computer, or laptop thinks it's in another location. Meaning, you can watch your favorite show, film, or event—even if you're outside your home country.
Our favorite VPN service is ExpressVPN—rated one of the best, by our colleagues at TechRadar. If you sign up for an annual plan you'll get an extra 3 months absolutely FREE. And it's risk-free. If you change your mind in the first 30 days, let them know and they'll give you your money back.
When is The Suicide Squad HBO Max release time?
The Suicide Squad will be available for streaming on HBO Max starting at 7pm ET/4pm PT on Thursday, August 5th.
Watch The Suicide Squad trailer ahead of the movie:
The Suicide Squad actors: Who's in the cast?
Some familiar faces from the 2016 film will be back this time around: Margot Robbie as Harley Quinn, Joel Kinnaman as Rick Flag, and Viola Davis as Amanda Waller.

Joining them will be some high-profile newbies to the cast, including Idris Elba as Bloodsport, John Cena as Peacemaker, and Sylvester Stallone as King Shark. Pete Davidson, Nathan Fillion, Jai Courtney, and Peter Capaldi round out the cast.
What is The Suicide Squad plot?
According to a Warner Bros. press release, The Suicide Squad is centered on "a collection of the most degenerate delinquents in the DC lineup—including Bloodsport, Peacemaker, Captain Boomerang, Ratcatcher 2, Savant, King Shark, Blackguard, Javelin and everyone's favorite psycho, Harley Quinn—who will do anything to get out of prison—even join the super-secret, super-shady Task Force X on a do-or-die mission."
Is the new Suicide Squad a sequel?
Sort of! The very confusingly titled The Suicide Squad follows 2016's Suicide Squad, directed by David Ayer, as a pseudo standalone sequel.
"It's not a sequel, it's not a straight-up reboot, but it sort of lives in its own universe," actor Joel Kinnaman told The Los Angeles Daily News.
Director James Gunn went on to tell the publication that that ambiguity is actually what attracted him to the project. "Frankly, the weirdness of doing a sequel that's not a sequel was part of the appeal of it," Gunn said. "Just because it's so different.
"I think "Alien" and "Aliens" is a good example," Gunn said. "They're both really enjoyable, but 'Aliens' was a much, much different movie. And the idea of doing something like that was interesting."
Though sharing some of the same characters as the 2016 flick, as well as small references throughout, The Suicide Squad 2021 is considered a self-contained movie, meaning you don't have to watch the earlier one to understand what'll be going on in this one. Hooray!
And if critical opinion matters to you, you'll be happy to know that The Suicide Squad is currently besting its predecessor with 107 favorable reviews, netting a 96% positivity rating.
Why is The Suicide Squad rated R?
Violence with a capital V. Unlike the PG-13 rated Suicide Squad, this iteration will not be a take-the-kiddies kind of superhero movie. Along with "strong violence and gore" the R-rating is the result of "language throughout, some sexual references, drug use, and brief graphic nudity."
Gunn, who also wrote the screenplay, said that the R-rating was necessary to tell the story properly, telling IndieWire: "I said, 'It's going to be rated R because it's like a war film.' I have a big aversion to war films or gun films where people are getting shot and they're getting thrown back and it's [just the] impact, but no real repercussions to the violence," Gunn said. "I hate that kind of stuff."
He continued: "I'm like, 'The only way I can do this and not have it be rated R is if I have them fighting a bunch of robots or something, and I don't want to make a movie with a bunch of robots, I want to make a war film.' They were like, 'Okay, you can write it rated R.'"
Christina Izzo is the Deputy Editor of My Imperfect Life.
More generally, she is a writer-editor covering food and drink, travel, lifestyle and culture in New York City. She was previously the Features Editor at Rachael Ray In Season and Reveal, as well as the Food & Drink Editor and chief restaurant critic at Time Out New York.
When she's not doing all that, she can probably be found eating cheese somewhere.