Is 'A League of Their Own' based on a true story?
The Rockford Peaches came from cities near and far—but is 'A League of Their Own' based on a true story?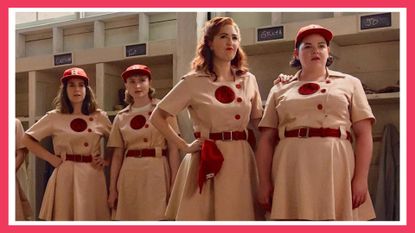 (Image credit: Prime Video)
It's given us one of the best baseball movies ever and one of summer's most talked-about new series, but is A League of Their Own based on a true story?
The A League of Their Own reboot series dropped on Prime Video on Friday, August 12, and while some fans are painstakingly searching for nostalgic nods to Penny Marshall's 1992 movie of the same name (don't worry, the film version of A League of Their Own is streaming, too), history buffs might instead want to deep-dive into the IRL inspiration behind the show.
Is 'A League of Their Own' based on a true story?
Well, yes and no. While neither the cast of A League of Their Own the TV show nor the movie are playing real-life people, the baseball league that the women play in onscreen is indeed a real one.
The All-American Girls Professional Baseball League (AAGPBL) was founded by Philip K. Wrigley—yes, that Wrigley, of the chewing gum and the Chicago Cubs—during World War II to keep up interest in Major League Baseball and fill the sports void while the majority of American men were fighting overseas. Running from 1943 until 1954, the league featured more than 600 players across 15 teams:
Kenosha Comets (1943–1951)
Racine Belles (1943–1950)
Rockford Peaches (1943–1954)
South Bend Blue Sox (1943–1954)
Milwaukee Chicks (1944)
Minneapolis Millerettes (1944)
Fort Wayne Daisies (1945–1954)
Grand Rapids Chicks (1945–1954)
Muskegon Lassies (1946–1949)
Peoria Redwings (1946–1951)
Chicago Colleens (1948)
Springfield Sallies (1948)
Kalamazoo Lassies (1950–1954)
Battle Creek Belles (1951–1952)
Muskegon Belles (1953)
Along with having to be able to bat, pitch and play outfield at a professional level, AAGPBL athletes were also required to abide by a strict rule of conduct that included always wearing "feminine attire when not actively engaged in practice or playing ball"—lipstick was always on and "boyish bobs" were not permitted—refraining from cursing and "liquor drinking," and having an approved chaperone for all social engagements. Even the players' baseball uniform skirts—yes, they played in skirts—were heavily scrutinized and could not be shorter than six inches above the knee.
The motto of the AAGPBL was "play like a man, look like a lady," a patriarchal sentiment that the league took so seriously that they made players receive daily etiquette lessons, which both the series and the original movie include scenes of.
"Every day after practice, Mr. Wrigley sent us to Helena Rubinstein's charm school to learn how to put on makeup, how to put on a coat, and how to get in and out of a car or chair," said Lilian Jackson, an outfielder for the Rockford Peaches, per the National Baseball Hall of Fame. "Back at the hotel, he made us wear skirts. If you dressed in slacks, you had to use the servants' elevator."
According to the AAGPBL, attendance peaked during the 1948 season, when games attracted nearly a million attendees. However, attendance declined in the following years which, coupled with the end of the war and the rise of televised Major League Baseball games, led to the shuttering of the league.
"Diamond Dreams," a permanent exhibit inside the National Baseball Hall of Fame in Cooperstown, New York, was opened in 1988 to commemorate the sportswomanship and talent of the All-American Girls Professional Baseball League, showcasing the players' uniforms, gear, and more. The IRL exhibit was actually included in the final scenes of A League of Their Own the movie.
Were the Rockford Peaches real?
Yes, the Rockford Peaches—the Illinois-based team that both A League of Their Own the TV and the film center on—were, in fact, a real women's professional baseball team and was a founding member of the All-American Girls Professional Baseball League.
In real life, the Peaches were a successful enterprise in the AAGPBL, winning the league championship an impressive four times, in 1945, '48, '49 and '50. And, as famously depicted onscreen both big and small, the team was known for their peach-pink uniform with bright-red socks and cap.
'A League of Their Own' real players
While no real-life athletes from the AAGPBL were featured in the TV series or movie, many fictional characters were inspired by factual players.
"Max's character, played by Chanté Adams, is inspired by three women, Mamie Johnson, Toni Stone, and Connie Morgan, who went on to play in the Negro Leagues with men," series star and co-creator Abbi Jacobson told People. "Historically, the All American Girl's League did not allow Black women to try out. It was really, like, a white-passing thing. So, what was their journey? That was such a fascinating story, to create a new character inspired by them and really follow her path to find her team, too. What does that look like?"
The Prime Video series also brightly sheds light on the queer reality of the AAGPBL, which the movie did not. Former AAGPBL pro Maybelle Blair served as a consultant on the series and reportedly was the inspiration behind the character of Greta Gill, a closeted lesbian played by D'Arcy Carden. Blair, now 95 years old, publicly came out as a lesbian while promoting the series at the Tribeca Film Festival: "I thought I was the only one in the world… I hid for 75, 85 years and this is actually, basically, the first time I've ever come out."
"The only thing I would say [people don't really know] would be the sexuality of the people that drove what actually took place and what was real," Blair said, per The Hollywood Reporter. "When Penny made the movie, they left out a lot of that because it wasn't the time to reveal it as much. This is telling the real, truthful story."
Christina Izzo is the Deputy Editor of My Imperfect Life.
More generally, she is a writer-editor covering food and drink, travel, lifestyle and culture in New York City. She was previously the Features Editor at Rachael Ray In Season and Reveal, as well as the Food & Drink Editor and chief restaurant critic at Time Out New York.
When she's not doing all that, she can probably be found eating cheese somewhere.